labore et dolore magna eiusmod
consectetur adipiscing elit, sed do eiusmod tempor incididunt ut labore et dolore magna aliqua. Ut enim ad minim veniam, quis nostrud exercitation ullamco laboris nisi ut aliquip ex ea commodo consequat risus Ut mattis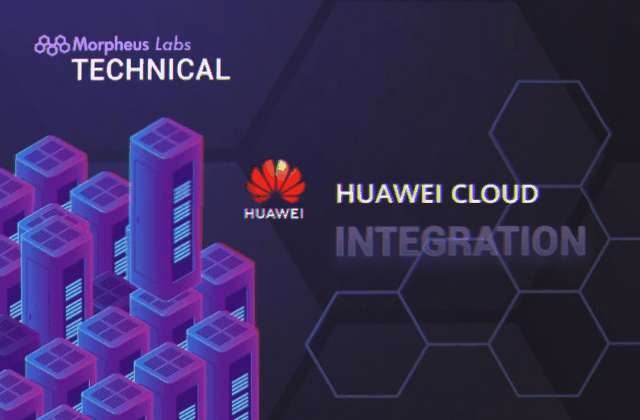 Technology Update | Morpheus Labs x Huawei Cloud
Morpheus Labs is proud to announce that we will be integrating the SEED platform on Huawei Cloud. Blockchain provides innovative solutions to address challenges in the Cloud of Things in terms of decentralization, data privacy and network security, while Cloud of Things offers adaptability and scalability functionalities to improve the efficiency of blockchain operations. This paradigm has been widely regarded as a promising enabler for a wide range of application scenarios.
Morpheus Labs Second Unique Capability: Multi-Cloud
As we work towards building our second unique capability after blockchain agnosticism in the SEED platform, we will facilitate the use and management of computing resources from different cloud providers in a homogenous manner through the unique design of SEED architecture. This preserves the flexibility and adaptability promised by the cloud computing paradigm.
Besides classic features of cloud computing, three specific characteristics will emerge from the integration of SEED on Huawei Cloud to benefit our platform users:
Huawei Cloud will support all required blockchain computing resources (e.g., infrastructure or operations) and provide customers with an agile service offering so that customers can obtain customized acquisitions to run blockchain nodes or host their blockchain apps.
As the SEED platform simplifies the complexity of the blockchain implementation, with Huawei Cloud, more cloud and blockchain services including production-grade support will be available for platform users in an on-demand-payment mode.
Enrich the Huawei marketplace with tools and solutions offered by Morpheus Labs SEED with the focus on rapid application development and deployment together with sample applications harvested from real implementation experiences from Morpheus Labs and partners.
We will talk about the benefits and key achievements of the SEED platform for enterprise after the completion of integration. Follow us on our social media and be updated with the latest development of Morpheus Labs.
About Morpheus Labs
Morpheus Labs is a Blockchain-Platform-As-A-Service (BPaaS) provider offering mission-critical tools, infrastructure, various blockchain protocols, and blockchain use case references for enterprises and developers to build, experiment, and manage their own applications effortlessly at minimal cost and time. Armed with relevant capabilities, the platform offers a multitude of intuitive solutions that enables developers and enterprises alike to take advantage of its platform to build effective solutions for various use cases. Start building for free on Morpheus Labs SEED!
Be a part of our community! Join our official group chat on Telegram: https://t.me/morpheuslabs
(Check out our Community Telegram Guidelines.)
Connect with us:
LinkedIn | Twitter | Telegram | Facebook | Youtube | Github | Reddit | CrunchBase | Website | Gitter
For any queries, please contact us at info@23.108.103.25.
About Huawei Cloud
HUAWEI CLOUD is a leading cloud service provider, which brings Huawei's 30-plus years of expertise together in ICT infrastructure products and solutions. We are committed to providing reliable, secure, and cost-effective cloud services to empower applications, harness the power of data, and help organizations of all sizes grow in today's intelligent world. HUAWEI CLOUD is also committed to bringing affordable, effective, and reliable cloud and AI services through technological innovation.
3500 applications were added to the HUAWEI CLOUD marketplace with offerings from more than 13000 business partners.
| No | Question | Respondent |
| --- | --- | --- |
| 1 | I saw that for the launchpad – there are quite a few customers/projects. Can you share what Morpheus Labs looks for in a project before on-boarding them? | Pei-Han |
| 2 | Can you tell us more on how Morpheus Labs solutions apply to the real world business, enterprise or educational needs? | Dorel |
| 3 | What new additions to the services offered would you like to add in the future? The launchpad seems to be a good move. Will we see more of it or do you all see the launchpad propelling Morpheus Labs forward? | Pei-Han |