SleepFuture is under the umbrella of Thirty Living Pte Ltd. Thirty Living's main core business is the sales of unique mattresses. Besides this, Thirty Living has many functioning branches in the business world before their foray into the blockchain (Web3) realm. This includes subsidiaries like 30tech group, the tech arm and of course, SleepFuture project as we know it.

At the present moment, Thirty Living has 4 outlets in Singapore and 2 in Malaysia. Their first North America, L.A store will open their doors in July 2022. They are poised to increase their brand presence in Malaysia to 20 outlets by year end.
30tech is a group of companies that focuses on improving the future of sleep through developing the world's first sleep-to-earn sleep wellness ecosystem. We seek high performing companies in the sleep wellness space for M&A or collaboration.

Thirty Living decided to pivot into the lifestyle industry. One of the methods is via the blockchain, Web3 and metaverse realm. They decided that Morpheus Labs is the right partner and vendor to achieve what they require within their budget range.

Thirty Living Pte Ltd was founded in Singapore back in 2017. Since then, it has since won numerous reputable awards such as; Entrepreneur 100 by Singapore Top Entrepreneur in December 2019, Top-20 SME Winner by Singapore Prestige Class in March 2020, Top-20 SME Winner by Top Business Service and Quality in June 2020, and in July 2021, SME 100 Fast Moving Company by Business Media International.
Project link for reference:
https://shope.ee/1VKevf2kC0
https://30tech.co/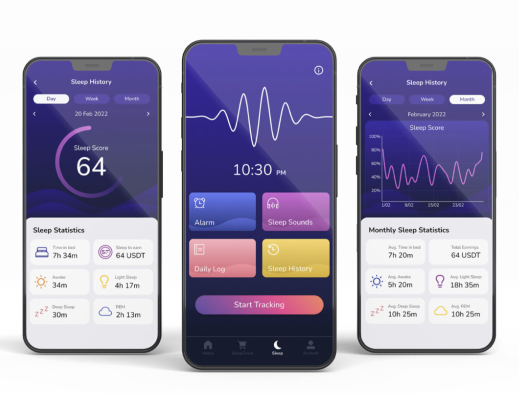 Sleep Future is the world's first blockchain-driven sleep wellness ecosystem to improve the sleep quality and health of the global community.
Sleep Future introduces the world's first Sleep-To-Earn mechanism to reward the world-wide community to sleep and earn $SLEEPEE tokens with the dual objective of innovating sleep technology R&D and a real-world utility in the Sleep Future ecosystem.
Sleep deprivation or lack of quality sleep seems to be quite common in busy urban settings, where lifestyles can be quite hectic. Sleep health is increasingly becoming a concern because it has explicit impacts on our mental and physical health. Sleeping is no doubt one of the most important activities we do on a daily basis – it repairs, rejuvenates and refreshes us for what life brings the following day.

Where does Morpheus Labs come in
Morpheus Labs is thus proud to announce the on-boarding of SleepFuture. SleepFuture is the world's first blockchain-driven sleep wellness ecosystem that aims to improve their community's sleep quality and health through data analysis and recommendations.
The partnership between Morpheus Labs and SleepFuture will be split into 3 different phases.
Phase 1 will be focused on IDO token issuance for SleepFuture's $SLEEPEE token.
Phase 2 will be the integration of crypto payment / NFT infrastructure into SleepFuture eCommerce site.
Phase 3 would be the development of their GameFi application to track data on sleeping patterns and reward $SLEEPEE tokens to their participants.

Results
SleepFuture will be integrating crypto payment / NFT features into their eCommerce site. ML SEED will come in to be of great assistance as it provides various options – 9 different integrated blockchain protocols, 10 programming languages and 25 different stacks. SleepFuture will be able to integrate their ecosystem of merchants and consumers in their platform to create opportunities for sales and customer relationship building.
The templates serve as perfect quick launch and customisation tools for other projects looking for tokenization solutions.
The current templates cover extensive use cases of ERC20 based tokens, ERC721/ ERC1155 based NFT tokens 
ERC721 (NFT) completed for Sleepee project, launched on BSC mainnet
Smart contracts for staking mechanism developed for tokens of ERC721 standards to support locking and rewards
NFT minter templated solutions provide the development tools required for customisation of solidity codes for smart contracts, javascript back and frontend
Multi Cloud infrastructure is optimized and configured to provide template setting for NFT minter applications and offers efficient loading speed.

Timeframe:
For context, Developing an NFT minter application from scratch takes 2-3 months of development and smart contract design.
The development timeframe for SLEEPEE ERC2O tokens from 2 weeks to 3 days. ML SEED libraries contribute significantly to the development of codes and tokenomics that can be leveraged on.
ERC721 based NFTs smart contracts development through ML SEED platform leveraging on NFT launcher feature that offers great flexibility in terms of NFT contracts customization.
ML SEED is able to shorten the development timeline to less than 2 weeks with the NFT launcher application.
SleepFuture will be utilising Morpheus Labs SEED Token Launcher software to hasten the development and ensure the smooth launch of their $SLEPPEE Initial Dex Offering (IDO) token under the Ethereum blockchain, as part of their Phase one (1) initiatives.

ERC20/ BEP20 tokens have been issued on ethereum network and Binance Smart Chain respectively.
Timeframe:
SLEEPEE token was completed and launch in a few days
How it Brands and Shapes Morpheus Labs
The partnership with our valued customer, SleepFuture also has benefits Morpheus Labs as a company. Our native utility token, $MITX (KuCoin: $MITX) will also see increased utility. This also ensures that our community and ecosystem is being utilized in an effective manner.
MITX is consumed in acquiring development resources within the ML SEED environment.

Premium resources can be sourced from the library, which may save up to months of development effort can be acquired with MITx
Summary
Service engaged: ML Seed / Token Minting
Results: Developed with positive feedback from client, SleepFuture
Timeframe: Less than 3 months
SleepFuture decided to work with Morpheus Labs as they strongly believe that we are the right vendor in their quest; promise for their customers in the GameFi space. With the engagement of ML SEED's highly sophisticated and comprehensive blockchain solutions.

This is testament to Morpheus Labs' commitment to empowering businesses (Large or SMEs) and community members transition in the digital transformation (Web3) era. It gives validation to the work / solutions that the team at Morpheus Labs has been engaging over the years. We are consistently looking at ways to ensure that our products / services will solve real world problems and/or promote efficiency.

Besides providing critical solutions, it also validates our mission to grow our ecosystem with real world utility.