labore et dolore magna eiusmod
consectetur adipiscing elit, sed do eiusmod tempor incididunt ut labore et dolore magna aliqua. Ut enim ad minim veniam, quis nostrud exercitation ullamco laboris nisi ut aliquip ex ea commodo consequat risus Ut mattis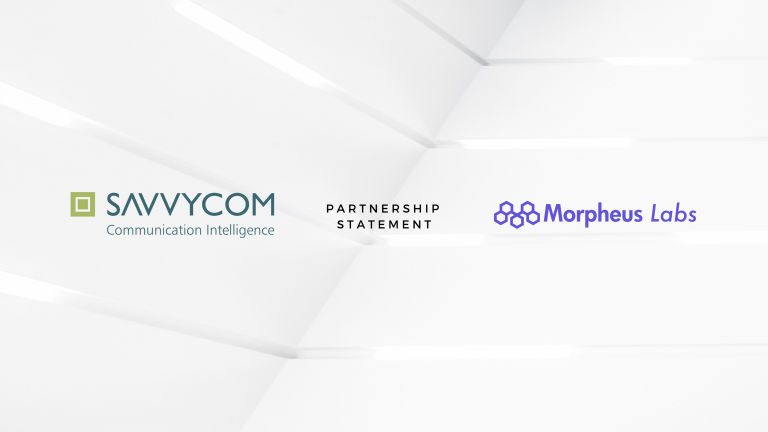 Morpheus Labs is proud to announce the partnership with Savvycom, one of the leading Information Technology companies in Vietnam. This partnership has already yielded results as we worked together to implement blockchain solutions for our customer; SleepFuture.
Who is SavvyCom?
Savvycom has a developer pool of more than 700 well-trained developers in Vietnam alone. They specialize in providing digital transformation consulting services and software solutions in finance, healthcare, and retail for domestic and international businesses. Savvycom was established in 2009, and up to now, Savvycom has 13+ years of experience in delivering software development services, with a large engineering workforce of 700+ engineers.
Headquartered in Hanoi and with three representative offices located in Ho Chi Minh City, USA, and Australia, the company's mission is to leverage engineering resources in Vietnam and empower businesses worldwide by utilizing the power of technology, becoming a leading IT company in the ASEAN region and beyond.
The SavvyCom x Morpheus Labs Collboration
This collaboration and partnership will see both parties benefit from leveraging on each other's core strengths and network. Here are some (but not limited to) of the resources and services that Morpheus Labs will have at our disposal as a result of this collaboration
Web App / Mobile App development
Blockchain development & solutions
ERP Solutions, Cloud and DevOps Services
Opening doors to 700 + and growing developer talents
With these added bullets into Morpheus Labs armory, this allows us to implement future Web3 and blockchain projects effectively via our Morpheus SEED services.
At the same time, Savvycom is able to penetrate the blockchain sphere further with Morpheus Labs customer base and foot within the industry. This will help enhance the Savvycom brand out in the blockchain industry and beyond. One of the core reasons for this collaboration is the shared vision of growing the adoption of blockchain to the public. The partnership will see both parties work on areas such as;
Cross promoting, increasing business development to broaden the Web3 ecosystem, resulting in adoption of the blockchain technology among businesses globally
Providing businesses that wishes to enter the blockchain industry with low-code, faster implementation of blockchain solutions
Reduce dependency on Hard-to-Hire technical skills
Save cost and time and which allows more resources on expansion and business-oriented tasks
Fruitful Yield
As of date, Savvycom x Morpheus Labs partnership has already seen one blockchain project benefiting; the Sleepee project from SleepFuture. With greater resources and talents, Morpheus Labs managed to help SleepFuture successfully launch their functioning "SleepApp" with results
Faster time (50% faster) and lesser outlay (est 75% lesser) as with Savvycom being able to leverage on Morpheus SEED to complete most of SDLC, especially in the development and testing stage
Morpheus SEED Low Code x Savvycom technology powerhouse with a wide talent pool to address the issue of blockchain talent shortage. Allowing both senior and junior developers from Savvycom to take over faster and reduce tech debts, thanks to Morpheus SEED Low Code solutions.
Morpheus SEED Low Code tools and test runtimes: This helps greatly to fast tracked Front End and Back End development
CDE (web3 collaborative development environment) which allows both team to co-work on SleepFuture app faster and seamlessly
Template Solution which allow team to rapid customize various Smart Contract solutions
This partnership which as already seen once successful case, will be beneficial to a wide range of stakeholders; Savvycom, Morpheus Labs, the blockchain developer community, customers of both parties and all associated stakeholders.