labore et dolore magna eiusmod
consectetur adipiscing elit, sed do eiusmod tempor incididunt ut labore et dolore magna aliqua. Ut enim ad minim veniam, quis nostrud exercitation ullamco laboris nisi ut aliquip ex ea commodo consequat risus Ut mattis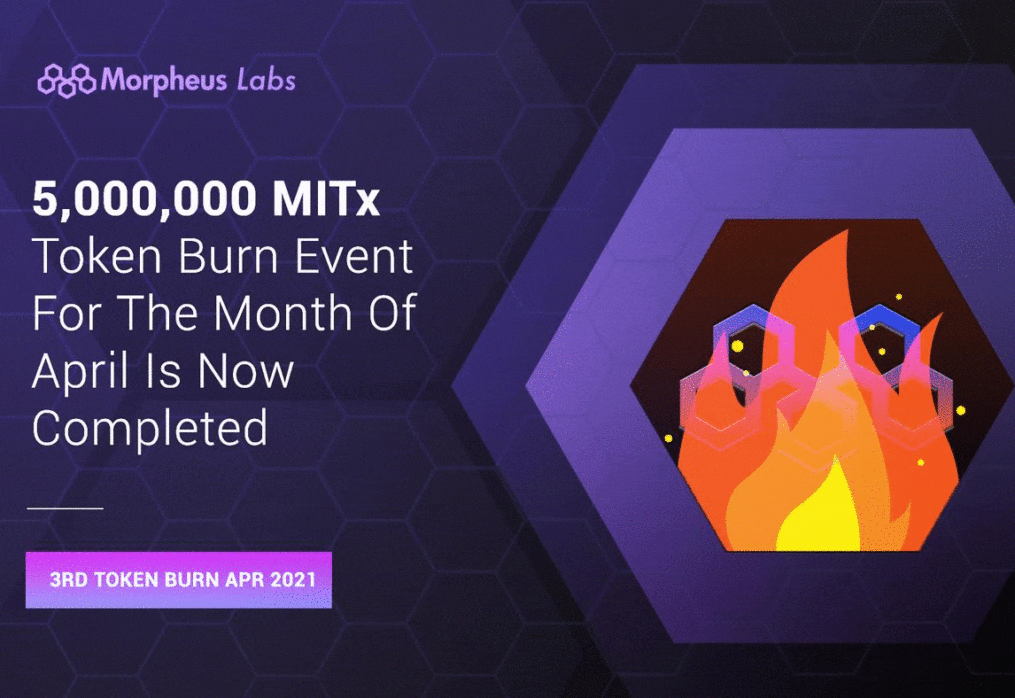 Round 3 — April 2021 Token Burn Update
In accordance with our latest tokenomics update, we will be facilitating a token burn of 5,000,000.00 MITx to the Burn Address (0x000000000000000000000000000000000000dead) on 4 April 2021.
The new token total supply will be 723,999,995.00 MITx as at 4th April 2021.
Upcoming token burn schedule
4th Burn (4th Jul 2021): 5,000,000.00 MITx
5th Burn (4th Oct 2021): 5,000,000.00 MITx
Burn Schedule for 2022
6th Burn (4th Jan 2022): 4,000,000.00 MITx
7th Burn (4th Apr 2022): 4,000,000.00 MITx
8th Burn (4th Jul 2022): 4,000,000.00 MITx
9th Burn (4th Oct 2022): 1,999,995.00 MITx
Therefore, the upcoming Token Burn Schedule of 23,999,995.000 MITx will complete its burn schedule by 4th Oct 2022, resulting in the Total Supply as 700,000,000.00 MITx.
Completion of 4th Oct 2022 Token Burn
For more information about our tokenomics update, please click here.
A token burn is a process of sending a number of tokens to a wallet address — commonly referred to as the "black hole" — where the private keys are unobtainable by anyone. This process makes the tokens unusable forever and cannot be undone.
Token burns will keep the token value at a healthy level and importantly embrace the importance of scarcity as the supply of the tokens in circulation is intentionally decreased. This process adds security for users/token holders and lets them safely expedite their transactions without perverse incentives. Because there is no incentive to charge higher fees other than for faster execution, users can trust that the network will be used more responsibly.
Economic principles have proven that this is an effective method and a reinforcement for the respective project's growth.
Morpheus Labs is a Blockchain-Platform-As-A-Service (BPaaS) provider offering mission-critical tools, infrastructure, various blockchain protocols, and blockchain use case references for enterprises and developers to build, experiment and manage their own applications effortlessly at minimal cost and time. Armed with relevant capabilities, the platform offers a multitude of intuitive solutions that enables developers and enterprises alike to take advantage of its platform to build effective solutions for various use cases.
Start building for free on Morpheus Labs SEED!
| No | Question | Respondent |
| --- | --- | --- |
| 1 | I saw that for the launchpad – there are quite a few customers/projects. Can you share what Morpheus Labs looks for in a project before on-boarding them? | Pei-Han |
| 2 | Can you tell us more on how Morpheus Labs solutions apply to the real world business, enterprise or educational needs? | Dorel |
| 3 | What new additions to the services offered would you like to add in the future? The launchpad seems to be a good move. Will we see more of it or do you all see the launchpad propelling Morpheus Labs forward? | Pei-Han |