labore et dolore magna eiusmod
consectetur adipiscing elit, sed do eiusmod tempor incididunt ut labore et dolore magna aliqua. Ut enim ad minim veniam, quis nostrud exercitation ullamco laboris nisi ut aliquip ex ea commodo consequat risus Ut mattis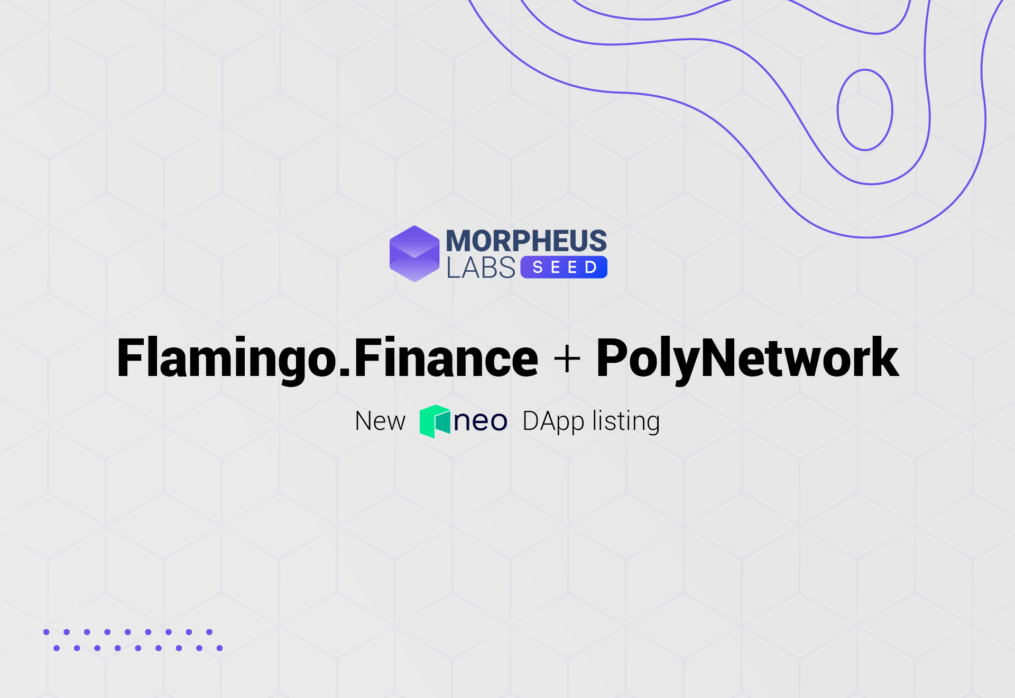 New DApp Listing: Morpheus Labs SEED Adds Flamingo.Finance and PolyNetwork
We are delighted to announce the listing of Neo solutions in Morpheus Labs App Library V2.0!
Morpheus Labs SEED, the low code development platform includes the AppLibrary where customizable industrial solutions are listed and showcased to the public. The AppLibrary is a crowdsourced innovation marketplace that caters to the needs of businesses and individuals alike who can source for ideas and applications on the blockchain. Platform users get access to promote any DApp in AppLibrary and create deployments using Use Case templates.
Neo has listed two industrial solutions in Morpheus Labs App Library V2.0:
Flamingo.Finance Flamingo is an interoperable, full-stack decentralized finance protocol built on the Neo blockchain. Flamingo is comprised of five main components, including Wrapper – a crosschain asset gateway, Swap – an on-chain liquidity provider, Vault – a one-stop asset manager, Perp – an AMM-based perpetual contract trading platform, and also DAO – a decentralized governance mechanism.
 PolyNetwork PolyNetwork is an interoperability protocol. Authorized homogeneous and heterogeneous public blockchains can connect to PolyNetwork through an open, transparent admission mechanism and communicate with other blockchains. Popular blockchain networks such as Bitcoin, Ethereum, Neo, Ontology, and Cosmos are already a part of PolyNetwork. Morpheus Labs and Neo announced their alliance back in 2019 when Neo blockchain protocol was fully integrated into Morpheus Labs SEED to expand the broad suite of dApp use cases that enterprises can select and develop upon a diverse set of blockchain platforms.
Neo Blockchain Toolkit was integrated as well, which can now be used as part of the Morpheus Labs CDE (collaborative development environment). Developed by Neo Global Development Seattle, the Neo Blockchain Toolkit includes a range of utilities for developers, allowing them to create, debug, and test smart contracts on the Neo blockchain. After using the toolkit to create and test contracts, developers will be able to leverage other tools in the CDE to build cloud-ready applications. The Morpheus Labs team integrated .NET on Morpheus Labs SEED which brings support for the developers can quickly move from rapid prototyping to tweaking the scalability for their solutions benefiting from the other components provided by the platform such as:
– Multi Language support (Neo-Python, .NET, C#, Go, Java)
– Blockchain infrastructure for developers
– Support in the creation of digital assets
About NEO
Neo is an open-source project driven by the community. It utilizes blockchain technology and digital identities to digitize assets and automate the management of digital assets using smart contracts. Using a distributed network, it aims to create a "Smart Economy".
Neo is an industry leading platform, pushing the boundaries of blockchain development, and Morpheus Labs will bridge the adoption gap between enterprises seeking to leverage Neo's cutting edge technology, through our use case dApp library and custom tailored solutions.
About Morpheus Labs
Morpheus Labs is a leader in Blockchain-Platform-As-A-Service (BPaaS), offering mission-critical tools, infrastructure, various blockchain protocols, and blockchain use case references for enterprises and developers to build, experiment and manage their own applications effortlessly at minimal cost and time. Armed with relevant capabilities, the platform offers a multitude of intuitive solutions that enables developers and enterprises alike to take advantage of its platform to build effective solutions for various use cases.
Morpheus Labs' purpose is to make it easier and cheaper for people to develop blockchain solutions; empowering businesses to solve the unknowns and complexities in blockchain technology. Start building for free on Morpheus Labs SEED!