labore et dolore magna eiusmod
consectetur adipiscing elit, sed do eiusmod tempor incididunt ut labore et dolore magna aliqua. Ut enim ad minim veniam, quis nostrud exercitation ullamco laboris nisi ut aliquip ex ea commodo consequat risus Ut mattis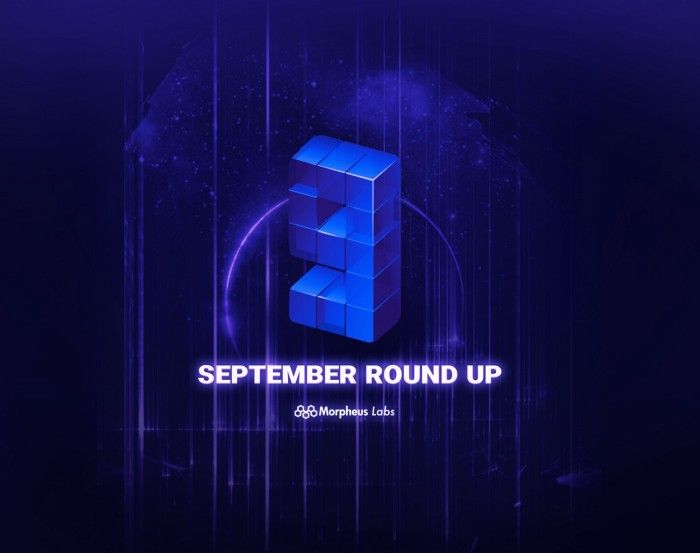 Morpheus Labs September Round-Up and Highlights
We celebrated our 4th Anniversary throughout the month of September; kicked off the month with our toknomics update and token burn update, followed by an announcement of [Morpheus Labs x PwC Singapore] on a Smart compliance application by our CEO.
Announcement Highlights
"Since our inception in 2016, Morpheus Labs SEED offers an enterprise-level Software-As-A-Service (SaaS) solution that is well-positioned to cater to varying needs, such as scalability, for reputable companies. The solution that we work on with an enterprise does not only fulfill the demand of the market, but our involvement in this groundbreaking solution has also opened up new possibilities for Morpheus Labs and the wider ecosystem."
"Also, in the pipeline is our plan involving the education aspect, as we've been receiving a lot of inquiries and partnership interest from educational providers. This will also be one of the things that we'll be sharing in the forthcoming weeks."
For exchanges, we do hear a lot of questions in the community about exchanges. Rest assured, as we're definitely working to get onto more reputable and bigger exchanges.
We'd wish to share with everyone in the Morpheus Labs community that for us, we do not solely focus on paid partnerships. Instead, what we want to drive on is the real adoption of Morpheus Labs SEED.
As a comprehensive platform for blockchain application development, we work with enterprises and our blockchain partners to capture individual users, we're also working on different verticals such as Supply Chain, DeFi, and Healthcare.
For Our Community
Geared to connect with our community, we launched our bounty program to thank you for your continued support. We are very encouraged by the great response. Congratulations once again to our winners!
See the list of winners here.
We updated our community on a partnership update with our wonderful partner, ICON who has been supportive and active in creating mass adoption together by conducting its blockchain workshops on Major League Hacking, an organisation that works all over the United States and Europe to help students organise hackathons at their own universities, powering over 200 weekend-long invention competitions that inspire innovation, cultivate communities and teach computer science skills to more than 65,000 students around the world each year! We look forward to do more with various blockchain partners, as well as educational institutions in the coming months.
The Morpheus Labs Team has called out to talents from around the globe to be a part of our flagship Ambassador Program to promote awareness and educate the wider community to drive the adoption of Morpheus Labs for better use cases. We have also announced the Canopy Program (Community Node) to enable true supporters to participate in Morpheus Labs community governance and collaboration. We believe that this will further encourage the long-term perspective of our community.
In addition, we will be launching the Morpheus Labs Foundation which seeks to support the promotion and development of Morpheus Labs SEED (BPaaS) and propagate the innovations of blockchain technology among the developers. Further details will be unveiled in the coming December.
Finally, we ended the month with a blast by giving our community a chance to earn up to USD5,000 MITx per month for adding Uniswap Liquidity from (25th September — 24th October 2020) AND a brand new morpheuslabs.io! Our new website provides a clear message about who we are, what we stand for and about our solutions. The website has a fresh new look and was designed with a goal to create a user-friendly browsing experience for our trusted and valued clients and business partners.
If you are new to Morpheus Labs, welcome! You may want to check out all you need to know about us in the latest AMA.
Highlights of the AMA:
Who are we
We are a Blockchain-Platform-As-A-Service (BPaaS) provider offering mission-critical tools, infrastructure, various blockchain protocols, and blockchain use case references for enterprises and developers to build, experiment and manage their own applications effortlessly at minimal cost and time. It's a platform for developers, companies, enterprises and students to develop, tweak and launch blockchain applications on a fraction of the time it would normally take and at a much lower cost. We make blockchain development easy and fast.
How does it work?
If a company likes one of these Defi Dapps, but it doesn't fit them perfectly, we can help towards changing it, so it'll be an existing Dapp that is going to be custom-tailored to that company alone. This way, they don't need to develop something from scratch and spend a huge amount of resources.
Future plans
2020 isn't over, we're planning hackathons, updating our marketplace (the App Library) with Dapps from partners and developers to facilitate the creation of DeFi growth, create new curriculums for educational purposes with potential educational institutions and we're preparing to release new tools that are co-created with big partners to penetrate the Asian enterprise market (and global after).
More announcements and updates to come for the month of October. Stay tuned!
Follow us on Twitter, Facebook or Linkedin for the latest news and updates!
About Morpheus Labs
Morpheus Labs is a Blockchain-Platform-As-A-Service (BPaaS) provider offering mission-critical tools, infrastructure, various blockchain protocols, and blockchain use case references for enterprises and developers to build, experiment and manage their own applications effortlessly at minimal cost and time. Armed with relevant capabilities, the platform offers a multitude of intuitive solutions that enables developers and enterprises alike to take advantage of its platform to build effective solutions for various use cases.
Start building for free on Morpheus Labs SEED!
Be a part of our community! Join our official group chat on Telegram: https://t.me/morpheuslabs
(Check out our Community Telegram Guidelines.)
Connect with us:
LinkedIn | Twitter | Telegram | Facebook | Youtube | Github | Reddit | CrunchBase | Website | Gitter
Should you have any enquiry, please contact us at info@23.108.103.25.
| No | Question | Respondent |
| --- | --- | --- |
| 1 | I saw that for the launchpad – there are quite a few customers/projects. Can you share what Morpheus Labs looks for in a project before on-boarding them? | Pei-Han |
| 2 | Can you tell us more on how Morpheus Labs solutions apply to the real world business, enterprise or educational needs? | Dorel |
| 3 | What new additions to the services offered would you like to add in the future? The launchpad seems to be a good move. Will we see more of it or do you all see the launchpad propelling Morpheus Labs forward? | Pei-Han |