labore et dolore magna eiusmod
consectetur adipiscing elit, sed do eiusmod tempor incididunt ut labore et dolore magna aliqua. Ut enim ad minim veniam, quis nostrud exercitation ullamco laboris nisi ut aliquip ex ea commodo consequat risus Ut mattis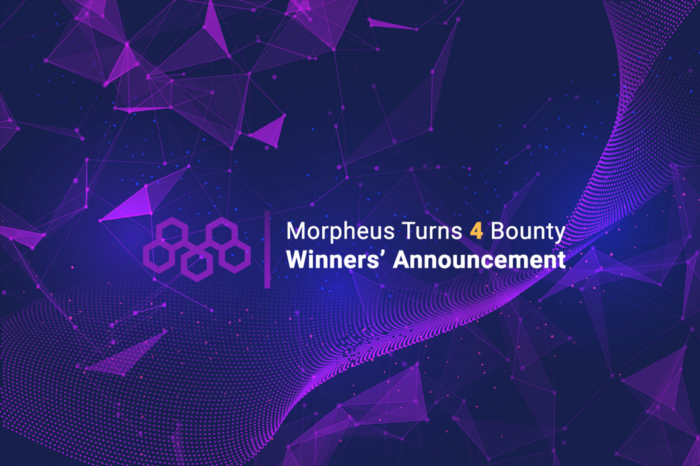 Morpheus Labs' September Bounty Program Winners
Dear Morpheus Labs community,
We are delighted to see such a great response to your participation! Thank you for celebrating our 4th-anniversary last month with us through our 4th-anniversary bounty program.
The "Morpheus Turns 4" bounty program is eligible only for users who have successfully submitted all mandatory fields on the application form, with a minimum of 2 successfully completed tasks.
Today, we've successfully concluded the program with an overwhelming response from the community. A total of 10 lucky winners who will be walking away with a total prize pool of US$1,500 in MITx tokens! In order to protect your privacy, we'll be concealing our winners' email addresses and wallet addresses.
All winners will be notified by their respective email addresses shortly this week.
Our Top 3 Winners equally split a prize pool of US$1,000 in MITx tokens:
j*****k@hotmail.com (Wallet: 0xbCD*****1601f)
a*****i@gmail.com (Wallet: 0x67c*****9b0eC)
e*****e@hotmail.com (Wallet: 0x30C*****D1449)
In addition to that, we've also selected our Top 4–10 winners who have completed a minimum of 2 tasks.
Top 4–10 Winners equally split a prize pool of US$500 in MITx tokens:
m*****6@hotmail.com (Wallet: 0xA5E*****880C9)
c*****z@gmail.com (Wallet: 0xa4c*****9fe9e)
n*****n@hotmail.com (Wallet: 0x175*****459Fe)
r*****l@yandex.ru (Wallet: 0x8Fb*****b097c)
l*****a@gmail.com (Wallet: 0x40b*****8hfJm)
0*****k@yahoo.com (Wallet: 0x66n*****k7s9d)
a*****e@gmail.com (Wallet: 0x5lK*****k7qTr)
Thank you for your participation once again! We will see you in our next bounty program. Stay tuned!
About Morpheus Labs
Morpheus Labs is a Blockchain-Platform-As-A-Service (BPaaS) provider offering mission-critical tools, infrastructure, various blockchain protocols, and blockchain use case references for enterprises and developers to build, experiment and manage their own applications effortlessly at minimal cost and time. Armed with relevant capabilities, the platform offers a multitude of intuitive solutions that enables developers and enterprises alike to take advantage of its platform to build effective solutions for various use cases.
Start building for free on Morpheus Labs SEED!
Be a part of our community! Join our official group chat on Telegram: https://t.me/morpheuslabs
(Check out our Community Telegram Guidelines.)
Connect with us:
LinkedIn | Twitter | Telegram | Facebook | Youtube | Github | Reddit | CrunchBase | Website | Gitter
Should you have any enquiry, please contact us at info@23.108.103.25.
.