labore et dolore magna eiusmod
consectetur adipiscing elit, sed do eiusmod tempor incididunt ut labore et dolore magna aliqua. Ut enim ad minim veniam, quis nostrud exercitation ullamco laboris nisi ut aliquip ex ea commodo consequat risus Ut mattis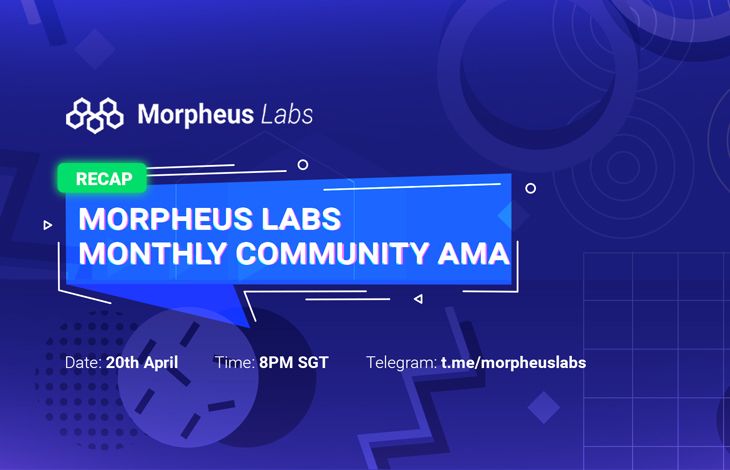 Morpheus Labs Monthly Community AMA #2
The transcript has been edited for the purpose of publication. Certain words and grammar have been edited. Hey Morpheus Labs Community, As promised, we will conduct regular AMA sessions at least once a month, in which the community members will be able to get their questions answered by our co-founders and gain access to the latest news and advances in the developments going on at Morpheus Labs. Here's a recap of our latest community AMA which was held on 20 April 2021, 8 PM (+8 GMT), hosted by Morpheus Labs' community manager, @cryptofiy. @cryptofiy: Hey everyone, thanks for joining our monthly AMA session ! If you've joined us in our previous community AMA, welcome back to another edition of the much-anticipated Telegram session in which our core team will answer some of the most commonly asked questions about Morpheus Labs and SEED. Throughout the past few weeks, we've received an overwhelming list of questions from our community. However, as with our earlier AMAs, we're keeping this session under 1 hour. Thus, we've picked 9 questions from you that we thought are very good and important questions to answer. So, are you ready? Let's go!
Pei-Han, Answer Dorel: We're happy to share our technical roadmap with you: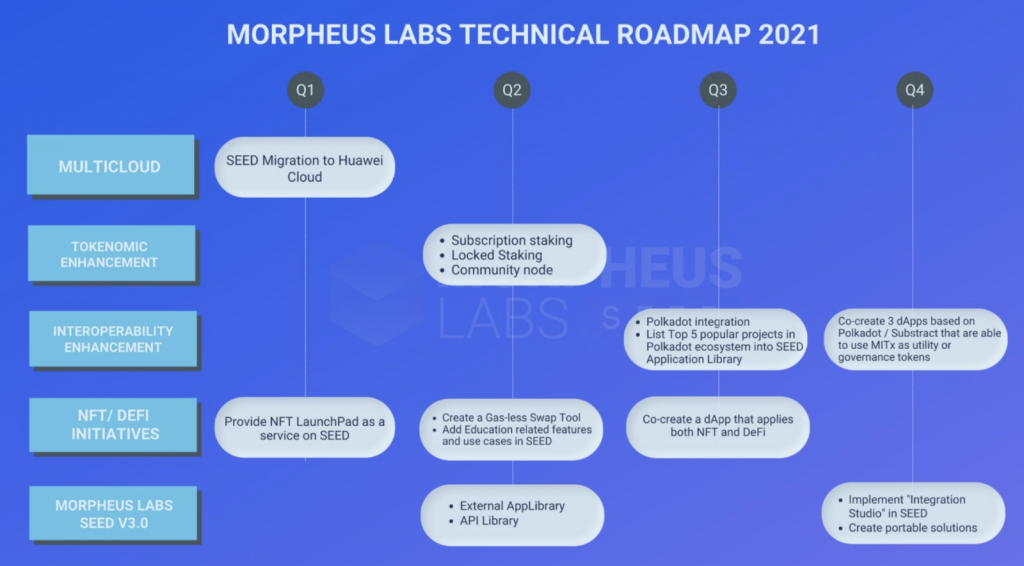 Many from the community have mentioned that the roadmap for 2021 looks interesting. However many have also asked about the progress of these.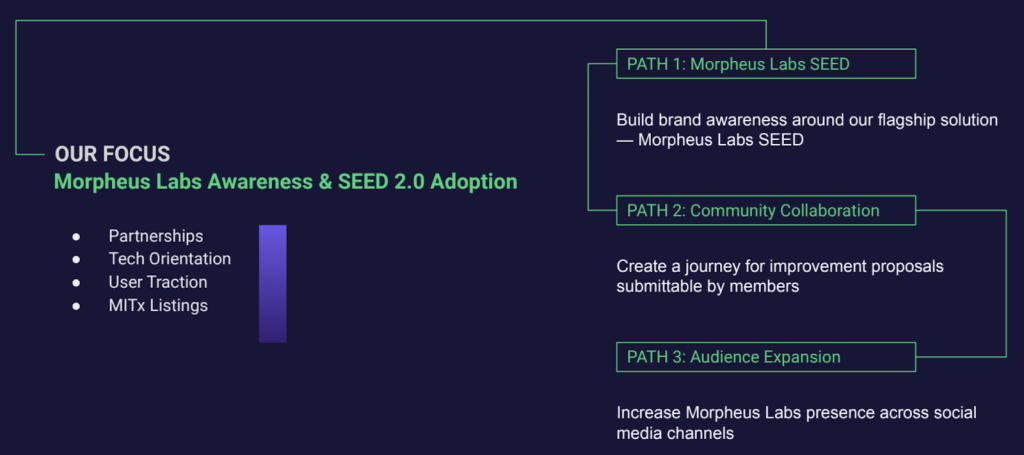 Some key highlights: We have a significant growth in the SEED platform:
Munich Applied Science University is using ML SEED for learning blockchain technology and practicing smart contract development. We will share more details in due time.
MHL / ICON are using ML SEED for conducting workshops for developing blockchain solutions using ICON protocol.
A quick recap and update on SEED platform in Q1 2021:
We have completed ML SEED integration on Huawei Cloud
Development of micro-payment solution using SEED
Moving forward, we are adding more dApp and DeFI functions that complement ML SEED:
To launch our gasless NFT LaunchPad that allows users to create their NFT tokens without paying expensive gas fees. (in progress)
We are implementing MITx Staking Tool to cater to the demands of MITx staking.
Exciting features are going to be implemented — On the way! We will share when they are ready.
Pei Han
marketing milestones together with updated technical milestones on 25th Mar: https://morpheuslabs.io/old/news-room/morpheus-labs-marketing-initiatives-roadmap-2021/. In a nutshell,
Monthly AMA with our community (and we welcome the new members!)
We have relaunched our ambassador program with better perks to reward and appreciate our contributors: https://morpheuslabs.io/old/news-room/be-a-part-of-the-morpheus-labs-vision/
We are always on the lookout for active members of the community familiar with the product, and who share in the views and concept of the Morpheus Labs financial ecosystem, to join us as Ambassadors; with the aim of helping us to grow our community and educate anyone interested in the project. Sign up if you are interested 
MITX campaigns such as our on-going Uniswap liquidity campaign: https://morpheuslabs.io/old/news-room/enjoy-double-rewards-in-morpheus-labs-liquidity-ca/
Sticker and NFT design competition where winners will receive an NFT minted by the Morpheus Labs team!
We'll also ramp up our Twitter presence even more in the coming weeks and months
This is the summary of our marketing plan for Q1 to Q3. Our focus is to significantly increase MITx awareness and accelerate the adoption of SEED 2.0. Q3. When is the next listing on exchanges? Pei Han: MITX was listed on KuCoin this February. It has improved the trading volume and demands of MITx, and has reached out to a larger audience with potential MITx holders. The overall feedback is positive. Listing on new exchanges will definitely help grow MITx, and accelerate the development and expansion of Morpheus Labs' business. We will plan and execute with the considerations of how to benefit the company, community and MITx token holders in a more sustainable manner. We will keep the community updated when the time is coming. Q4. Could you share more about ML's partnership with Amazon Web Services (AWS)? Dorel: The Partnership with AWS was established back in 2019 and we work together with AWS to achieve our goals with mutual interest and benefits. Let's go deeper here
Morpheus Labs gets a secured growth business fund from AWS Activate. The fund was used to build and execute better product integration, explore new technologies for our new Use Cases. It's a concrete achievement
To secure Market Development Funds (MDF). This funding aims to drive demand generation and GTM strategies. AWS Partners gain visibility with customers through marketing opportunities including co-branded campaigns, joint customer-facing webinars, case studies, event sponsorships.
To achieve 1st Joint AWS Case Study. To co-create a written case study that highlights Morpheus Labs' success in solving specific business challenges for AWS customers. Case studies may be featured on various AWS web pages and at AWS-operated events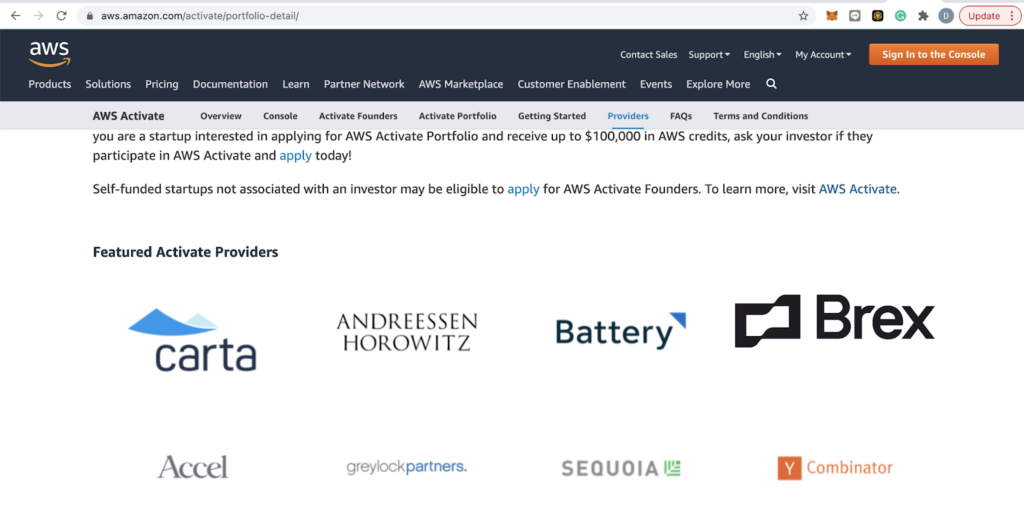 Q5. Is NFT Marketplace in your development pipeline? Bruce: Morpheus Labs and Huawei Cloud had co-minted NFT tokens for keynote speakers and panelists in the Huawei Cloud Day event. We will be launching a beta version of a gasless NFT Token LaunchPad for users to mint NFT tokens on the Matic blockchain without paying a gas fee. The minted tokens are available on OpenSea and will be tradable (the trade function will be available on OpenSea soon). We have just minted limited NFT tokens for the winners of the MITx community sticker and NFT design competition. (Congrats to the winners once again! Thank you for your participation.) NFT is a cultural revolution, it will be widely used in daily life and business activities. As a blockchain technology provider, apart from providing platform and tools for NFT project implementation, we are also working with other blockchain technology providers and NFT marketplaces to support MITx to be a payment currency for NFTs. We are also exploring developing an NFT marketplace to provide more advanced features using MITx as governance and payment currency if this will help significantly grow the MITx ecosystem. Q6. Is it true that Morpheus labs enable developing dApps that can use the best parts of different blockchains? Bruce: Morpheus Labs SEED platform is designed for users to develop and implement dApps leveraging the most useful features of different blockchains, with integrated development tools, relevant reference applications harvested by Morpheus Labs, partners and platform users. We will share samples in subsequent technical updates or quick summaries on our social media. Q7. Say I would like to use Vechain for supply chain agnostics and 0chain for storage and or financial services (invoices) in my dApp, would this be possible? Bruce: Yes, the case you just mentioned is what Morpheus Labs SEED is good at. It is a one-stop dApp development and deployment platform, with service and component-oriented architecture design, VeChain supply chain, 0Chain for storage, and invoice service that can be seamlessly integrated using the SEED platform. If needed, we can have follow-up discussions on this topic. Q8. Is there any plan for stacking our MITx? Dorel: I will answer this one about stacking. Currently, the MITx staking features are in progress, in accordance with the published 2021 roadmap. Meanwhile, our own SEED Staking feature will complete soon; stacking is possible via 3rd party tools for staking-like, such as: Currently, the MITx staking features are in progress, in accordance with the published 2021 roadmap. Meanwhile, our own SEED Staking feature will complete soon; stacking is possible via 3rd party tools for staking-like, such as:
As explained in other posts and AMAs about MITx economy, besides the subscription use and AppLibrary download/incentive use, the MITx staking will be another enhancement for ML SEED. It will be available in Q2 with the Locked Stacking as the first release, part of the platform ecosystem. Here's a sample function that we are implementing: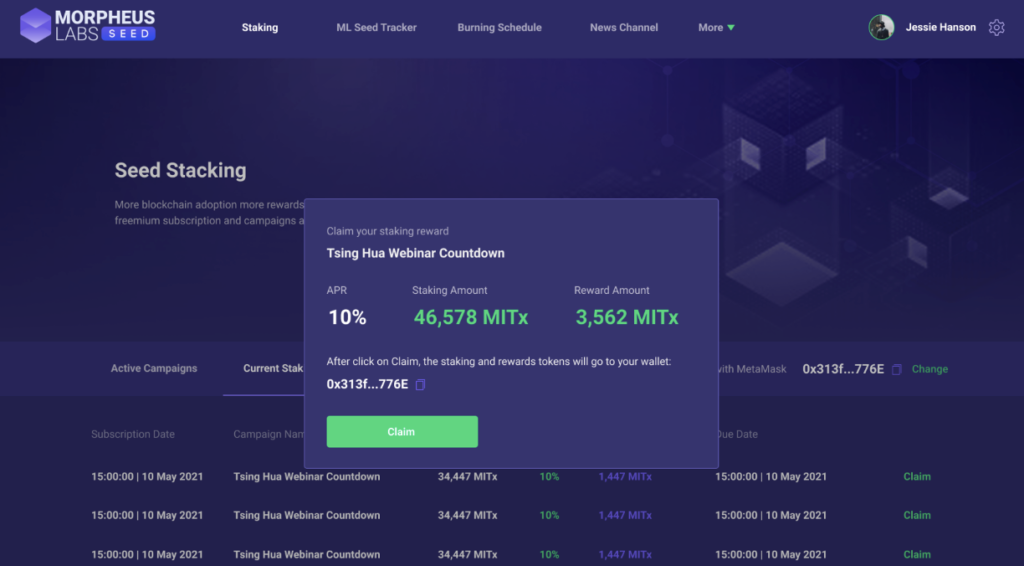 @cryptofiy: Thank you, now on to the last question Q9. Any plan for Morpheus Labs to join Binance Smart Chain (BSC)? Bruce: Yes, we are going to implement MITx BEP20 on BSC, and will enable the conversion between MITx ERC20 and MITx BEP20 (two ways conversion ERC20 ⇐> BEP20 will be available for MITx). With BEP20 available, the MITx BEP2 token on Binance DEX would be convertible to MITx BEP20. We believe this move will help grow MITx and benefit the MITx community. @cryptofiy: Thank you everyone, we've come to the end of this AMA. See you all soon at the next Community AMA! The group will be unmuted in 1 minute time. Pei Han: Thank you very much everyone. Bruce Lu, Thanks @cryptofiy, thanks to all our community members. Dorel: Thank you everyone in the community for the questions. We look forward to other AMAs in the future! @cryptofiy: Thank you to the Core team and community
Morpheus Labs is a Singapore-based blockchain-platform-as-a service provider offering the most powerful tools, scalable infrastructure and ready-to-use solution templates for enterprises and blockchain developers on the multi-cloud capability to build, deploy and manage innovative applications with cost and time efficiencies. The platform offers a multitude of intuitive solutions that enables developers and enterprises alike to take advantage of its platform to build effective solutions for various use cases. Morpheus Labs SEED is also purposefully designed to create a friendly ecosystem convenient for students and professionals to learn the complex environment of blockchain, giving them a head start to blockchain development and propelling them into the talent-hungry blockchain development world. With more than 25 stacks, 9 programming languages and 9 blockchain protocols to play with, students from all over the United States and Europe leverage Morpheus Labs SEED in hackathons at their own universities, powering over 200 weekend-long invention competitions that inspire innovation and cultivate communities to more than 65,000 students around the world each year. Start building for free on Morpheus Labs SEED!
Be a part of our community! Join our official group chat on Telegram: https://t.me/morpheuslabs
| No | Question | Respondent |
| --- | --- | --- |
| 1 | I saw that for the launchpad – there are quite a few customers/projects. Can you share what Morpheus Labs looks for in a project before on-boarding them? | Pei-Han |
| 2 | Can you tell us more on how Morpheus Labs solutions apply to the real world business, enterprise or educational needs? | Dorel |
| 3 | What new additions to the services offered would you like to add in the future? The launchpad seems to be a good move. Will we see more of it or do you all see the launchpad propelling Morpheus Labs forward? | Pei-Han |