labore et dolore magna eiusmod
consectetur adipiscing elit, sed do eiusmod tempor incididunt ut labore et dolore magna aliqua. Ut enim ad minim veniam, quis nostrud exercitation ullamco laboris nisi ut aliquip ex ea commodo consequat risus Ut mattis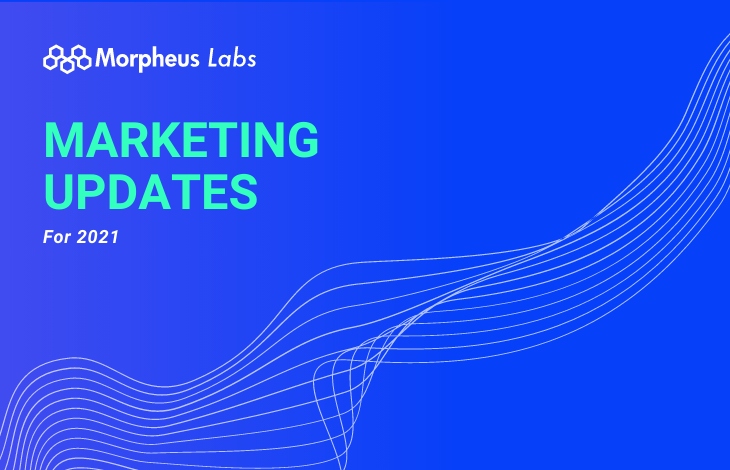 Morpheus Labs Marketing Initiatives & Roadmap 2021
To our wonderful Morpheus Labs supporters and contributors Throughout 2020 we've been steadily growing and in the past few months, we've seen even bigger growth as Bitcoin went from roughly $10.000 to $55.000 in price. With this momentum, we want to provide everyone with an update regarding the Morpheus Labs Marketing Roadmap for this year.
Morpheus Labs is embarking on our 2021 journey, and we want you to join us! Here is our marketing roadmap for the next nine months of 2021.
We now enter a phase in which most of these developments are completed or will be completed in the near future. This means that more time and resources can be allocated to building new features that enrich the user experience
As promised, we wanted to outline to you the upcoming plans for Morpheus Labs for the next 6 – 9 months.
Unlike the year 2020, where we do admit certain shortcomings have prevented us from reaching our full marketing capacity.
Going Forward
For the fiscal year of 2021, we have an overall marketing plan and initiatives to execute with 3 goals in mind:
1) Continuing our User Growth initiative for SEED 2.0 since our announcement in Sep 2020.
2) Strengthening our Core Product to ensure competitiveness in the industry.
3) Secure and promote partnerships that are mutually beneficial, not just in terms of improving our SEED infrastructure, but also to establish Morpheus Labs as the preferred provider for Enterprises and Developers to build prototyping DApps and more.
Mass marketing launch
We will be launching marketing campaigns intended to attract as many new users and like-minded individuals to our platform as possible.
The campaigns will include the advertising of Morpheus Labs and our product services in:
– Major crypto media outlets and traditional media platforms (whenever relevant)
– On most visited cryptocurrency sites like CoinMarketCap and Etherscan;
– Regular AMA sessions and organic reviews with YouTube influencers;
– Investment in Google Adwords, SEO, Facebook, Twitter and CPA networks campaigns;
– Additional potential Bounty/Trading/NFT competitions campaigns to spread the word and keep our community members engaged.
– Form partnerships that aim to increase our revenue, grow our brand awareness, broaden our reach, and engage new audiences we didn't have access to before.
Morpheus Labs' SEED Development
The Morpheus Labs tech team, led by Bruce and Dorel, who are the CTO and CIO of the company, works tirelessly behind the scenes to strengthen SEED platform so as to stay competitive in the industry.
Community development
Influencers
As a part of our marketing and community development strategies, we have invited a number of Youtube and Twitter influencers to interview us and our staff, and to take a peek under the hood of Morpheus Labs and see how things are running.
AMA sessions
We will conduct regular AMA sessions at least once a month, in which the community members will be able to get their questions answered and gain access to the latest news and advances in the developments going on at Morpheus Labs. At any point of time, community members could submit their feedback via our feedback form.
The dates and times for the AMA sessions and further information will be announced across our social media accounts, so be sure to follow us on Twitter, Reddit, Facebook and join our community group chat on telegram.
Morpheus Labs Ambassadors
We're incredibly appreciative of every single person in the Morpheus Labs community, as you're the main driving force of the campaign, spreading the word about the project and helping us to reach all the way to the top.
In recognition of this we have created and launched the Morpheus Labs Ambassador program last September and we will be launching again in the coming weeks, this time with enhanced perks to reward our contributors.
We will be looking for active members of the community familiar with the product, and who share in the views and concept of the Morpheus Labs financial ecosystem, to join us as Ambassadors; with the aim of helping us to grow our community and educate anyone interested in the project.
Morpheus Labs Ambassadors will receive various additional bonuses and benefits like access to insider and unpublished information; free passes to events, meetups and conferences of Morpheus Labs, access to limited edition merchandise and a chance to get hired into the team, becoming an actual part of Morpheus Labs.
It's important for us to show our appreciation for the community's support by granting some special opportunities to the people who have made the effort to support us — integrating you into the project's day-to-day happenings is the obvious thing to do.
2021 Marketing Roadmap (A Complete Guide)
"For more information, check out our marketing roadmap as found on the link here. (http://bit.ly/3tsbBtO)"
In addition to that, we will be setting up a Notion account for our community members to view the latest and real-time updates of our technical development for 2021.All that, and more, in our upcoming post. Have a great week everyone!- Marketing Team, Morpheus Labs