labore et dolore magna eiusmod
consectetur adipiscing elit, sed do eiusmod tempor incididunt ut labore et dolore magna aliqua. Ut enim ad minim veniam, quis nostrud exercitation ullamco laboris nisi ut aliquip ex ea commodo consequat risus Ut mattis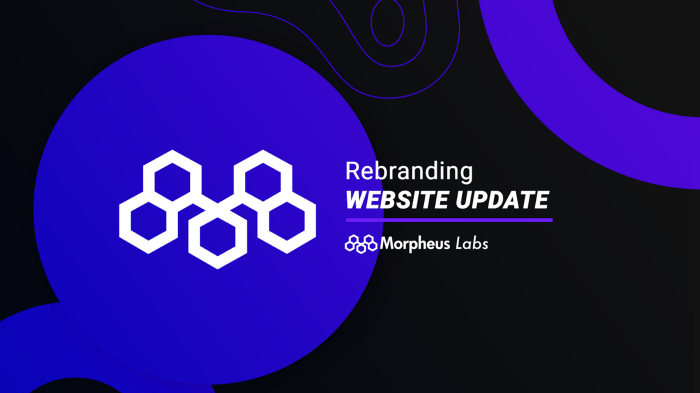 Morpheus Labs is Rebranded!
Faster. Bolder. Stronger. A new look that reflects
who we really are.
We are pleased to announce that we have refreshed our branding to better reflect who we are.
Over recent years we've evolved as a company and we felt that the time had come to update our overall look while keeping in-line with our values and mission.
What's new?
We have maintained a purple palette (our main color since 2017) while making our logo bolder for greater visibility across social media accounts. We've also kept the honeycomb outline in the logo as it is part of our identity. This new logo also allows us to have a more visual presence, since it makes it easier to identify the brand faster, even in smaller sizes.
A new MORPHEUSLABS.IO
Our new website provides a clear message about who we are, what we stand for and about our solutions. The website has a fresh new look and was designed with a goal to create a user-friendly browsing experience for our trusted and valued clients and business partners. It boasts a clean design and intuitive and consistent site-wide navigation system with improved menu functionalities that direct you to the most relevant information for your needs. It is also fully responsive to mobile devices, and the website pages are easy to navigate using a wide range of web browsers and portable devices.
Our current and prospective clients will find useful information about our product and services on the homepage of our website. There are direct links to use case examples and platform features, as well as pricing and a display of innovative creation using blockchain technology on our development platform, in our App Library (coming soon).
There are executive summaries of use cases across various industries, illustrating how our platform could help clients quickly design, deploy and implement solutions on their businesses.
The site contains integrated social media buttons for Blog, Facebook, Twitter, Linkedin, Github and others foster improved communication with the clients. We will be constantly updating our content with helpful information, articles, blogs, company announcements and technical updates in the "Newsroom".
We are sure that in the new website you will find all the information that you need. If you have anything you would like to send us your feedback about your experience with the website, please send us an email at info@23.108.103.25.
If you've been with us for a while we hope you like our new look!
About Morpheus Labs
Morpheus Labs is a Blockchain-Platform-As-A-Service (BPaaS) provider offering mission-critical tools, infrastructure, various blockchain protocols, and blockchain use case references for enterprises and developers to build, experiment and manage their own applications effortlessly at minimal cost and time. Armed with relevant capabilities, the platform offers a multitude of intuitive solutions that enables developers and enterprises alike to take advantage of its platform to build effective solutions for various use cases.
Start building for free on Morpheus Labs SEED!
Be a part of our community! Join our official group chat on Telegram: https://t.me/morpheuslabs
(Check out our Community Telegram Guidelines.)
Connect with us:
LinkedIn | Twitter | Telegram | Facebook | Youtube | Github | Reddit | CrunchBase | Website | Gitter
Should you have any enquiry, please contact us at info@23.108.103.25.