labore et dolore magna eiusmod
consectetur adipiscing elit, sed do eiusmod tempor incididunt ut labore et dolore magna aliqua. Ut enim ad minim veniam, quis nostrud exercitation ullamco laboris nisi ut aliquip ex ea commodo consequat risus Ut mattis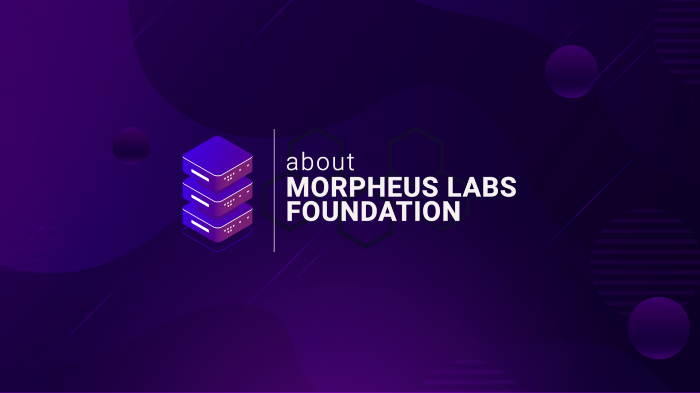 Morpheus Labs Foundation Announcement
Following the successful launch of the live version of Morpheus Labs BPaaS Version 2.0, also known as Morpheus Labs SEED, on June 12th, 2020, we've planned a slew of updates and strategic partnerships not just for our community, but for onboarded users of our platform.
As we celebrate our 4th anniversary this year, we've also placed our focus back into community building and outreach towards the wider ecosystem beyond the blockchain space. After almost 4 years since we started, without doubts or concerns regarding its further development, we've reached the point when we could take the next step.
Today, we're excited to announce the tentative launch of the Morpheus Labs Foundation in December 2020, which seeks to support the promotion and development of Morpheus Labs SEED (BPaaS) and propagate the innovations of blockchain technology among the developers.
Our Introduction
The Morpheus Labs Foundation is a non-profit foundation with the mission to promote and support Morpheus Labs SEED platform, development and education to bring decentralized protocols and tools to the world that empower developers to produce next-generation decentralized applications (dapps), building a decentralised future together.
" We enjoy solving complex problems and this often means navigating the unknown. We learn from both our successes and our failures and take ownership of our work. "
Our Mission
Together with our community, we are contributing by offering trusted, public and permissionless infrastructure builders for the borderless economy. We emphasise open and transparent policies, practices and partnerships. We honor our commitments to partners, our ecosystem and one another.
The Morpheus Labs Foundation is committed to the development of an inclusive and transparent system where anyone can build decentralized applications and projects, no matter where they are. We'll provide assistance with the network launch, along with initial governance and evolution of the public blockchain, with a primary goal of promoting broad participation and decentralization of the multichain network. The Morpheus Labs Foundation is helping make the borderless economy a reality.
Our Goals
We have built an ecosystem that promotes open collaboration. We want people around the world to work together, solve problems and innovate with Morpheus Labs.
Morpheus Labs SEED, for instance, facilitates a more effective way for developers and corporations to gain access to some of the best blockchain networks available in the industry today, and it is part of our bigger vision to accelerate the growth of blockchain adoption across the world. Our technology also has the ability to improve lives, empower people and transform the industry. We carefully evaluate the impact that our actions have on society and the environment.
With the upcoming launch of our Morpheus Labs Foundation in December, we're envisioning a more active collaboration with our community and partners to deliver sustainable, real-world impact that the technology can deliver for the world. Together, we're shaping a new digital economy, removing unnecessary friction and unlocking human potential. Our global network of thinkers, leaders and doers will be working together to pioneer the future.
Learn more about Morpheus Labs's SEED platform at www.morpheuslabs.io. More information on Morpheus Labs Foundation will be made available on our website later this year.
About Morpheus Labs
Morpheus Labs is a Blockchain-Platform-As-A-Service (BPaaS) provider offering mission-critical tools, infrastructure, various blockchain protocols, and blockchain use case references for enterprises and developers to build, experiment and manage their own applications effortlessly at minimal cost and time. Armed with relevant capabilities, the platform offers a multitude of intuitive solutions that enables developers and enterprises alike to take advantage of its platform to build effective solutions for various use cases.
Start building for free on Morpheus Labs SEED!
Be a part of our community! Join our official group chat on Telegram: https://t.me/morpheuslabs
(Check out our Community Telegram Guidelines.)
Connect with us:
LinkedIn | Twitter | Telegram | Facebook | Youtube | Github | Reddit | CrunchBase | Website | Gitter
For any query, please contact us at info@23.108.103.25.