labore et dolore magna eiusmod
consectetur adipiscing elit, sed do eiusmod tempor incididunt ut labore et dolore magna aliqua. Ut enim ad minim veniam, quis nostrud exercitation ullamco laboris nisi ut aliquip ex ea commodo consequat risus Ut mattis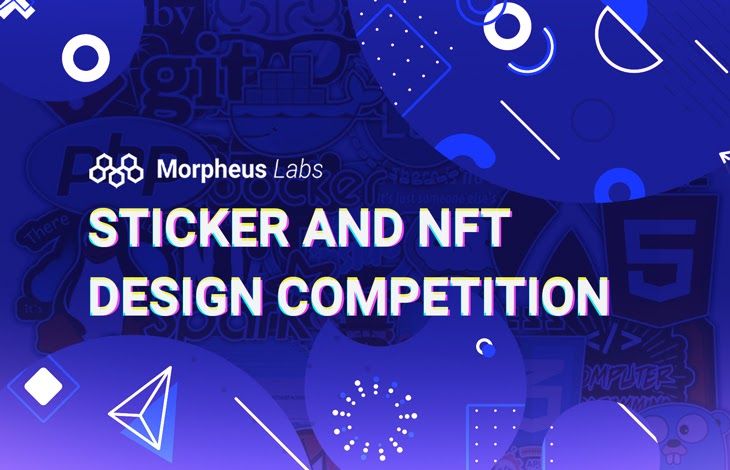 Morpheus Labs Community Sticker & NFT Design Competition
COfficial Morpheus Labs Sticker Pack (Telegram)
We're excited to announce today that our first ever official sticker pack is now ready for use! Click on the link (https://t.me/addstickers/morpheusseed) to add our official Morpheus Labs Sticker Pack into your Telegram chat, and strut them proudly across the entire sphere of Telegram!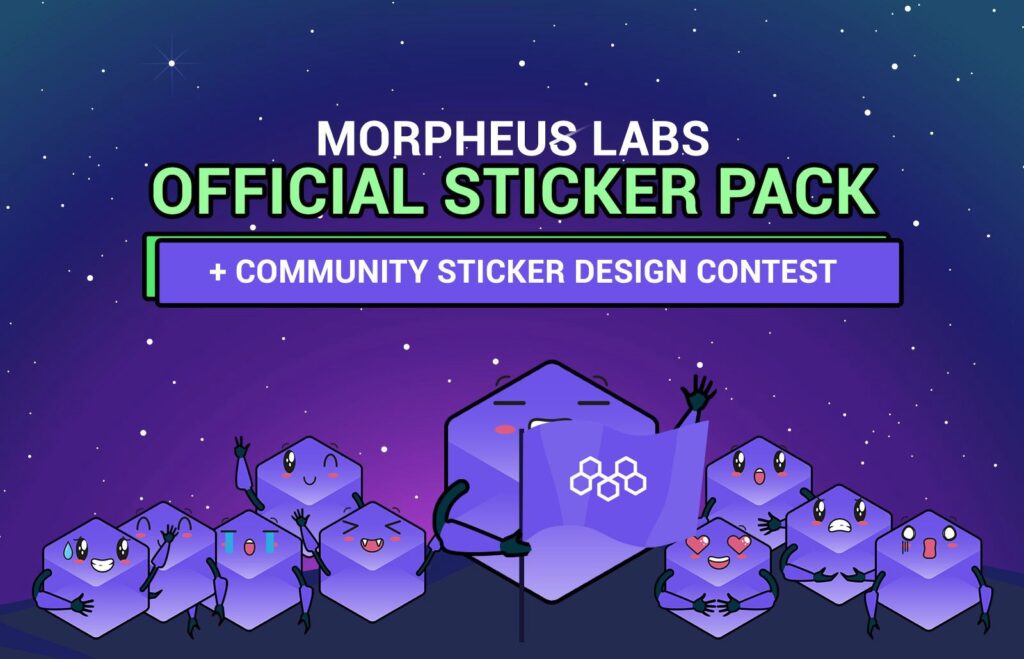 Community Telegram Sticker Design Contest
As you may know, we minted our first Morpheus Labs NFT as a gift to our invited partners and friends to attend Huawei Cloud Day webinar as panelists to share their valuable insights in accelerating innovations in FinTech with Blockchain and AI.
To commemorate this achievement and our official sticker pack launch, we are also opening an NFT and sticker design competition to the whole Morpheus Labs community. It is aimed to select stickers which demonstrate Morpheus Labs' key characteristics such as decentralization, innovation, high-performance, and so on (while still being fun!) for use in online communities.
Participants who design the stickers have ownership of their stickers. Participants will agree to authorize Morpheus Labs community members to use and share their stickers within the Morpheus Labs community for non-commercial use.
Participation Period
17th March 2021 00:00HR (UTC+8) to 25th March 2021 23:59HR (UTC+8)
How to participate
1. Follow Morpheus Labs on Twitter and join our community group chat in Telegram.
2. Create your Sticker! The image should be in PNG format (Transparent Background), and it must fit into a 512px x 512px resolution.
3. Retweet Morpheus Labs Sticker and NFT Design Competition post with your sticker design on Twitter (with #MITxNFTSticker #MorpheusLabs and $MITX) and post them in the Morpheus Labs Telegram community.
4. Send your sticker to marketing@23.108.103.25 between 17th March 2021 and 25th March 2021, in the following email format:
Subject title: Morpheus Labs Community Sticker Design Competition — (Sticker name) — (Designer name)
You need to include your full name, email address, TG handle, Twitter handle, any sticker explanation notes and wallet address. You will receive our confirmation email to confirm the submission of your stickers.
Selection Criteria
Unified and clear image design and message.
No limits on sticker style but needs to show Morpheus Labs's characteristics.
Political, Religious, Caste, Sex, Profession based stickers are discouraged. No such entries will be accepted and it's the duty of the participant that no such message is being conveyed upon a bare reference by a reasonable man.
Can attract users and spread the Morpheus Labs message.
Contest Rules
We will not accept stickers that are not Morpheus Labs-related, not original or are inappropriate and reserve the right to disqualify you as a result.
Each participant can receive a maximum of two prizes for their submissions if shortlisted. If a participant has more than two stickers chosen, only the top two stickers will receive the prizes.
Once you submit your sticker to Morpheus Labs by email, you hereby grant permission to Morpheus Labs to use the sticker in publications, news releases, online, including social media, and in other communications.
Voting will take place on 29th March on our Telegram Channel (https://t.me/morpheuslabs_announcements), the Morpheus Labs team will shortlist 5 design entries for a community public vote, wherein the community will decide who gets to win the contest.
The winner will be announced on 31st March 2021 once the voting closes.
If you do not follow the submission rules, your submission may not be successful.
The Morpheus Labs Team will reserve the right of final interpretation of this competition.
Prizes
1st Prize: 1500MITx (USD120)
2nd Prize: 1250MITx (USD100)
3rd prize: 1000MITx (USD75)
4 ~ 5th Prize 650MITx (USD50)
The 1st prize winner of the sticker design will have its design minted as an NFT and distributed to the top 5 shortlisted participants!
Each participant can receive a maximum of two prizes for their submissions if shortlisted. If a participant has more than two stickers chosen, only the top two stickers will receive the prizes.
Results / Winner's Announcement
Tune into our Telegram channel on 31st March for the official voting and the announcement of the winner! Winning stickers will be announced on Morpheus Labs's social media channels and winners will receive a notification via email.
If you have questions about the contest, email marketing@23.108.103.25
Good Luck and have fun designing for the Community!
| No | Question | Respondent |
| --- | --- | --- |
| 1 | I saw that for the launchpad – there are quite a few customers/projects. Can you share what Morpheus Labs looks for in a project before on-boarding them? | Pei-Han |
| 2 | Can you tell us more on how Morpheus Labs solutions apply to the real world business, enterprise or educational needs? | Dorel |
| 3 | What new additions to the services offered would you like to add in the future? The launchpad seems to be a good move. Will we see more of it or do you all see the launchpad propelling Morpheus Labs forward? | Pei-Han |
Morpheus Labs is a Blockchain-Platform-As-A-Service (BPaaS) provider offering mission-critical tools, infrastructure, various blockchain protocols, and blockchain use case references for enterprises and developers to build, experiment, and manage their own applications effortlessly at minimal cost and time. Armed with relevant capabilities, the platform offers a multitude of intuitive solutions that enables developers and enterprises alike to take advantage of its platform to build effective solutions for various use cases. Start building for free on Morpheus Labs SEED!
Be a part of our community! Join our official group chat on Telegram: https://t.me/morpheuslabs
(Check out our Community Telegram Guidelines.)
Connect with us:
LinkedIn | Twitter | Telegram | Facebook | Youtube | Github | Reddit | CrunchBase | Website | Gitter
For any queries, please contact us at info@23.108.103.25.
For collaboration and partnerships, please contact us at marketing@23.108.103.25.