labore et dolore magna eiusmod
consectetur adipiscing elit, sed do eiusmod tempor incididunt ut labore et dolore magna aliqua. Ut enim ad minim veniam, quis nostrud exercitation ullamco laboris nisi ut aliquip ex ea commodo consequat risus Ut mattis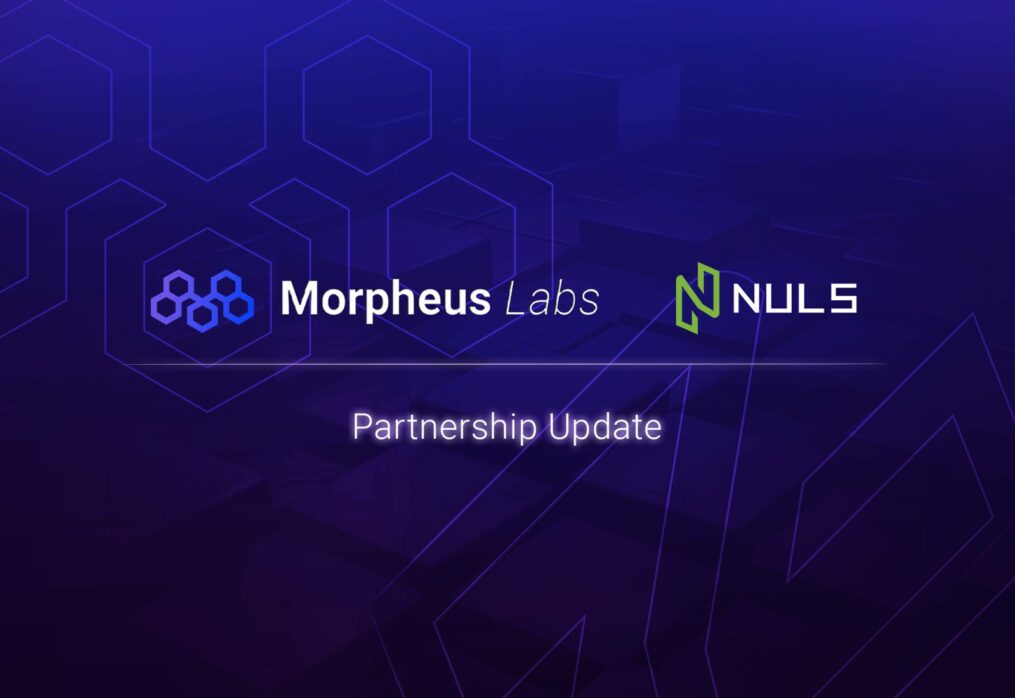 Morpheus Labs and NULS' Partnership Update
Today, we are proud to announce the listing of the NULS Chain Factory blockchain solution in Morpheus Labs App library V2.0!
Morpheus Labs and NULS have an existing partnership since 2018 when Morpheus Labs introduced and on-boarded NULS into the Morpheus Labs ecosystem and community. By on-boarding NULS, enterprises and developers can experiment with various combinations of chains using the cross-chain consensus and multi-chain mechanism provided by NULS on Morpheus Labs SEED. This allows different industries to conduct their businesses with ease of integration, and cohesion among the cooperative chains. The capability and technology that enables this ease of use for enterprises are made possible by the uniqueness of the modular structure provisioned by NULS.
About Chain Factory Blockchain Solution
Chainfactory (factory.nuls.io) is a graphic blockchain development platform where developers can select the modules they need from the modules warehouse by configuring parameters and filling in information. Through this innovation, a blockchain could be built in just one click.
Through the standardized process that is mapped out on the interface, combined with module customization and third-party blockchain service, chainfactory has developed a blockchain development platform that is highly efficient and cost-friendly. Blockchain developers only need to submit an application in the chainfactory "chain subsidy application entry" which can easily build the chain for free.(Full subsidize "the required module" related expenses)
"Together, we are excited about this partnership with NULS. With the combination of NULS blockchain solution and Morpheus Labs SEED that comes with an extensive range of advanced dev tools, we will be providing high-quality blockchain solutions to enterprises across the globe, as well as strengthening our position to be the go-to platform for blockchain solution implementation." says Chuang Pei Han, CEO of Morpheus Labs.
"We are delighted to have reached a cooperation with Morpheus Labs. The solution output provided by Morpheus will promote the application scenarios provided by NULS to world-renowned companies. We will provide support for Morpheus Labs and enhance the popularity of blockchain applications worldwide." said Reaper Ran, Community Management Director and Co-founder of NULS.
This partnership allows enterprises and developers to experiment with various combinations of chains. They use the cross-chain consensus and the multi-chain mechanism provided by NULS on Morpheus Labs' SEED.
Morpheus Labs has recently launched its platform v2.0 (Morpheus Labs SEED) in June with enhanced features and applications for both developers and enterprise clients, providing an end-to-end development environment to build and deploy blockchain-based solutions. The one-stop, low code development platform includes the AppLibrary where customizable industrial solutions are listed and showcased to the public.
Moving forward, both companies will explore and look into listing other blockchain applications in App Library V2.0 to meet market needs.
About NULS
NULS was founded in 2017 as a highly customizable modular blockchain platform that aims to break down the technical barriers of blockchain adoption, to reduce the cost of development, and to promote the usage of blockchain technology in the commercial world. NULS differs from other projects by separating core blockchain features into a multi-module network that includes various independent systems of functionality that all work together. For more information, please visit https://www.nuls.io/
Morpheus Labs​ provides businesses with an end-to-end Blockchain-Platform-As-A-Service (BPaaS) solution for innovation and value creation. It simplifies blockchain application development by offering mission-critical tools, infrastructure, various blockchain protocols, where you can build and manage your applications effortlessly at minimal cost and time. With a cross-functional team that has a combined 70 years' experience in artificial intelligence, blockchain, mobile applications, cybersecurity, and IoT across Europe and Asia.
Be a part of our community! Join our official group chat on Telegram: https://t.me/morpheuslabs
(Check out our Community Telegram Guidelines.)
Connect with us
LinkedIn | Twitter | Telegram | Facebook | Youtube | Github | Reddit | CrunchBase | Website | Gitter
For more information about Morpheus Labs, kindly refer to our main site at https://morpheuslabs.io or via email at info@23.108.103.25