labore et dolore magna eiusmod
consectetur adipiscing elit, sed do eiusmod tempor incididunt ut labore et dolore magna aliqua. Ut enim ad minim veniam, quis nostrud exercitation ullamco laboris nisi ut aliquip ex ea commodo consequat risus Ut mattis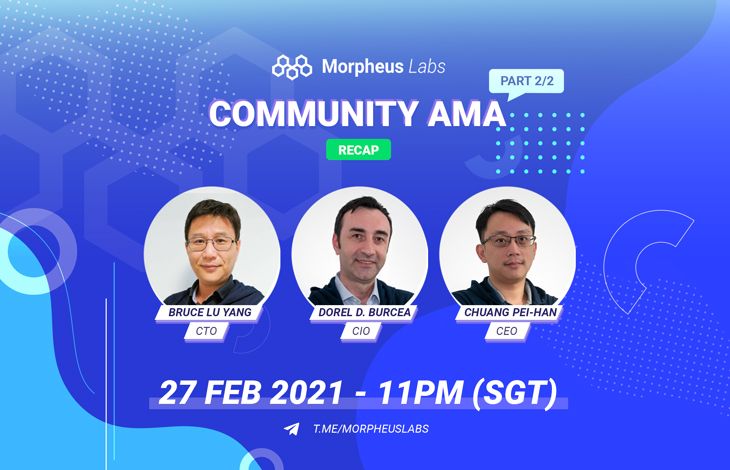 Morpheus Labs 1st Community AMA Recap Part 2
Polkadot is an amazing project. We are integrating and utilising the key features of DOT to add onto the SEED platform for interoperability, and are in talks with several Polkadot-based projects. This will attract more users to use the SEED platform and create more MITx demands.
Our team over at Morpheus Labs are kept to date with the ongoing global awareness of the cryptocurrency market and the imminent global blockchain adoption by corporations and financial institutions around the world
Huawei Cloud Day is our very first, but not the last event of the year. We're very much excited to bring more news to our community on the slew of upcoming announcements that we have clinched this year, it signifies our 2021 milestone in terms of establishing new partners and clients to the utilisation of our core product — Morpheus Labs SEED
This recent event was created and designed to introduce what Morpheus Labs is all about to a new wave of potential corporate partners, of which, some of them are already in negotiation with our team.
Hence, going forward, it is indeed, in our plan to promote what Huawei Cloud Day entails for Morpheus Labs, our product and our valued stakeholders.
In our plans, we have laid out several marketing channels in the area of
1) Traditional Media
2) Cryptocurrency Media
3) Sales Strategy and other initiatives that will be seen by the community in the coming weeks ahead
As above mentioned, we have lined up more substantial and tangible partnerships that involve the adoption of SEED, and for each partnership, our existing marketing funds are strategically allocated to fulfil our 2021 announcements that we will be making across the next 9 months.
Unlike the year 2020, where we do admit certain shortcomings have prevented us from reaching our full marketing capacity.
For the fiscal year of 2021, we have an overall marketing plan and initiatives to execute with 3 goals in mind.
1) Continuing our User Growth initiative for SEED 2.0 since our announcement in Sep 2020
2) Strengthening our Core Product to ensure competitiveness in the industry
3) Secure and Promote Partnerships that is mutually beneficial, not just in terms of improving our SEED infrastructure, but also to establish Morpheus Labs as the preferred provider for Enterprises and Developers to build prototyping DApps and more
Finally, as we're working closely with Huawei, we're exposed to a wealth of enterprises that we are excited to work with this year forward.
Huawei is just the start and beginning of the next phase (that we have officially kickstarted back in Sep 2020) of our master plan.
Ok, due to time constraints, we'll leave future questions over the next coming days.
It has been an insightful, and detailed explanation for this Community AMA. While the core team has answered various burning questions asked by the community. We do believe that some of you may have more questions regarding Morpheus Labs. Therefore, we will be releasing a new Feedback Form after this AMA session for anyone who is looking to ask our team more questions.
As we're moving towards the rest of 2021, rest assured. On good times and bad times, Morpheus Labs will be here with the community nonetheless, even when we are still working doubly hard for the project, as well as to every stakeholder that has stood by us.
Once again, thank you, everyone, for the core team of Morpheus Labs for spending your precious 2 hours with us today, on a Saturday afternoon/evening.
Until then, stay tuned to our official Social Media Channels for updates. We'll be back with the hustle next week!
P.S. If the community likes Community AMA like today, feel free to feedback to us in our feedback form, and we'll commit to more possible AMAs on a more regular basis, to keep everyone informed. Rest Well everyone, and Thank You Morpheus Labs Fam!
Morpheus Labs is a Blockchain-Platform-As-A-Service (BPaaS) provider offering mission-critical tools, infrastructure, various blockchain protocols, and blockchain use case references for enterprises and developers to build, experiment, and manage their own applications effortlessly at minimal cost and time. Armed with relevant capabilities, the platform offers a multitude of intuitive solutions that enables developers and enterprises alike to take advantage of its platform to build effective solutions for various use cases. Start building for free on Morpheus Labs SEED!
Be a part of our community! Join our official group chat on Telegram: https://t.me/morpheuslabs
(Check out our Community Telegram Guidelines.)
Connect with us:
LinkedIn | Twitter | Telegram | Facebook | Youtube | Github | Reddit | CrunchBase | Website | Gitter
For any queries, please contact us at info@23.108.103.25.
For collaboration and partnership, please contact us at marketing@23.108.103.25.