labore et dolore magna eiusmod
consectetur adipiscing elit, sed do eiusmod tempor incididunt ut labore et dolore magna aliqua. Ut enim ad minim veniam, quis nostrud exercitation ullamco laboris nisi ut aliquip ex ea commodo consequat risus Ut mattis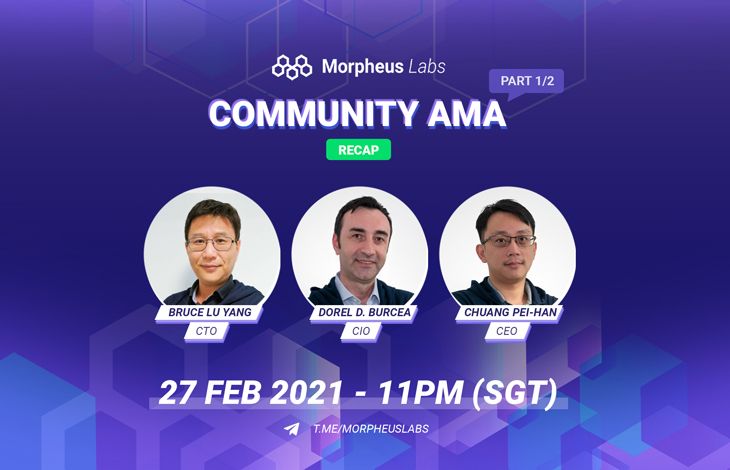 Morpheus Labs 1st Community AMA Recap Part 1
Hello Morpheus Labs Community, thank you for participating in our 1st community AMA of the year!
This AMA was designed to answer the many questions that our community has been looking to find an answer to. The AMA lasted for about 2 hours where our founders, Pei-Han, Dorel, and Bruce, each answered questions from the community with much clarity and precision. As the entire 2-hour AMA transcript is lengthy, we will be breaking the recap into two parts. We will publish the AMA recap today and tomorrow.
Pei Han: Dear ML Community, Thanks for taking the time to join today. We at Morpheus Labs appreciate the community and we have heard you with regards to Marketing efforts and beyond. Therefore we are having this AMA.
As a utility token, currently, MITx token is initially designed for buying/selling apps in the Application Library and subscription of using Morpheus Labs SEED.
The treasury account is used to lock MITx tokens received by Morpheus Labs for platform subscriptions. The MITx are transferred to the treasury account by OTC Treasury Partners or Morpheus Labs batch by batch on behalf of those customers who paid in fiat, or transferred by customers directly if they paid using MITx. From Dec 2020 to Feb 2021, fewer incoming transactions into the Treasury account, it is mainly due to that we have given more freemium and sponsored more campaigns during this period as part of the marketing execution plan..
MITx will grow in three stages: Validate, Grow and Scale. More use cases will be added in the "Grow" and "Scale" stages to increase MITx demand.
The approximate 13 million MITx in the treasury account is the revenue generated from customers mainly SMEs (Small Medium Enterprises). This has demonstrated that the platform has been validated by our customers since the Morpheus Labs platform version 1.0 launched in Oct 2019. We had launched ML Platform version 2.0 with enhancements (it was then renamed to Morpheus Labs SEED) in the first quarter of 2020. To promote adoption of the SEED platform, we have introduced freemium use and also sponsored different programs for various education and startup campaigns. Overall usage of the platform has been significantly increased since version 2 launched.
To reflect the actual usage of the platform from an accounting perspective, we will sponsor the freemium subscription and cover the sponsorship programs using MITx from our Foundation account. These MITx will be transferred to and locked in the treasure account.
Increasing blockchains & renowned users tweet and promote ML (e.g., Huawei, ICX, R3, ProximaX, Neo, Nervos) shows the fact that ML has the pull-factor in adopting blockchain in business.
o To Market (GTM) to grow the business is our current stage. This is for us to establish branding, create more distribution channels, add further capabilities into the platform, move towards being cross-cloud, and build a bigger ecosystem around MITx. We have established partnerships with various industry leaders. For example, with Huawei, we will run the SEED platform on Huawei Cloud, then Huawei and Morpheus Labs will go to market together to onboard more potential enterprise customers on SEED.
In addition, we are adding IPFS, e-KYC, Documentation Validation and more services that are demanded by the platform users onto SEED, adding MITx staking function, developing vertical dApps, partner with vertical solution providers to grow MITx into a bigger ecosystem that will be able to use MITx as the underlying tokens. This will significantly increase MITx demand when the ecosystem is growing.
The "Grow" stage is to establish barriers and capability moving towards becoming a market leader in the blockchain space.
– Organising events to reach out and create opportunities to market to more customers and partners
– Applications by Blockchain partners has been on the rise
– Business inquiries to ML has been increasing
Our next stage to scale would be gearing up business and sales together with distribution partners (e.g. our current Strategic Partners into their respective focused industries- pls find more on our website ) and expanding the business to key industries in all the major markets.
At this stage, we will focus on and scale Enterprise usage, distributor staking, mass adoption in education (students) and individual developer usage. The revenue from sales will be the direct usage of tokens when MITx is well accepted and widely adopted.
Scale: Advocacy, expansion of footprint (more geography, more use cases, more clouds)
This is one of the next hotly asked questions by the community so far, on our feedback form as well as in the TG group. Let us take a look at our Core Team's response
Yes, we will have staking for MITx and the team is designing the staking mechanism for different use case scenarios (e.g. platform subscription, community staging). The above diagram is an example for illustration of staking related to platform subscription.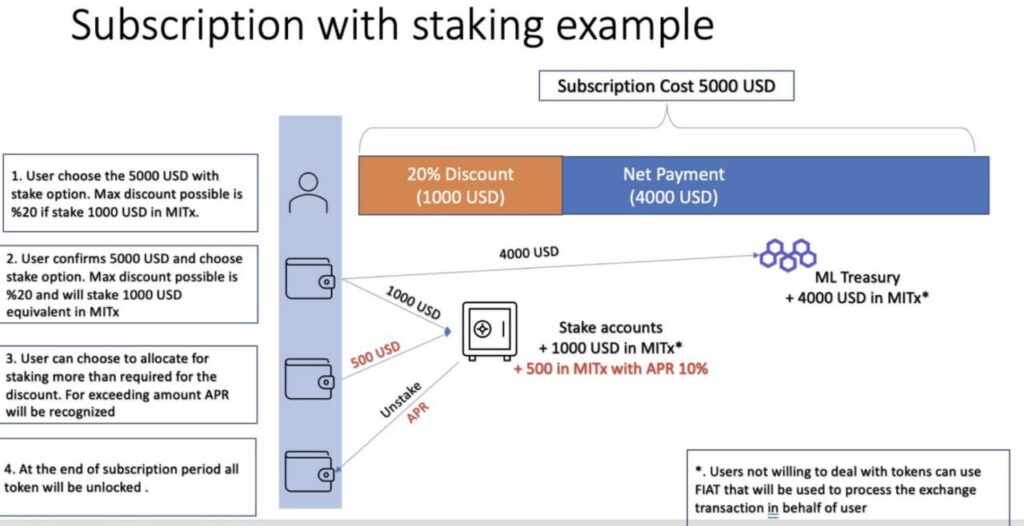 Blockchain is the technology that enables the existence of cryptocurrency (among other things). The participants at the webinar are not here to invest in retail trading. They are thought leaders in the technology and digital transformation space, knowing the potential of blockchain which leads to cryptocurrencies being able to provide appealing alternatives to fiat currencies to solve real-world problems such as people may turn to blockchain to safeguard their savings and move money across borders, strengthening the technology's footprint while the wider economy struggles. It is a long shot to move forward to blockchain adoption.
This event is mainly for business development and brand awareness. It helps establish a strategic partnerships with influential industry leaders, increase Morpheus Labs market awareness and build a runway for blockchain adoption using Morpheus Labs platform. From this event, we will see that the token usage will increase while working with more partners to capture enterprise clients to help them adopt blockchain technology in their businesses. This is a small milestone in our plan to establish a bigger MITx ecosystem, where one portion of it is for enterprises to use the platform that will increase the demands of using MITx.
Furthermore, this event is just a starter, and we are already in discussions with the Huawei team (and leaders) on the next step.
Have been already mentioned there will be a follow-up with integration with Huawei Cloud.
After integrating the SEED with Huawei cloud, we foresee more and more apps will be in SEED on Huawei Cloud, and some of them may use MITx.
With the aim to enrich the Huawei Cloud ecosystem with more blockchain and dApps, traction is expected to increase.