labore et dolore magna eiusmod
consectetur adipiscing elit, sed do eiusmod tempor incididunt ut labore et dolore magna aliqua. Ut enim ad minim veniam, quis nostrud exercitation ullamco laboris nisi ut aliquip ex ea commodo consequat risus Ut mattis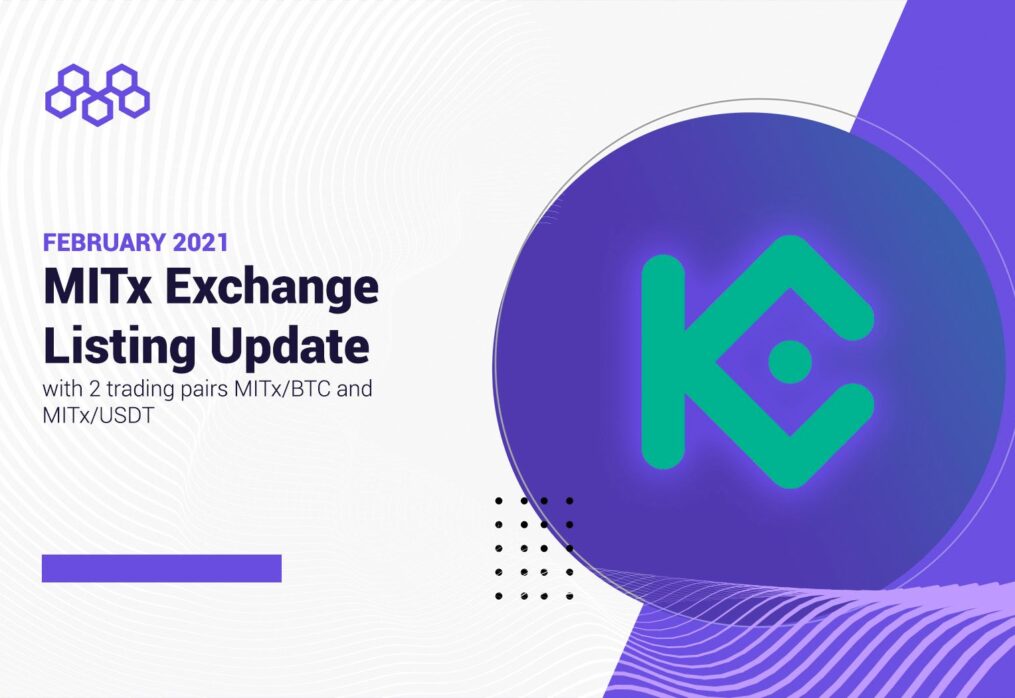 MITx to be listed on Kucoin Exchange on 19th February
We are glad to announce that $MITx will be listed on KUCOIN tomorrow, 10:00 UTC, 19th Feb with USDT, BTC pairings! KuCoin is a global cryptocurrency exchange for numerous digital assets and cryptocurrencies. Launched in September 2017, KuCoin has grown into one of the most popular crypto exchanges and already has over 6 million registered users from 200+ countries and regions. According to Alexa traffic ranking, KuCoin's monthly unique visit ranks in the top 5 globally. Known as "The People's Exchange", KuCoin operates in Seychelles, providing users with multi-language and 24/7 customer service. Meanwhile, KuCoin has established local communities in South Korea, Japan, Spain, Italy, Vietnam, Turkey, Russia, India, and other regions, providing users with the most local services. Currently, 1 out of every 4 crypto holders in the world is with KuCoin.
They have successfully launched the KuCoin app for iOS and Android to keep our users trading on the go!
Advanced API: Offers an easy and efficient way to develop a secure and programmatic trading strategy
Efficient Matching Engine: Supports up to 1 million transactions per second without any overload
Various Order Types: Offers limit, stop, market, post only and iceberg orders
High-Quality Assets: Over 200 global high-quality blockchain projects with more than 400 trading pairs
High Liquidity: Highest daily volume of nearly $500 million (USD) with the smallest bid-ask spread in the industry
Up to 10x Leverage: Margin trading that supports most mainstream cryptos such as BTC, ETH and KCS
Multiple Fiat Gateways: Buy crypto with fiat through Simplex, Banxa, and OTC, supporting a number of fiats including USD, JPY, KRW, EURO, GBP and more
High-Yield Finance Service: Earn up to 10% annualized return through our finance services
Competitive Fees: Attractive taker and maker fee structure plus VIP discount
More Reasonable Mechanism to Prevent Contract Being Liquidated: Index price adopts 6 mainstream spot exchange prices to avoid the user's contract being liquidated
Open and Transparent: The unique L3 mechanism in the industry enables you to know the details of each transaction and eliminate human manipulation
The World's First Lite Version Contract: 30 seconds to register and 1 minute to learn how to trade contracts and make each transaction easier
Small Capital, Big Return: Minimum $1, maximum 100x leverage
Highest Benefits in the Industry: Free position and experience fee, up to 50% commission rebate for agent cooperation
Double Rewards: The first lock-up mining mode, can obtain staking profit plus POL mining reward
High Flexibility: Freely choose two kinds of locked-up products, fixed or flexible, and the locked-up products can also immediately end the locked-up status through trading in the liquidity trading market at any time
Support for Multiple Currencies: Support for ATOM, TRX, KCS, WAN and other mainstream currencies
Initiated the Mechanism of Soft Staking: Daily token staking income, and be free to trade and withdraw
World-Class Architecture: High scalability, low latency, full-stack API interface support, and complete risk control system
Safety: Complete tech risk-management system, main site 1000-day operation with 0 incident
Express Deployment: One-click, launch in 72 hours
High Market Depth: Share strong liquidity of KuCoin Spot and KuCoin Futures
Technical Adaptation: Supports full customization of functions and freely extends the list of functions.
Morpheus Labs is a Blockchain-Platform-As-A-Service (BPaaS) provider offering mission-critical tools, infrastructure, various blockchain protocols, and blockchain use case references for enterprises and developers to build, experiment, and manage their own applications effortlessly at minimal cost and time. Armed with relevant capabilities, the platform offers a multitude of intuitive solutions that enables developers and enterprises alike to take advantage of its platform to build effective solutions for various use cases. Start building for free on Morpheus Labs SEED!
Be a part of our community! Join our official group chat on Telegram: https://t.me/morpheuslabs
(Check out our Community Telegram Guidelines.)
Connect with us:
LinkedIn | Twitter | Telegram | Facebook | Youtube | Github | Reddit | CrunchBase | Website | Gitter
For any queries, please contact us at info@23.108.103.25.