labore et dolore magna eiusmod
consectetur adipiscing elit, sed do eiusmod tempor incididunt ut labore et dolore magna aliqua. Ut enim ad minim veniam, quis nostrud exercitation ullamco laboris nisi ut aliquip ex ea commodo consequat risus Ut mattis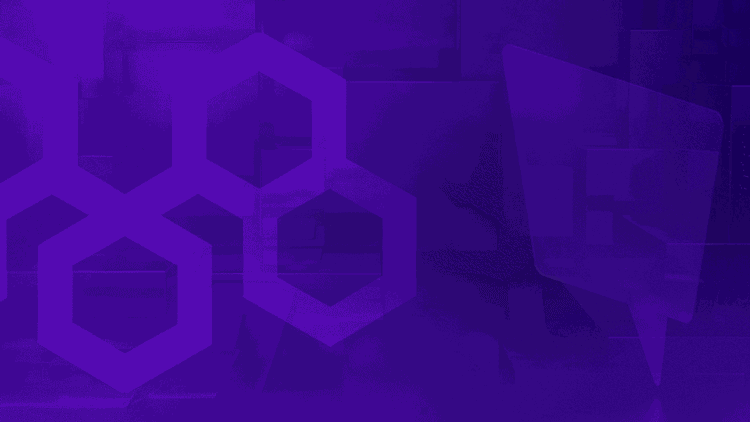 June AMA Recap: Morpheus Labs X Oddgems
The June 2021 External Community AMA was hosted generously by Oddgems on 18th June 2021 @ 6:30pm (SGT) / 10:30am (UTC). If you've joined us in our previous community AMA, welcome back to another edition of the much-anticipated Telegram session in which our core team will answer some of the most commonly asked questions about Morpheus Labs and SEED.
AMA Questions – In Summary
| No | Question | Respondent |
| --- | --- | --- |
| 1 | I saw that for the launchpad – there are quite a few customers/projects. Can you share what Morpheus Labs looks for in a project before on-boarding them? | Pei-Han |
| 2 | Can you tell us more on how Morpheus Labs solutions apply to the real world business, enterprise or educational needs? | Dorel |
| 3 | What new additions to the services offered would you like to add in the future? The launchpad seems to be a good move. Will we see more of it or do you all see the launchpad propelling Morpheus Labs forward? | Pei-Han |
Question 1
Where do you see your company after 1 year?
We launched ML SEED 1.0 in late 2019 and early 2020 is a 1st phase completion where we became the go to platform for Blockchain with more than 20 renowned blockchain having joined our ecosystem and growing. 
We are entering into the new phase where we are aiming to be the the go to platform for blockchain adoption 
Ecosystem: On top of growing Blockchains showing interest to join our ecosystem, we will see closer collaboration with blockchain partners, more industry partners – to grow various verticals and more distributors to further adoption of our platform – #MLSEED. Recently, we just collaborated with Elrond (EGLD), one of the largest projects in the space.
Growth efficiency, brand loyalty and stickiness are essential
Product | Industry focused 
ML SEED is going through Industry focused marketing and product positioning to reach out to targeted customers faster in a scalable way. We are aiming to build a stronger brand.
Token usage: 
Business & marketing: With boost in branding, and push in various Business verticals which aims to drive MITX utility demand.
Product & feature: We are also pushing out more features & products to enhance MITX utility usage in more areas 
Model: We will also explore more innovative way of utility usage 
Overall, Morpheus Labs aims to be the first choice for developers to use for developing blockchain and related applications. We plan to collaborate and add more blockchain partners to our ecosystem. Currently, VeChain, Harmony ONE, NEO, Elrond are in collaboration with us. 
Question 2
Noticed there is a burn this coming July, is there any major Tokenomics update coming out?
Yes, as planned, we have a quarterly token burn and it is coming on 4th July. While we are entering a new phase of business growth, we are also evolving our tokenomics to support faster business growth and more token usage. We will release a major Tokenomics update before Quarter 4 of 2021.
Question 3
Is there any function where the community can stake or be rewarded for contributing to the MITx ecosystem?
We have implemented a campaign based staking tool to reward the community for staking MITx. The beta version of the staking tool is targeting to start by the end of June. Various campaigns for staking MITx will be rolled out to promote adoption of Morpheus Labs SEED platform and reward active contributions to the community.
Question 4
How many programming languages does Morpheus Labs currently support?
The platform supported more than 10 programming languages such as Python, Node.js, Java, PHP, C++, Kotlin, SCORE, Solidity, Go and many more, on top of 25+ predefined stacks that helps to rapidly set-up many development environments such as ethereum, neo, icon, waves and many more. All together comes as part of the ML SEED – CDE and facilitates building applications on existing source code references and to accelerates innovation.
Question 5
What sets Morpheus Labs apart from the competition? What makes Morpheus Labs unique?
Look at the below product competitive analysis which is done by one of our education partners earlier this year: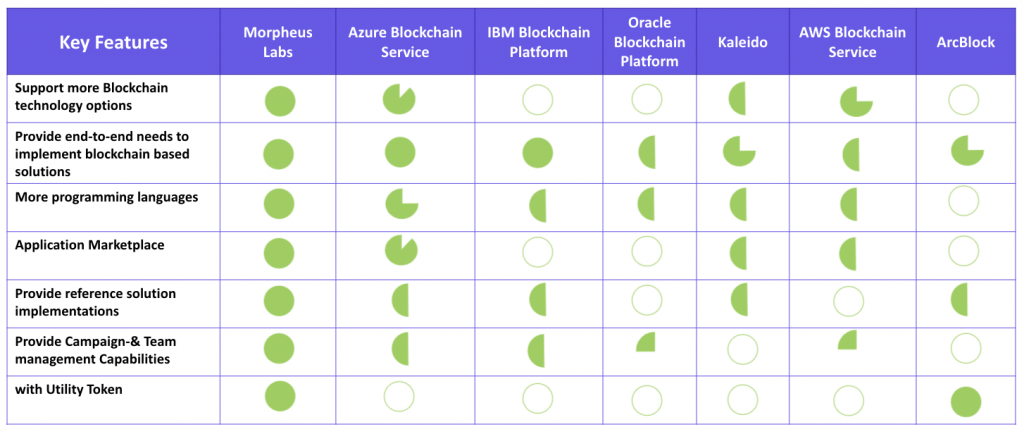 It shows that Morpheus Labs SEED provides most key features for implementing blockchain based solutions compared to competitors.
I think, the right strategies, such as providing the most innovative blockchain technologies options, using utility token and the community to grow the ecosystem,  and continuously evolving the product to support innovation and be critical to customer success, all these help Morpheus Labs stand out from the competition and really make Morpheus Labs unique.
Question 6
What are the main benefits that MORPHEUS LABS BPaaS offers to developers?
Why should developers consider Morpheus Labs as the first choice?
Morpheus Lab SEED gives developers the flexibility to experiment using the broad range of functionalities on our platform, to build and develop blockchain applications that suit various needs. For example, a Senior SW Engineer would be more competitive into demonstrating his skills from rapid preparation of environment to delivery of proof-of-concept while a Project Manager would be highly productive able to coordinate projects and resources independently of team locations maintaining control on resources and deliverables (eg. nodes, software, testing environment). A freelancer would be able to work for multiple projects belonging to the same or different customers all at the same time. The multi-cloud and blockchain-agnostic features of SEED makes for any developer who gets familiar with ML SEED, to get a higher chance to work on projects of different types and caliber because implicit exposure SEED creates to a broader range of projects and customers.
Question 7
Where can developers upload and share their DApps? Are developers rewarded for their contributions?
AppLibrary is the SEED marketplace where developers can upload and share their DApps.
Developers who create, publish and curate applications in SEED AppLibrary will be incentivized with MITx tokens and increase their reputation ranking. Best application and higher ranked developers will get exposure and be credited in relevant use cases and project demands from our enterprise customers, hence higher exposure to better job opportunities.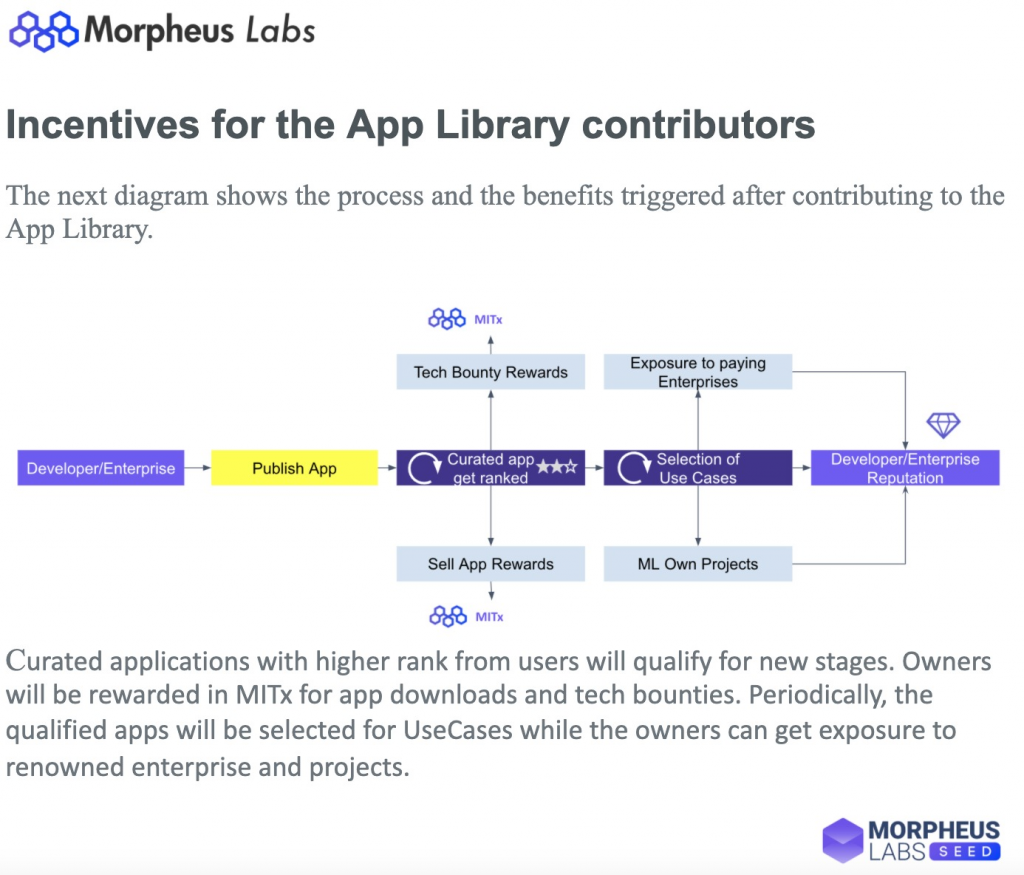 Moreover, the upcoming SEED AP opens new opportunities for developers such as development flexibility and additional ways to take part in incentives using MITx . Follow us on the news about the upcoming SEED API.
Question 8
What plans do you have in mind for future marketing?
To start off with, we need to understand that marketing is a very broad term in this context. Do keep in mind that because ML is a technology-based company where much of our values come from the technological advancements and services we provide, we need to consider the position of marketing as a pivotal role in gaining more eyeballs for further interest in partnerships, investments and community involvement. 
We have previously introduced in our previous marketing roadmap which we rolled out earlier in the quarter, that many milestones are set in place in order to achieve the above agenda. Here is a quick recap and summary of some of the milestones we have set in place:
Regular content creation and sharing via social media and articles 
Active engagement with good influencers
Ambassadors program
Evaluation of our existing digital channels and assets including our activities on social media including Youtube.
Audit and planning of our media campaigns to assist in positioning strategies.
Multi-verticals with many (and more commercial) partners including Huawei and more
We are pleased to announce that we have already implemented some of the promised agendas while the other programmes are kick-started and being enhanced as we move along. 
We can also expect some partnership marketing activities including increased activities and collaborations with existing and new partners and fostering a closer collaboration with existing Blockchain partners which would eventually aim to take part in joint marketing with ML and our business development unit to capture bigger and new market opportunities together.
Question 9
When do you expect staking to start? Any other tech development progress updates?
As mentioned earlier, the beta version of the staking tool is targeting to start by the end of June, We can aim to launch the first staking campaign in August.
We are also working on the following tech developments:
API Library – to enable integration with the platform from external systems or dapps on the platform. It is in the beta test at the moment.
External App Library – to have the Application Library available on the website so that the public can explore the dApps published on the SEED platform. This is still under development.
Gasless Swap tool – a Swap tool aiming to have gasless or lower gas and with enhanced features on top of common swap tools. The Swap tool will be implemented in phases, it is still at prototype phase.
—
Thank you all for taking the time to participate in this AMA. Morpheus Labs would like to give special thanks to @Oddgems for generously hosting us with his community. Thank you to all involved and we look forward to the next AMA