labore et dolore magna eiusmod
consectetur adipiscing elit, sed do eiusmod tempor incididunt ut labore et dolore magna aliqua. Ut enim ad minim veniam, quis nostrud exercitation ullamco laboris nisi ut aliquip ex ea commodo consequat risus Ut mattis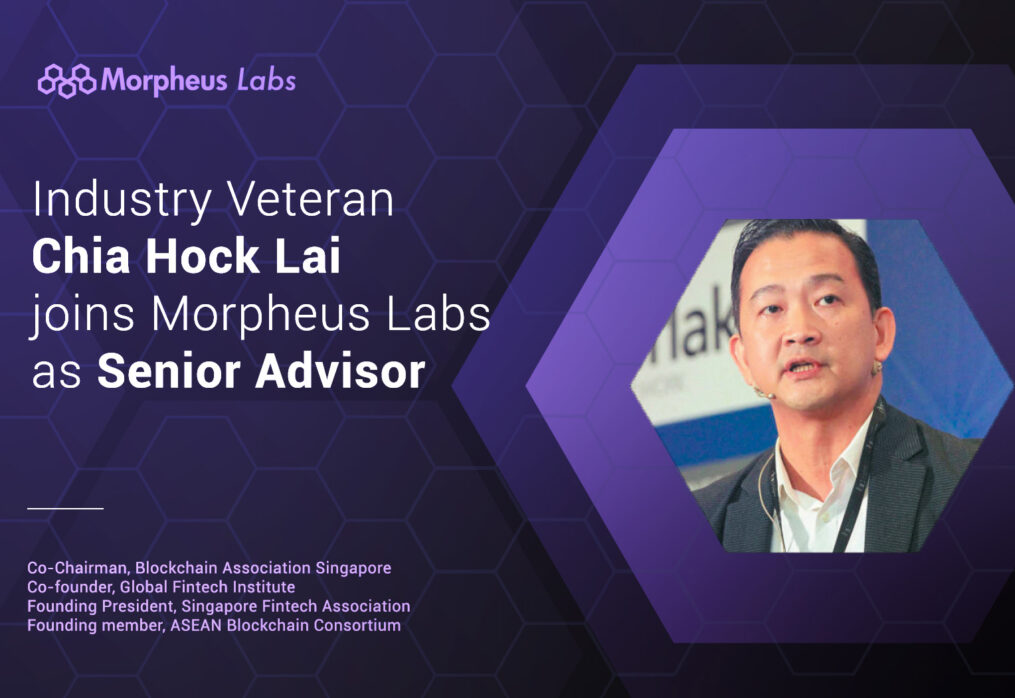 Industry Veteran Chia Hock Lai to join Morpheus Labs Pte Ltd as Senior Advisor.
Singapore – 5th May 2021 – Morpheus Labs Pte Ltd, a blockchain company based in Singapore has recently onboarded Mr Chia Hock Lai, co-chairman of the Singapore Blockchain Association (BAS) and founding President of the Singapore Fintech Association (SFA), as Senior Advisor. Mr Chia has extensive experience in the fintech and blockchain industry. 
Hock Lai recently championed the formation of the ASEAN Blockchain Consortium (made up of Blockchain organisations from 5 ASEAN countries and Australia). He also drove the launch of the digital assets compliance certification which is a partnership between BAS, Global Fintech Institute and Elliptics, to grow the pool of digital assets compliance specialists and position Singapore as the Centre of Excellence for digital assets compliance.
As the founding (former) president of the Singapore FinTech Association (SFA), he led the growth of the SFA as the leading fintech association of the world with a corporate membership base of over 900 and established an extensive international footprint of partnerships in over 40 countries. Hock Lai is also a council member of and strategic advisor to numerous fintech startups and organizations, such as ASEAN AFIN, IEEE C/BDL, Singapore Sichuan Trade & Investment Committee and a Fellow of the Singapore University of Social Science (SUSS). He frequently speaks on topics related to fintech and blockchain at international events and universities.
As a senior adviser and industry veteran, Hock Lai's wealth of experience would be able to bridge Morpheus Labs to key players in various industries. This would open up business opportunities and awareness of the brand. 
When asked about why he chose to accept the Senior Advisor role to Morpheus Labs, this is what Mr Chia had to say: 
"Morpheus Labs is democratising the accessibility to multi-chain blockchain development with enterprise-level features such as multi-cloud, a much-needed ecosystem tool that further lowers down the barrier of blockchain adoption. I expect blockchain adoption to go mainstream globally in the next few years and envision that Morpheus Labs will play an important role in enabling that through a strong suite of products and international partnerships."
Mr Chuang Pei-Han, CEO of Morpheus Labs also chimed in and said that this would be a huge boost to the company. Morpheus Labs recently concluded their Seed platform onto Huawei Cloud APAC officially. With the addition of Mr Chia, this would give Morpheus Labs an added advantage and grit to its ammunition and war chest. As quoted from Mr Chuang:
"With the recent completion of our platform (MLSeed) into Huawei Cloud APAC, we provide our customers with tailored suite blockchain solutions. With credentials alone are worth mentioning, Mr Chia's addition is a welcome boost and addition as he has extensive experience and knowledge in sectors that have high probability of blockchain adoption in the near to mid future. With such an influential figure as an Executive Advisor, this puts the company, Morpheus Labs, in a strategic advantage. His addition is the start of an exciting journey.
He (Mr Chia) is certainly a welcome addition to our Family, here at Morpheus Labs."
Mr Chia Hock Lai has been featured regularly in the media such as The Business Times, The Straits Times, Lianhe Zaobao and Cointelegraph among others. He will come onboard Morpheus Labs as an Senior Advisor with focus on business development and partnership building. With his extensive network and knowledge that Mr Chia Hock Lai holds, this is something that Morpheus Labs truly appreciates as it scales its core business to new heights. 
Morpheus Labs will continue to work with valuable partners and accredited stakeholders as it continues to provide quality offerings and solutions in the blockchain sector. Mr Chia Hock Lai and Morpheus Labs' future certainly looks bright and promising. 
About Blockchain Association of Singapore (BAS) 
The Blockchain Association Singapore (BAS) seeks to empower its members and the community to leverage blockchain and scalable technologies for business growth and transformation. The Association is designed to be an effective platform for members to engage with multiple stakeholders – both regional and international – to discover solutions and promote best practices in a collaborative, open, and transparent manner. It aims to promote blockchain literacy and build a strong talent pipeline for the digital economy in Singapore.
More information can be found on their official website.
About Morpheus Labs
Morpheus Labs is a leader in Blockchain-Platform-As-A-Service (BPaaS), offering mission-critical tools, infrastructure, various blockchain protocols, and blockchain use case references for enterprises and developers to build, experiment and manage their own applications effortlessly at minimal cost and time. The low-code platform offers a multitude of intuitive solutions that enables developers and enterprises alike to take advantage of its platform to build effective solutions for various use cases.
Morpheus Labs is the only end-to-end blockchain platform and app marketplace with a variety of active blockchain partners whose vision and goal are to find solutions to problems hindering mass adoption.
For media queries, kindly get in touch with – 
marketing@23.108.103.25 
| No | Question | Respondent |
| --- | --- | --- |
| 1 | I saw that for the launchpad – there are quite a few customers/projects. Can you share what Morpheus Labs looks for in a project before on-boarding them? | Pei-Han |
| 2 | Can you tell us more on how Morpheus Labs solutions apply to the real world business, enterprise or educational needs? | Dorel |
| 3 | What new additions to the services offered would you like to add in the future? The launchpad seems to be a good move. Will we see more of it or do you all see the launchpad propelling Morpheus Labs forward? | Pei-Han |