labore et dolore magna eiusmod
consectetur adipiscing elit, sed do eiusmod tempor incididunt ut labore et dolore magna aliqua. Ut enim ad minim veniam, quis nostrud exercitation ullamco laboris nisi ut aliquip ex ea commodo consequat risus Ut mattis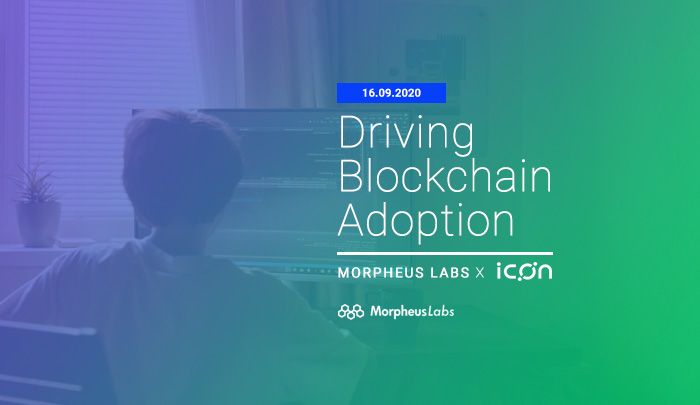 ICON Drives Blockchain Adoption By Leveraging Morpheus Labs SEED
We are happy to share an update on our partnership with ICON with our community. As you may know, ICON protocol was successfully integrated into our BPaaS (Morpheus Labs SEED) October last year. (Learn more.) The integration with Morpheus Labs significantly simplifies the development process when building on the ICON blockchain.
From January to August 2020, there have been a total of 244 initiated projects created by users on the platform; ICON blockchain was installed by 329 users, being one of the most used blockchain protocol on Morpheus Labs SEED.
ICON conducts its blockchain workshops on Major League Hacking, an organisation that works all over the United States and Europe to help students organise hackathons at their own universities, powering over 200 weekend-long invention competitions that inspire innovation, cultivate communities and teach computer science skills to more than 65,000 students around the world each year.
In the workshop, participants are able to create a project on the ICON blockchain in Morpheus Labs SEED to send/receive transactions (ICX), create a SCORE, and deploy it to a test net. Participants in this workshop will leverage with the Python iconSDK a collection of libraries that allows students to interact with a local or remote ICON node using an HTTP connection and learn how to SCORE! A smart contract running on ICON's network that resides at a specific address on the blockchain and executed on ICON nodes. Morpheus Labs SEED users are also able to share projects and resources within a team on the platform.
A quick recap of additional features in Morpheus Labs SEED:
To date, Morpheus Labs BPaaS has nine integrated eminent blockchains for developers to choose from, supporting more than 8 programming languages such as Python, Java, C++, and more. Morpheus Labs BPaaS Version 2.0, also known as Morpheus Labs SEED, was launched in June with new features and applications to empower our blockchain partners like ICON with better team management functions, interoperability solutions to connect external resources, and also to help their community users to accelerate their innovation process by providing reference templates.
"Integrating Morpheus Labs into the ICON Major League Hacking workshops was an excellent idea and I'm happy we're working together. Setting up a dev environment can be a significant part of a workshop, but Morpheus Labs allows MLH workshop participants to breeze through the setup and get right into doing what's important; learning to build on ICON." — Scott Smiley, Co-Founder — ICX_Station
"Morpheus Labs is staying focused to create and aid development in the educational aspect as there is a distinct lack of developers/engineers in the blockchain space, even though Blockchain is an emerging technology and there are many blockchains available to use. We look forward to working with more education partners to foster educational and commercial opportunities." Chuang Pei Han, CEO — Morpheus Labs
About Morpheus Labs
Morpheus Labs is a Blockchain-Platform-As-A-Service (BPaaS) provider offering mission-critical tools, infrastructure, various blockchain protocols, and blockchain use case references for enterprises and developers to build, experiment and manage their own applications effortlessly at minimal cost and time. Armed with relevant capabilities, the platform offers a multitude of intuitive solutions that enables developers and enterprises alike to take advantage of its platform to build effective solutions for various use cases.
From Proof of Concept (POC) and pilot projects for blockchain solutions to large scale enterprise applications to improve and automate business processes, Morpheus Labs helps businesses to move towards digital transformation and innovation by providing consultation and implementation services in Digitalization, Process Automation and Technology Innovation, mainly in areas of Blockchain, RPA and IoT related technologies.
Start building for free on Morpheus Labs SEED!
Be a part of our community! Join our official group chat on Telegram: https://t.me/morpheuslabs
(Check out our Community Telegram Guidelines.)
Connect with us:
LinkedIn | Twitter | Telegram | Facebook | Youtube | Github | Reddit | CrunchBase | Website | Gitter
For any query, please contact us at info@23.108.103.25.