labore et dolore magna eiusmod
consectetur adipiscing elit, sed do eiusmod tempor incididunt ut labore et dolore magna aliqua. Ut enim ad minim veniam, quis nostrud exercitation ullamco laboris nisi ut aliquip ex ea commodo consequat risus Ut mattis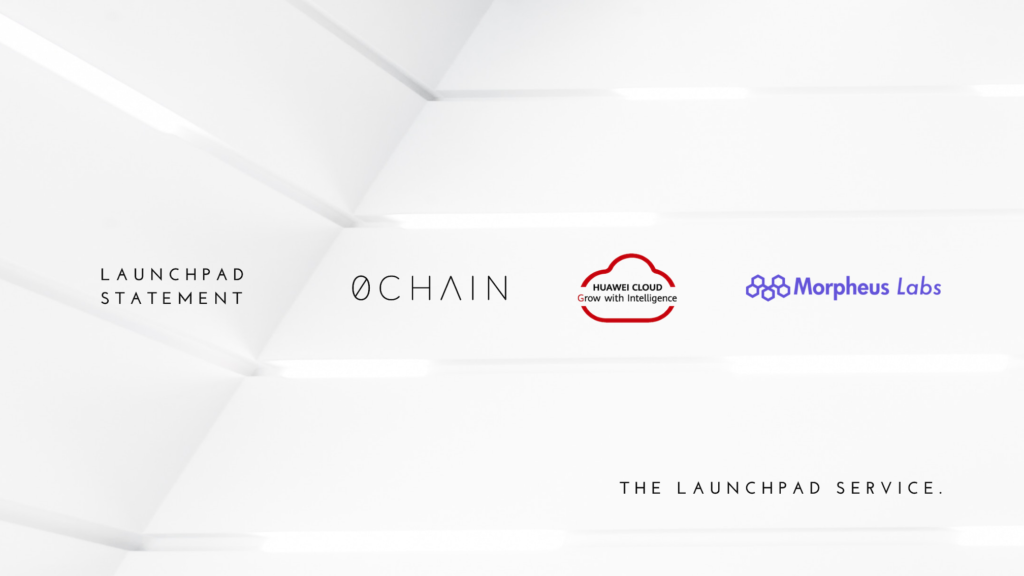 HUAWEI CLOUD x Morpheus Labs – Launchpad Statement
20th September 2021 – Singapore, Changi Business Park – HUAWEI CLOUD Singapore and Morpheus Labs Pte Ltd recently signed a Memorandum of Understanding (MOU) to co-launch a service-offering, named "the LaunchPad. This Launchpad will see stronger collaboration and tie-ups between the 2 companies, offering blockchain and business solutions to enterprises and businesses.
This LaunchPad collaboration will focus on; 
Stronger marketing activities, blockchain related initiatives that will positively impact businesses especially those in the Financial Services Industry (FSI). 
Both parties agree to allocate and commit resources to broaden outreach through marketing initiatives; such as but not limited to Huawei Cloud Days, Webinars, Workshops, Hackathons, social media outreach, etc 
Joint go-to-market business, cloud and blockchain solutions targeted at certain industries and evolving requirements in the upcoming future
Increase utility and customer base for both parties
Increase brand awareness and outreach for both parties 
This is not the first time that HUAWEI CLOUD and Morpheus Labs have collaborated. Morpheus Labs was one of the Top 15 winners of the inaugural Huawei Spark Program back in 2020. In February 2021, Huawei and Morpheus Labs held a joint first symposium that saw many notable participants that included large enterprises and key government-linked institutions. The successes of these paved the way for future collaborations and helped enhance possible opportunities that benefitted not only both parties but other stakeholders who were interested in the further development and adoption of the blockchain technology.

The Launchpad will provide involved parties a clear runway to reach out to key market segments, and catapult the services of either offerings to a larger audience optimally and strategically. The MOU was signed on 15th of September 2021 at the Singapore branch of Huawei Cloud AI Lab. Over the course, planned new products, services, events and other activities / updates will be shared to the public.
Mr Rex Lei, Managing Director of HUAWEI CLOUD Singapore, on this launch

"This MOU signing with Morpheus Labs is a good opportunity for both Huawei and Morpheus Labs. Blockchain technology will continue to shape Singapore's evolving financial sector, and we're delighted to partner Morpheus Labs in reaching out to their extensive network of blockchain practitioners, offering industry leading public cloud services to help accelerate development of real-life applications that benefit the FSI sector. Some of these applications could potentially be adopted by Huawei's corporate customers in the finance sector, effectively raising the profile of Morpheus Labs and their community."
Mr Chuang Pei-Han, Chief Executive Officer of Morpheus Labs on this launch

"I am very glad for this opportunity to co-launch this launchpad with a trusted partner, Huawei. This is certainly a good opportunity to outreach to key markets and also the general public to educate about blockchain. Blockchain technology is here to stay, is and will continue to be one of the key technologies in the upcoming foreseeable future. Hence, it is paramount to choose the right partner who shares the same vision and is aligned with us. Huawei was among the first adopters and embraced this technology years back when many were skeptical about it. This is not the first time we (both Huawei and Morpheus Labs) have been working together. With this launch, it will provide more customers turn-key solutions while enhancing both Huawei and Morpheus Labs brand."
Huawei and Morpheus Labs are certainly proud to be working with one another on this launchpad project. For more information, kindly contact the respective departments.

– End of Statement –
| No | Question | Respondent |
| --- | --- | --- |
| 1 | I saw that for the launchpad – there are quite a few customers/projects. Can you share what Morpheus Labs looks for in a project before on-boarding them? | Pei-Han |
| 2 | Can you tell us more on how Morpheus Labs solutions apply to the real world business, enterprise or educational needs? | Dorel |
| 3 | What new additions to the services offered would you like to add in the future? The launchpad seems to be a good move. Will we see more of it or do you all see the launchpad propelling Morpheus Labs forward? | Pei-Han |
Kindly note that all participants / customers of the launchpad service are not endorsements. Neither should they be construed as solicitation of any kind. Kindly do your own due diligence (DYOR) on all projects.
HUAWEI CLOUD is a leading cloud service provider, which brings Huawei's 30-plus years of expertise together in ICT infrastructure products and solutions. We are committed to providing reliable, secure, and cost-effective cloud services to empower applications, harness the power of data, and help organizations of all sizes grow in today's intelligent world. HUAWEI CLOUD is also committed to bringing affordable, effective, and reliable cloud and AI services through technological innovation.

For more information, please visit HUAWEI CLOUD online at https://huaweicloud.com.
Morpheus Labs​ provides businesses with an end-to-end Blockchain-Platform-As-A-Service (BPaaS) solution for innovation and value creation. It simplifies blockchain application development by offering mission-critical tools, infrastructure, and various blockchain protocols, where you can build and manage your applications effortlessly at minimal cost and time, with a cross-functional team that has a combined 70 years of experience in artificial intelligence, blockchain, mobile applications, cybersecurity, and IoT across Europe and Asia.

For more information, visit https://morpheuslabs.io.