labore et dolore magna eiusmod
consectetur adipiscing elit, sed do eiusmod tempor incididunt ut labore et dolore magna aliqua. Ut enim ad minim veniam, quis nostrud exercitation ullamco laboris nisi ut aliquip ex ea commodo consequat risus Ut mattis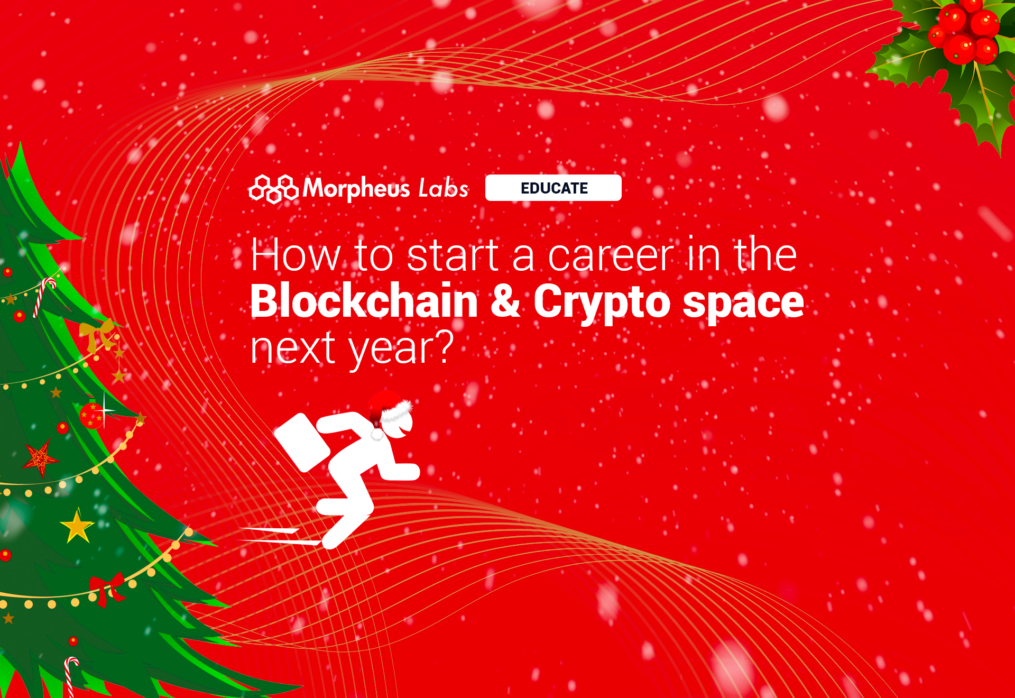 How to start a career in the Blockchain & Crypto space next year?
HO HO HO, Merry Christmas! As you're probably reading this today, we'd love to give you a warm blessing virtually. 2021 will be an enlightened and exciting year for you, and your loved ones. Meanwhile, may your holidays sparkle with joy and laughter. May this Yuletide yield an abundant harvest for you next year!
In our previous commentary, we have covered whether a career in this industry is the future or a fad that may simply regress much like the automobile industry globally.
Today, we will cover how one can start a career in this industry in this educative piece of writing. Whether you are a fresh graduate, just starting your career or simply looking for a career switch, you would require some basic skills and knowledge. The prospect of starting out in this industry is like balancing on a polarity scale. It can be daunting (the fear of lack of knowledge, uncertainty of the industry as a whole) and yet exhilarating at the same time, stepping into the unknown.
Blockchain industry has been gaining exponential exposure at an unprecedented rate even in other industries, such as the .com boom 20 years back that swept the world faster than a mega sandstorm would over a town. We understand that many aspiring younger generations who grew up with technology or embracers of blockchain might be swept up in this storm that picked up speed with the boom of cryptocurrencies such as Bitcoin, Ethereum and more.
The increased exposure of cryptocurrencies, together with the current pandemic has brought more spotlight to the blockchain industry. As with any other industry and major decisions we make in life, this is no different, you have to weigh your options and do your research. We look at some tips that you might want to consider for you to make a more well-informed choice before taking the plunge.
Ask yourself the questions. The questions everyone asks.
Is this the career for you? The uncertainty of the industry – any growth prospect? Will there be demand for this in the future? Can my skills and knowledge I acquire be useful in other industries? You have to do your research, ask around, conduct due diligence before following your intuition if this industry is right for you. Presumably, you have made up your mind or need more assistance, here are top tips to start a career in the blockchain industry.
It is not as daunting as it seems. We will break down into the locus of control when starting out in this industry.
Skewed internal locus of Control
These tips are areas where you are more in control of the learning curve.
Understand the basics of Blockchain
As simple as it may seem, you really do have to understand the industry as a whole. Blockchain is not just cryptocurrency like what many people envision. Blockchain is more than this and you would have to take the time and effort to learn the basics of the blockchain and the entire ecosystem. Learning the terms and having the basic understanding of blockchain and its ecosystem is essential for you to start a meaningful career in this industry. Not having these is akin to building a building without a strong foundation. Not to mention, it would value-add to your future contribution holistically.
There are many tools out there on the internet, plentiful of resources ready to be imparted to you. You just have to put in the effort and willingness to learn.
Self-learning
Internet and strong authority websites are useful tools of the trade to kick-start your research and understanding. Following widely recognised blogs is also one good way to keep track with the latest development of the industry while gaining exposure to the industry. Videos and youtube are also another valuable source for beginners and seasoned veterans alike. From beginner fundamental videos to intricate and complex explanations can be useful tools (solutions) for any one at different levels.
This being said, you would have to choose well-rated websites and videos with strong domain (topic) authority that is reviewed or endorsed by many others. Learning is not enough, you have to constantly keep abreast with the latest developments to maintain your edge, and what better way when the answer is just a click away.
Courses and Classes
Sometimes, self-learning may not be sufficient especially if you are looking at something deeper. Joining a course whether online or physically is actually a good choice. The phase "never too old to learn" certainly applies here. There are slews of free courses online from reputable sites and also many organizations in developed economies are beginning to offer courses for their citizens. Having someone to guide you might certainly reinforce and supplement (add-on) the knowledge that you might already have.
Expand your knowledge – Skill Sets
Other than just blockchain heavy knowledge, the industry is also dependent on other skill sets such as programming, javascripting, cryptography, marketing, etc. These skill sets are essential players in the ecosystem and you will definitely have an advantage when you improve or acquire these skills. Take the time to learn or expand on the skills that you have, it would certainly aid you in your career progression in this industry.
Skewed external locus of Control
These tips are slightly skewed on external factors. This being said, you are also in control, just that external conditions might mean, at certain times, the knowledge that you partake may be dependable on external factors.
Events and conferences
Being in a pandemic and the temporary end of conferences do not mean the end. In fact, many more virtual conferences in the blockchain industry have sprung up. Finding and joining one of the events that suits your current topic of interest is difficult to find. Participating in these kinds of events and conferences will expose you to topic experts globally. This gives you a wider perception and you gain valuable knowledge that otherwise may not be available if you are self-learning.
Furthermore, other than learning, you would get to know more contacts and people. Like other industries, knowing the right contacts are just as valuable.
Forums and communities
Taking part in forums and communities has its benefits. After learning and absorbing, these platforms are a good way for you to hone your skills and exchange knowledge with like-minded people in the industry. This can expand your knowledge and at the same time, put the skills that you acquired to the test.
You also get to keep abreast with the latest development in the blockchain industry. Reputable forums and communities are also ideal for exploring opportunities such as careers, new skills, contacts, etc.
On-Job-Training
Nothing beats good'O traditional experience. You might want to consider volunteering or interning at some organizations or companies in the blockchain industry. Firms are constantly looking for writers, moderators, contributors, etc. These are actually good stepping stones for you to gain real experience working in the blockchain industry. Infact, you can actually use this experience as an advantage when you are looking for another opportunity in the blockchain industry. Who knows, the place that you volunteer or intern might offer you a job opportunity.
The Final Tip
Invest in yourself
The above-mentioned tips to start out a career in the blockchain industry are just some pointers. With all being mentioned, no matter which career choice you make, the industry you enter, always remember to invest in yourself. Ensure that you constantly upgrade your skill sets if possible, keep abreast with the latest news and never remain stagnant. Passion and knowledge pairs well in this industry. Lack either and you will find it difficult.
At Morpheus Labs, we wish you all the best in whichever career you choose and we certainly welcome you to try out the blockchain industry. Should you have any other queries, please do not hesitate to contact us and we will help you within our means. Looking to build a DApp but have no idea how to? Connect with us today as our Morpheus Labs SEED platform could help you realise you goal, in coming up with the next DApp that matters to the people.Stay Safe and Healthy everyone! Blessed Be.
Morpheus Labs is a leader in Blockchain-Platform-As-A-Service (BPaaS), offering mission-critical tools, infrastructure, various blockchain protocols, and blockchain use case references for enterprises and developers to build, experiment and manage their own applications effortlessly at minimal cost and time. Armed with relevant capabilities, the platform offers a multitude of intuitive solutions that enables developers and enterprises alike to take advantage of its platform to build effective solutions for various use cases.
Morpheus Labs' purpose is to make it easier and cheaper for people to develop blockchain solutions; empowering businesses to solve the unknowns and complexities in blockchain technology.
Be a part of our community! Join our official group chat on Telegram: https://t.me/morpheuslabs
(Check out our Community Telegram Guidelines.)
Connect with us
LinkedIn | Twitter | Telegram | Facebook | Youtube | Github | Reddit | CrunchBase | Website | Gitter
For more information about Morpheus Labs, kindly refer to our main site at https://morpheuslabs.io/old/ or via email at info@23.108.103.25