labore et dolore magna eiusmod
consectetur adipiscing elit, sed do eiusmod tempor incididunt ut labore et dolore magna aliqua. Ut enim ad minim veniam, quis nostrud exercitation ullamco laboris nisi ut aliquip ex ea commodo consequat risus Ut mattis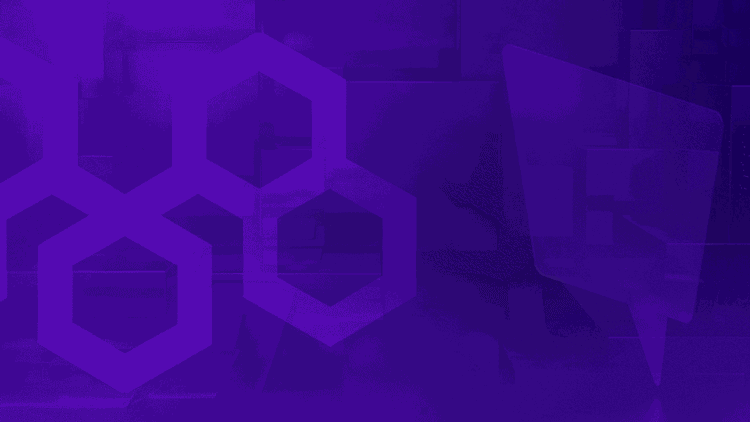 August 20th Internal #AMA Recap
Internal AMA held on 20th August 2021 @ 5pm (SGT) / 9am (UTC)
Hello community, thank you for joining our monthly AMA session. If you've joined us in our previous community AMA, welcome back to another edition of the much-anticipated Telegram session in which our core team will answer some of the most commonly asked questions about Morpheus Labs. 
Main Takeaways:
– Partnership focus on quality and depth of scope
– Plans to list on DEX in the future
– More focus on the developer community in the future
– Planned major tokenomics reasons before Q4 – required for strategic resource planning
AMA Questions                   
Pei-Han – CEO / Bruce – CTO 
No.
Question
Respondent
1
Many from the community have mentioned that the roadmap for 2021 looks interesting. However many have also asked about the progress of these.

Should the stakeholders be concerned if any activities got delayed?
Bruce
2
Are there any plans for upcoming new business partnerships?
Pei-Han
3
Are there any plans for new exchange listings other than the major ones like Binance, Huobi?
There has been some mention of Pancakeswap, QuickSwap – Will it affect the liquidity since Morpheus Labs is already on Uniswap? Why not just concentrate on Uniswap?
Bruce
4
What strategies are used to get more customers/traction?
Pei-Han
5
You all keep mentioning Tokenomics 2.0 – what is it regarding besides the obvious about tokens, are there any hints?
Bruce
6
What partnerships are you all building and are there any live use cases or customers that you all can share? Are there any plans for developers?
Pei-Han
Many from the community have mentioned that the roadmap for 2021 looks interesting. However many have also asked about the progress of these.
Bruce Answer
In March, we released the business and product roadmap for 2021 that identified the business focus for Morpheus Labs – which is to increase Morpheus Labs awareness and SEED 2.0 adoption.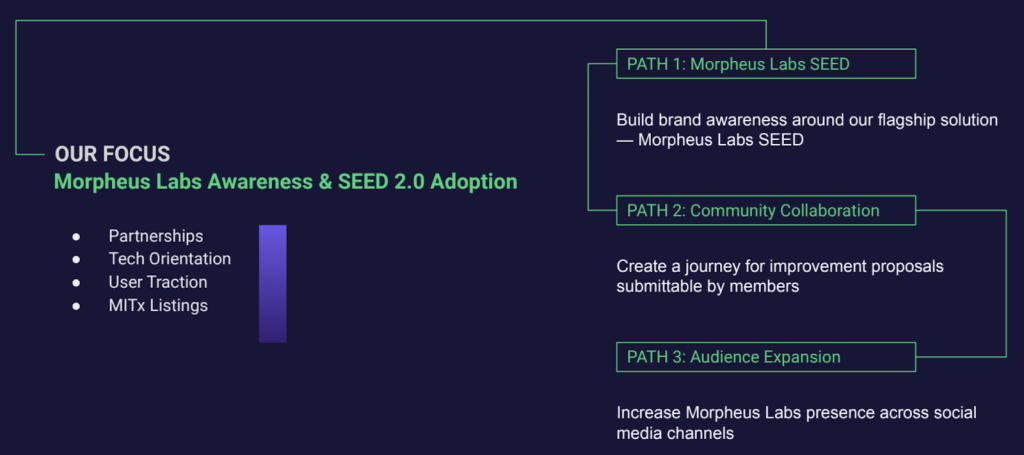 In the documents are the detailed activities in areas of "Partnerships", "Tech Orientation", "User Traction" and "MITx Listing"  to align with our business focus for 2021. 

I will recap and provide a progress update for the major technical activities that we have planned and executed. There are adjustments of the schedule and scope of some technical activities to align with business needs and priorities.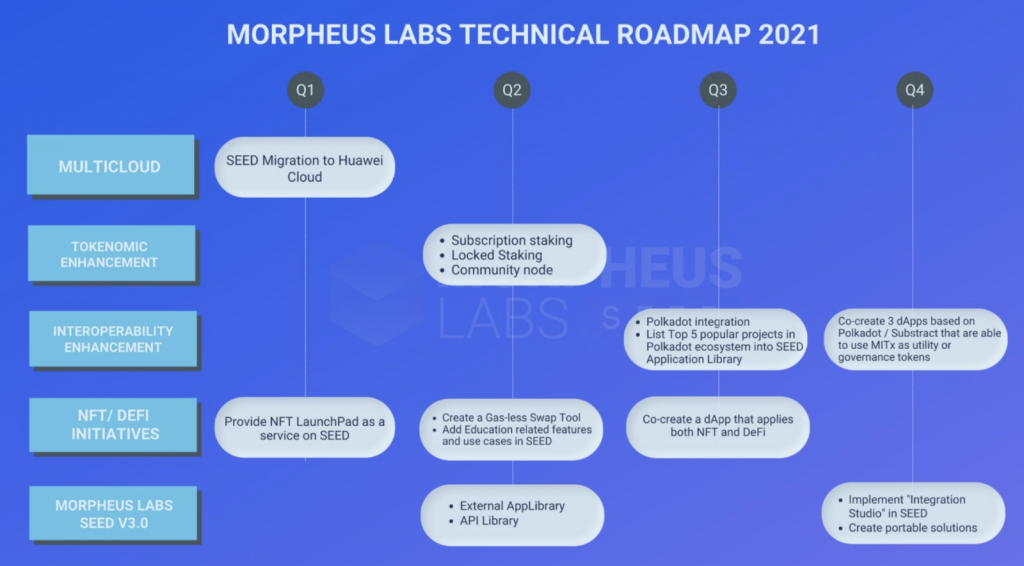 Quarter 1:
SEED Migration To Huawei Cloud – CompletedNFT LaunchPad – Completed. NFT tokens can be created on Ethereum or Polygon and automatically integrated with OpenSea NFT Marketplace. Further enhancement for this tool will be undergoing in Q4.
Quarter 2: 
Subscription Staking, Locked Staking and Community Node – these will be supported by SEED Campaign Staking. The development of SEED Campaign Staking completed in June. The beta test started in July which will end in early September. Various staking campaigns will be planned out after the beta test.
Gasless Swap Tool – The issue to resolve is high gas fee in the current Swap tool, mainly UniSwap. We have researched and evaluated the solution options and trends of the swap tools, and identified the approach and done the design for an open source swapping tool that is to be forked from SushiSwap.
The development and alpha test will be done in Q3. Positioning of this SwapTool is open source and to have a community to rollout and run. Focus of this Swap tool will be multi-chain, necessary enhancement of the current Swap tools and to be MITx friendly if possible. It will be built, tested and deployed using Morpheus Labs SEED.
External App Library – APIs for App Library have been implemented. Since we are working on a new Morpheus Labs website rollout, therefore  the Web pages for the External App Library will be rolled out together with the new website.
API Library – Completed. Further enhancements are on-going.
Quarter 3: 
Polkadot Integration – this is part of an effort to support interoperability capability on SEED. We will design the details of the integration in Q3, the implementation is aiming in Q4. Meanwhile, we are working with a cross-chain bridge partner to support cross-chain asset bridges which is also part of the overall interoperability capability. We will apply the cross-chain bridge for MITx BEP20 and MITx ERC20 conversion.
List top 5 Polkadot dApps into SEED App Library. We will start working on this in Sep.Co-create a dApp that applies both NFT and DeFi. We will explore the details in Sep.
In summary, we have reached, addressed and touched on the majority of the things that were penned out. While it is inevitable that some of the areas may experience some challenges, we will let the community and stakeholders know about it in advance.
We value transparency and mutual understanding with all our stakeholders, including the community. Rest assured that we will account for the things that have been mentioned and all other activities with regards to Morpheus Labs.
To conclude, there is no need to worry or panic as we build this business on the basis of mutual understanding and trust. We will let our work, progress and partners within the ecosystem speak for itself
Pei-Han, Answer
Yes, there are new partnerships.Partnership is the beginning of collaborating and delivering business value and generating business together. Hence we want to emphasize to focus instead of more new partnerships,but a more in-depth partnership with existing partners. As we want to grow deeper together and not touch and go, Only by growing deeper, creates stickiness, increases business conversion and creates barriers to competitors.
While having more business partnerships seems good for optics, at Morpheus Labs, we focus on building quality partnerships with our existing partners. That being said, we are still actively on the lookout for good new partners that can benefit both parties strategically. And increasing new partners have also approached us, We are not closing the door on new partners.
To summarize, we focus on quality over quantity.
Bruce, Answer
MITx is currently listed on KuCoin and Uniswap. KuCoin provides the ease of access and reliability while Uniswap contributes to the control and enhanced privacy for MITx. There are some drawbacks for users on Uniswap. For example, many have encountered challenges due to high transaction fees and slow speed. There have been consistent feedbacks from both new and existing users who are looking for alternative decentralized exchanges.
QuickSwap has seen popularity due to the speed and low fees offered by the Polygon Network. It's also compatible with the Ethereum blockchain, allowing users to bridge ERC20 tokens to Polygon and swap ERC20 tokens. QuickSwap is open-source and uses audited code from Uniswap to provide it with a level of trust and security.
PancakeSwap is the go-to decentralized exchange for users on Binance Smart Chain. It has established itself at the forefront of the DeFi landscape with a range of popular DeFi services.
Furthermore, we have been planning to have MITx to be available on the Polygon network and the Binance Smart Chain and to be cross chain in the long term. We believe this will help increase MITx usage in more use case scenarios and facilitate SEED subscription using MITx more efficiently and conveniently.
With these being mentioned, Morpheus Labs is now planning to list our Token (MITx) on QuickSwap and PancakeSwap while also working with cross chain bridge partners to address the users' needs and also help achieve the cross-chain-MITx goal.
Optimized usage of resources to support MITx in the decentralized exchanges will be further planned and executed through Tokenoimics 2.0.
We will provide further updates soon.
Pei-Han , Answer
There are many ways that we have in the pipeline. We have identified and focused on some areas like our product and brand positioning. ML SEED is a platform – hence we adopt the Platformization approach, we are currently in the initial go to market stage hence we focus on.
Branding –
In the pipelines are the aesthetic and information flow portion side of things. For example – some revamp of the websites, easier marketing materials for sharing on social media and information flow, etc.
Product –
1. Product position and story In ML SEED 2.0, we have a lot of great validation from renowned partners and users. For us to go further and scale up, ML SEED is going into a more product story focused, to reach out targeted customers and build up branding more effectively.
With a more focused strategy and products, the product narrative will be clearer and stakeholders across the spectrum will have a better understanding and clearer picture. This will in turn allow us to get our message across our stakeholders and direct target audience.
It would allow for easier sales conversions and increase in retention rate.
2. Eco system & partners Building up an ecosystem, and the nature of ML SEED as the middleware platform and key to adoption naturally takes the centre stage and is growing more influential.
Working closely with partners in our ecosystem helps to spread faster and further in our next stage to come. And we will push out more jointly initiatives with our partners in ecosystem. With a focus on a robust platform with a strong ecosystem, the platform (ML Seed) will be appealing to new customers while increasing the retention rates of our existing customers.
Linking back to question 3 about partnerships, with a stronger ecosystem, it would allow Morpheus Labs to be in a position to increase our potential partners.
One of the main reasons why our team at Morpheus Labs is looking at releasing the major tokenomics before Q4 as these outreach and plans we have in place require extensive resources just like any other business. With more resources, we are able to outreach to a wider audience and capture potential customers.
Stay tuned for it.
Bruce, Answer
For the major tokenomic release, it will be with regards to the token release and schedule for strategic resource planning. As mentioned by the team, it will only be out somewhere at the end of Q3 and just before Q4. This will allow for greater transparency and accountability to all our stakeholders.
Tokenomics with good strategic plans can bring the company/project to greater heights. Resources are required when embarking on campaigns and projects To attract more users and revenue, like any other business, resources are critical and crucial to the growth of the company Risk is inherent and fortune favours the bold with calculated risks.
As mentioned by Pei-Han earlier, as with other businesses, resources are critical and paramount to any business operations and we are no different. With these planning and tokenomics, resources can be strategically allocated to the different areas such as developer incentives, community campaigns, listings, product development, business development and more.
We seek your understanding as supportive stakeholders and community members of Morpheus Labs on the importance of tokenomics – that's why we place large emphasis on this.
Do stay updated by subscribing to our official LinkedIn and twitter channel.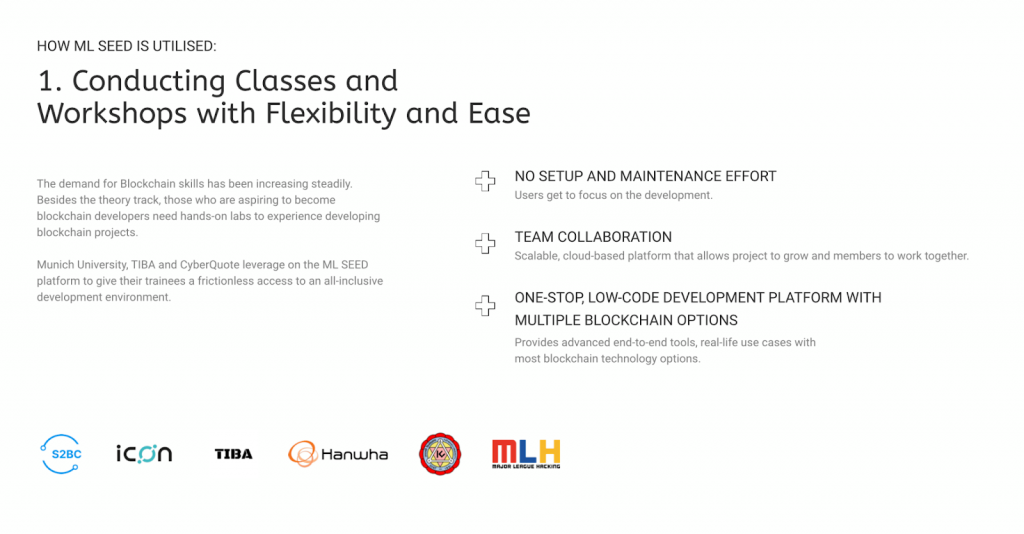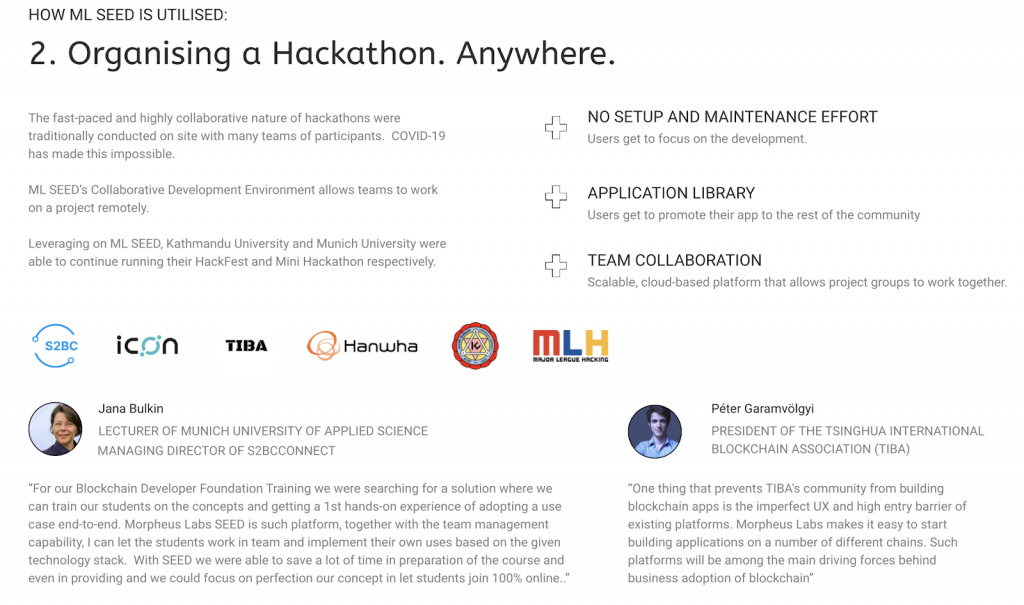 Pei-Han, Answer
Many popular use cases of ML SEED currently are in the Edualso tocation sector and currently more using ML SEED in conducting workshops and hackathons. Morpheus Labs will continue to establish a stronghold and focus on Blockchain Education. It is one of our core focuses. We will be moving into other verticals once the time is right.
Here are some infographics of our existing partnerships within the education / hackathon realms that we have done and will be using this model for other outreach.
Not forgetting another important community is the developers community. The developer community is one of our main core target audiences too. As our education outreach and partnerships with institutes worldwide are with mainly people in similar courses, our interviews and external stakeholders also work closely with developers.
Developers are also main users of both our stakeholders and our very own MLSeed platform. There are many plans installed for this group including major campaigns and more after our major tokenomics release which will happen just before Q4.
| No | Question | Respondent |
| --- | --- | --- |
| 1 | I saw that for the launchpad – there are quite a few customers/projects. Can you share what Morpheus Labs looks for in a project before on-boarding them? | Pei-Han |
| 2 | Can you tell us more on how Morpheus Labs solutions apply to the real world business, enterprise or educational needs? | Dorel |
| 3 | What new additions to the services offered would you like to add in the future? The launchpad seems to be a good move. Will we see more of it or do you all see the launchpad propelling Morpheus Labs forward? | Pei-Han |