labore et dolore magna eiusmod
consectetur adipiscing elit, sed do eiusmod tempor incididunt ut labore et dolore magna aliqua. Ut enim ad minim veniam, quis nostrud exercitation ullamco laboris nisi ut aliquip ex ea commodo consequat risus Ut mattis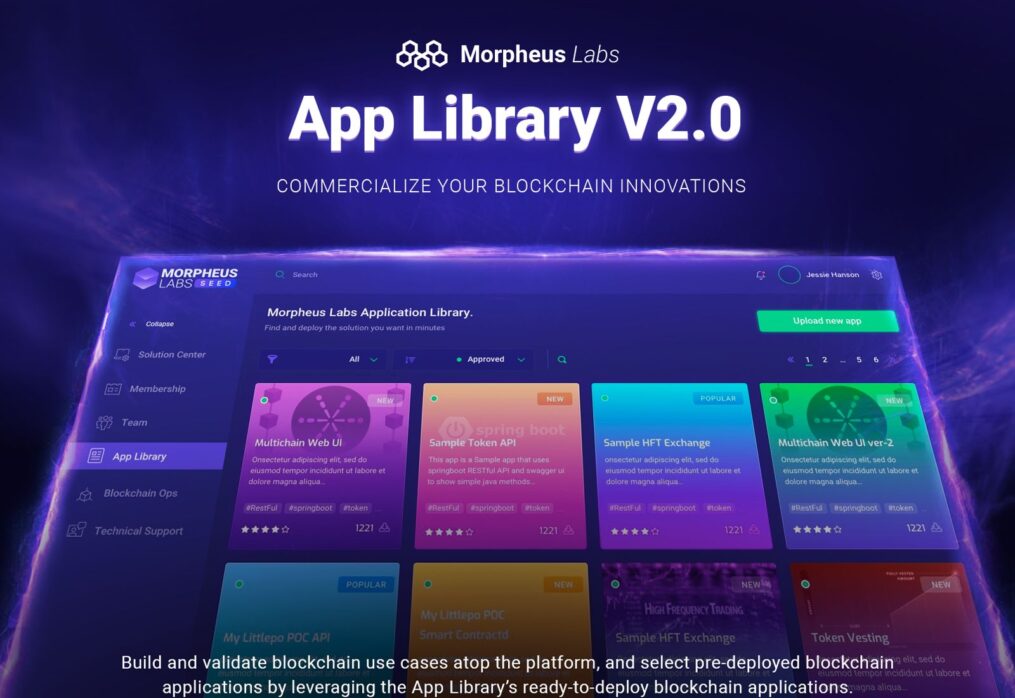 App Library V2.0 Is Now Live!
We're so excited to announce that the AppLibrary V2.0 beta is live! It's been an amazing journey for us to get here over the past years, and we're very happy to finally be launching our App Library and seeing our dreams for a Dapp marketplace to come true. Thank you to all our Morpheus Labs community, friends and supporters for your encouragement and feedback every step of the way, we couldn't have gotten here without you.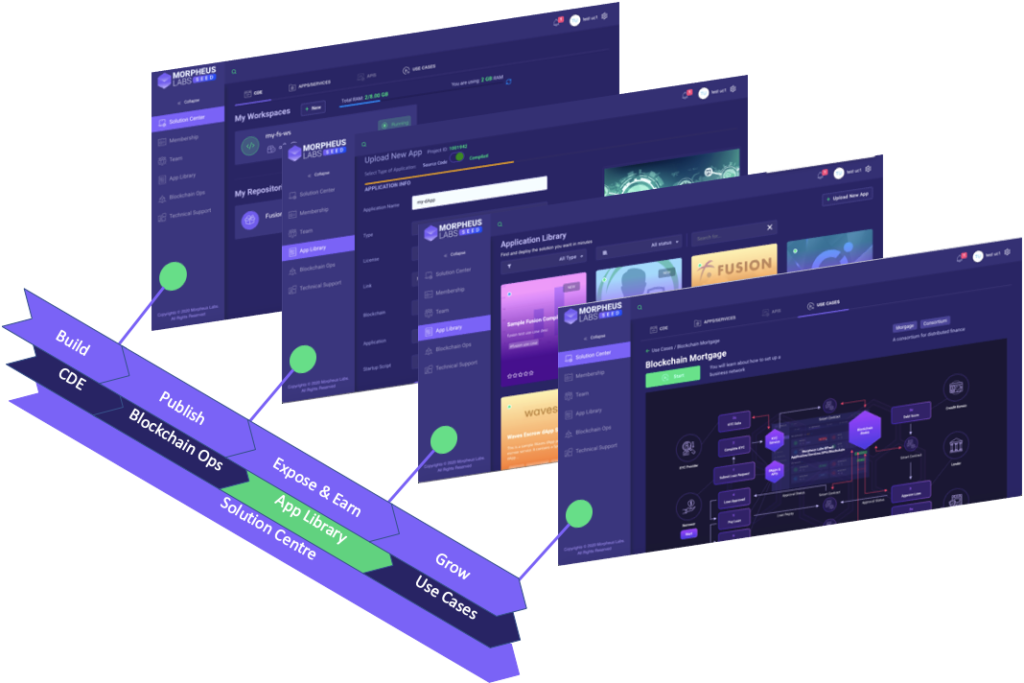 Together We Turn Ideas Into Opportunities
Consolidating multiple blockchain technologies and experiment environments onto one platform minimises the switching costs associated with various platforms, applications, and providers. Morpheus Labs SEED provides corporates, financial institutions and government entities easy access to a platform that enables them to develop, test and manage blockchain applications using different blockchain protocols supported by the platform to achieve rapid prototyping, cost efficiency and a fail-safe environment. The platform supports distributed hosting for blockchain network nodes and off-chain applications while providing a centralised platform service for developing, managing and regulating blockchain networks. Ultimately, SEED empowers anyone to partake in this revolutionary technology.
Morpheus Labs SEED's AppLibrary is a crowdsourced innovation marketplace that caters to the needs of businesses and individuals alike who can source for ideas and applications on the blockchain. A review system is also in place where developers, midsize and large companies can publish their applications for other users to download and customize them for their use. With the ability to curate industrial solutions on the platform, clients cut short a lot of time to find a suitable use case to customise a solution for their businesses.
The Morpheus Labs Team has already partnered with a few blockchain partners and will work out with interested partners to handpick and list comprehensive blockchain-based solutions in our App Library over the next 3–6 months, with the aim to help to bridge enterprises and implementation of blockchain solutions into businesses from the beginning to the end — to innovate, build, test, market, and distribute your Dapps and grow businesses.
V2.0 Beta Launch Features
Users can download and deploy dApps not only in a workspace (development and customization use) but also in runtime (production use)
Automatic deployment of blockchain and dynamically connection of dApp to the underlying network
Get access to promote any dApp in AppLibrary and create deployments using Use Case templates. Stay tuned, Solution Centre revealed coming soon!
Types of application to publish in our App Library
The following are the steps to publishing dApps in our App Library depending on the three types of application a user wants to publish: Source Code, Compiled Code and External.
1. Source code: Suitable for development and testing versions (aka dev)
This type includes all types of workspaces where the source code will be used to run the application. These applications are typically those you may use as proof of concept, samples and those developed by you. Typically, these applications will start in dev mode.
2. Compiled code: Suitable for staging and production versions (aka production)
"Compiling" is more specific, and almost invariably refers to a process that takes source code as its input, and outputs something runnable, typically machine code for either a physical or virtual machine
This type includes all types of applications typically built for production. These applications are typically those you may let other users download and use without disclosing the source code. Typically these applications will start in production mode. Vendors can publish applications in "compiled" deployment type for example to advertise, freemium, or for-purchase.
3. External: Suitable for featuring your application with AppLibrary
This type includes all types of applications running outside of Morpheus Labs SEED platform. The benefit of publishing external applications in AppLibrary is directly related to how good the application is to attract more ML SEED users to use it, to extend it. Cross referral and marketing as well as showcasing the top-ranked app are applicable for external applications.
Get everything you need for your blockchain-based applications before they become available to customers. Morpheus Labs SEED gives you all the tools, resources and support you need.
Want to join the beta? Just visit https://docs.morpheuslabs.io/ today to get started right now, or contact us to learn more about Morpheus Labs SEED.
Morpheus Labs is a Blockchain-Platform-As-A-Service (BPaaS) provider offering mission-critical tools, infrastructure, various blockchain protocols, and blockchain use case references for enterprises and developers to build, experiment and manage their own applications effortlessly at minimal cost and time. Armed with relevant capabilities, the platform offers a multitude of intuitive solutions that enables developers and enterprises alike to take advantage of its platform to build effective solutions for various use cases. Start building for free on Morpheus Labs SEED!
Be a part of our community! Join our official group chat on Telegram: https://t.me/morpheuslabs
(Check out our Community Telegram Guidelines.)
Connect with us
LinkedIn | Twitter | Telegram | Facebook | Youtube | Github | Reddit | CrunchBase | Website | Gitter
For more information about Morpheus Labs, kindly refer to our main site at https://morpheuslabs.io/ or via email at info@23.108.103.25