labore et dolore magna eiusmod
consectetur adipiscing elit, sed do eiusmod tempor incididunt ut labore et dolore magna aliqua. Ut enim ad minim veniam, quis nostrud exercitation ullamco laboris nisi ut aliquip ex ea commodo consequat risus Ut mattis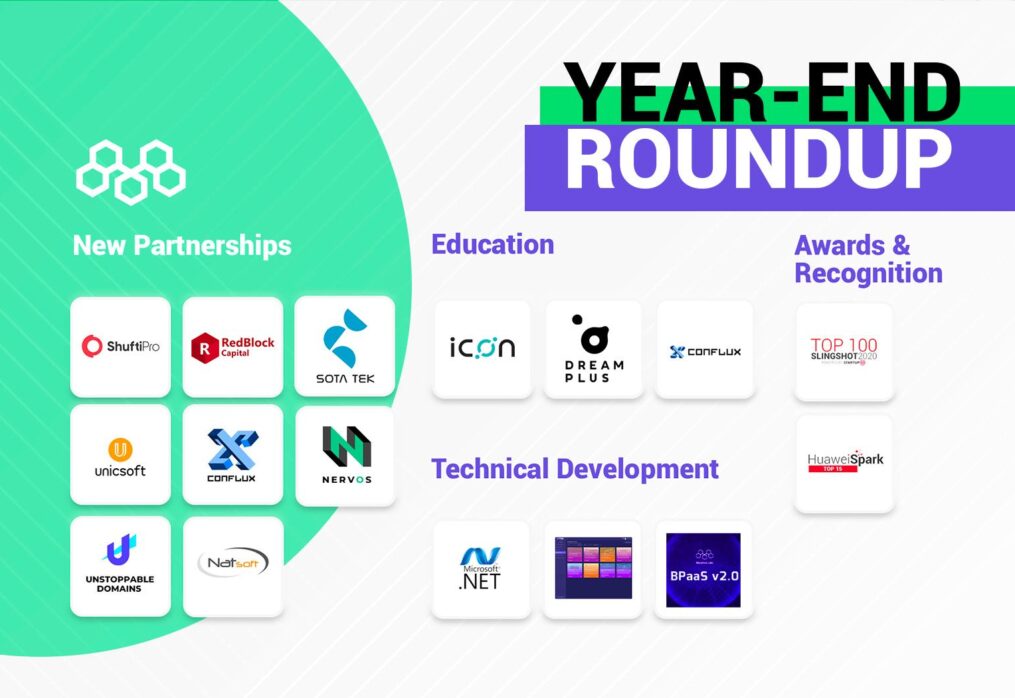 Annual Review of Morpheus Labs 2020 (Year-end Roundup)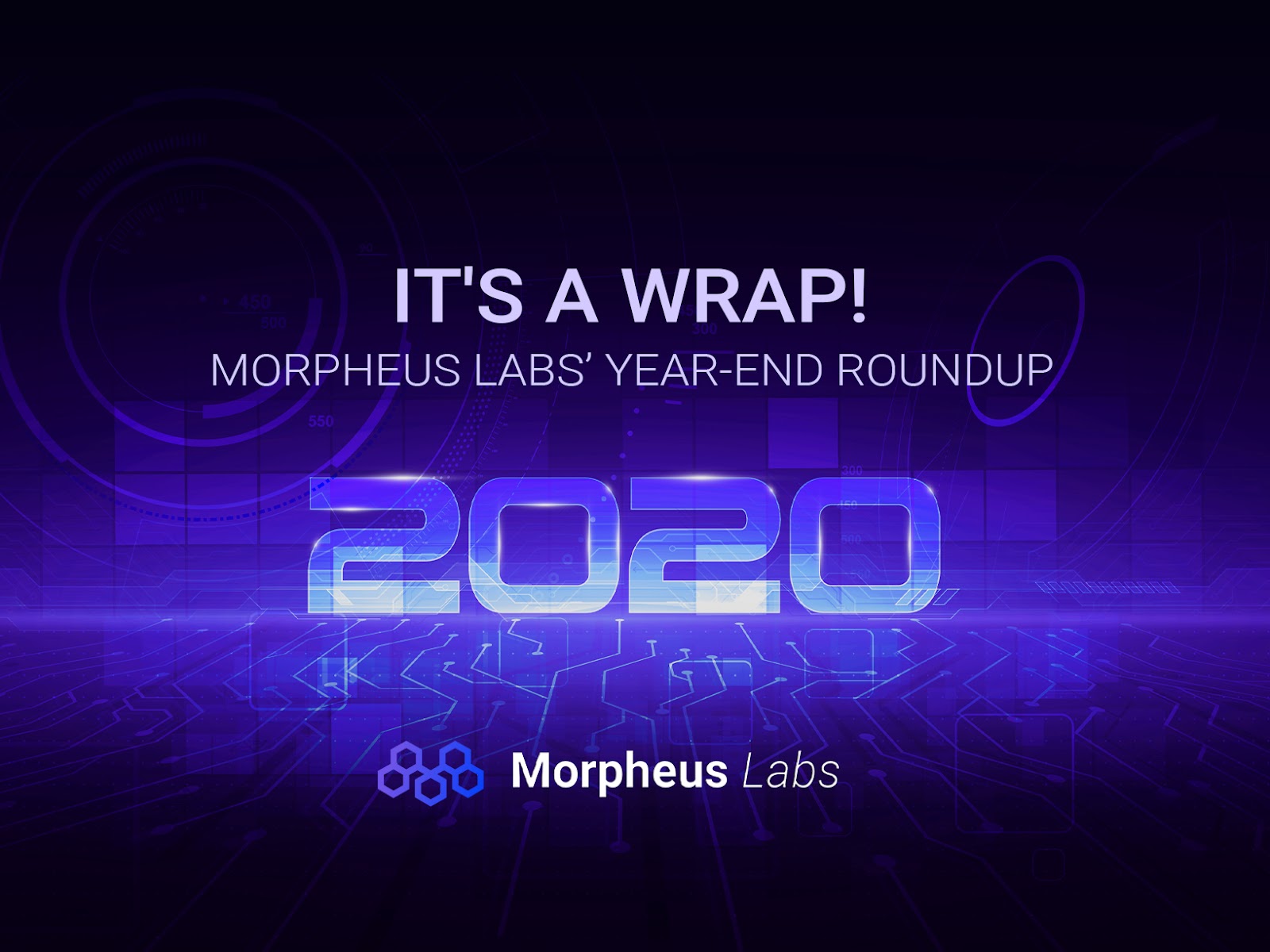 GuideScope
The publication of this annual review is to inform our community about the progress made by Morpheus Labs – such as new partnerships, tie-ups, collaborations with governmental bodies, new technological roll outs among many others.
Generic Nature
This publication is meant to be for informative and illustration purposes only. All reasonable efforts have been made to ensure that information is accurate to the best of our knowledge at time of this publication. Throughout the brief publication, you might come across abbreviations or symbols that you might not be familiar with.
Morpheus Labs' annual review publication is brief in nature and scaled accordingly to the nature of the industry we ply. Morpheus Labs is a private organization and no part of this article should be replicated or extracted. Each organization's corporate governance may differ and no part of this review should be used as a benchmark against any others.
Guidance Note & Advice
Any information or advice provided here should not be construed as advice. No part of this review/article is indicative or a call to action. This review is solely for informative purposes and any queries should be directed to the PR team of Morpheus Labs.
Inside look into our Business Development progress
2020 was a unique year for almost everyone. Business was not as usual and was a time of uncertainty. Nevertheless, we forged ahead and ended the year well with a few huge milestones. Morpheus Labs is proud to share the company's main achievements and highlights in 2020.
We were very focused on business development and marketing in 2020 and we will still be, in 2021.  Like we always say, real works take time. To achieve longevity and sustainability in our marketing and branding efforts, we are very glad to have supportive and proactive partners to co-market one another to our communities and business networks.
We move into joint business relationships with international industry leaders in areas such as professional services, leveraging their expertise and experiences to empower the world to move towards digital transformation in business. Our goal is to scale engagement across the market through the application of learning and replication. For example, the Morpheus team works diligently to design solutions on blockchain and other technologies such as RPA, AI, IoT and more, and then validate them as use cases on SEED with our clients from selected tech firms.
Partnership Developments
Morpheus Labs had a goal to work with education partners in educating students and professionals to learn the complex environment of blockchain, giving them a head start to blockchain development and propelling them into the talent-hungry blockchain development world. We embarked on a partnership journey with education providers such as Hanwha – Dream Plus, Conflux and ICON since 2019, to foster educational and commercial opportunities progressively.ICON conducts its blockchain workshops on Major League Hacking, an organisation that works all over the United States and Europe to help students organise hackathons at their own universities, powering over 200 weekend-long invention competitions that inspire innovation, cultivate communities and teach computer science skills to more than 65,000 students around the world each year! ICON blockchain was installed by 329 users, being one of the most used blockchain protocols on Morpheus Labs SEED.
a) Nine New partnership tie-up; click on the link to learn more about the partnerships
b) Education partnership collaborations
For more information about each individual partner we have tied-up with, you may head over to our newsroom or partner central page on our website – https://morpheuslabs.io/old/partner-central/
Outreach and collaborations
a) Morpheus Labs being amongst the thought leaders in the blockchain space
Morpheus Labs was invited to go on "Fintech Global", a series of live broadcast curated and produced by Institute of Fintech Research, Tsinghua University (THUIFR) to bring together entrepreneurs, executives, investors and researchers in the Fintech industry from China and across the globe, to share insights on the latest developments of Fintech and the Blockchain sector within the broader ecosystem.
Together with Leo Jiang, the Chief Digital Officer of Huawei CLOUD & AI, our CEO and CTO, Pei-Han and Bruce Lu talked about the things to plan and look out for, as well as risk management when an organisation is introduced to a blockchain framework. On top of that, they have also shared about the current challenges in blockchain implementation and the need to be smart about the risks posed and manage accordingly.
b) Collaborations with Governmental bodies
We were featured in the IMDA Blockchain landscape in 2019 and 2020. The development of a map of Singapore's blockchain landscape is part of IMDA's efforts to promote awareness and adoption of blockchain technology and to grow the blockchain ecosystem in Singapore. It is co-developed by IMDA, together with Tribe Accelerator.
This landscape map features notable local blockchain companies and initiatives leading the development of blockchain technology in a variety of industries. It is categorized into major sectors and provides a representation of the application of blockchain in various industries.
We're proud to become a member of SG Tech (Smart Nation Chapter), which means being a part of an ecosystem of smart technology adopters, regulators, and innovators to provide holistic Smart Cities solutions for both local and international markets.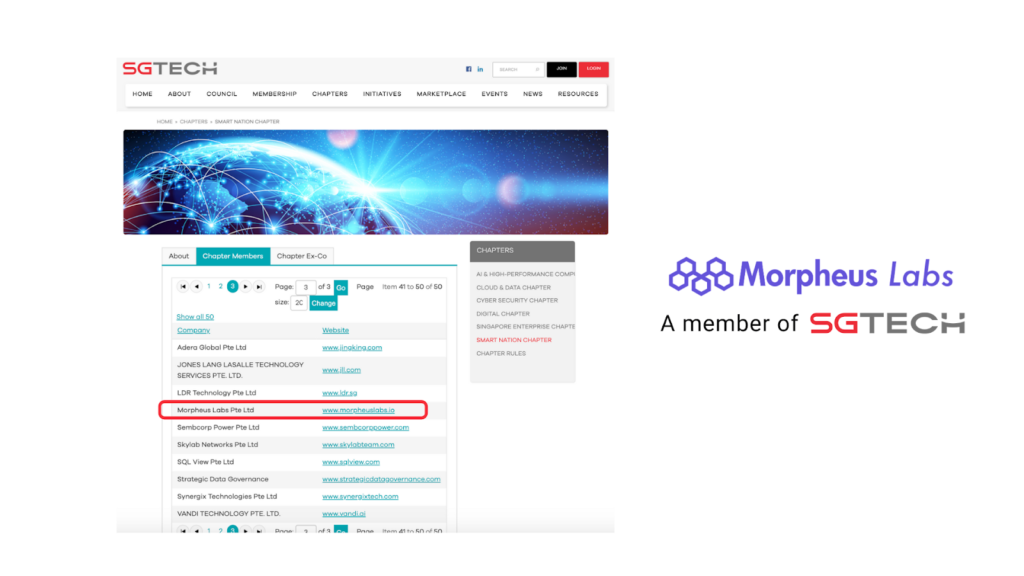 Notable Projects and Mentions
These are outcomes that bring visibility, recognition, customers, resources, and advocates.
a) Huawei Spark Program – Top 15 winners globally
Top 15 startups at Huawei Spark Accelerator program
Huawei Spark Program aims to incubate and accelerate deep startups in the Asia Pacific. Being a part of this program gave us a great opportunity for us to gain direct access to many respectable mentors in various areas of the business and to seek greater market validation and set foot in the emerging technology market.
The Morpheus Labs team has spent the first two years of its business in building and developing the low code development platform, named Morpheus Labs SEED, where developers and enterprises alike could use the platform to design, deploy and run blockchain applications and solution implementations.
b) PricewaterhouseCoopers (PwC)
PwC articleWe were engaged by PwC Singapore to develop Smart Compliance, a regulatory compliance automation tool using the Robotic Automation Process (RPA) to replace traditional paper-based compliance management and monitoring processes.
c) Secret Santa – Top 20 globally
Secret Santa Global Top 20Morpheus Labs, a Singapore-based Blockchain-Platform-As-A-Service (BPaaS) which offers enterprise-grade Decentralised Application (DApp) development for developers and businesses, is shortlisted as one of the 20 startups, included as part of the Blockchain startup category.
d) Startup-O – Top 25 globally
Startup O Global top 25 250+ startups applied for the Startup-O investment assessment program from across 17 countries and 15 verticals. An estimated one-third of them were selected for the season 11 cohort. At the end of the program, some top-ranked startups will get access to venture capital and global networks to help build great companies. Few others will be invited for the cross border venture-scaling support while all others will receive partner resources, the community connects and actionable feedback based diagnostic reports. We are delighted by the diversity of the participants, in terms of nationalities represented, technology verticals, as well as the age and gender of their founders.
e) Slingshot – Top 100 globally
SLINGSHOT powered by Startup SG is Asia's highly anticipated international startup pitching competition. It is an opportunity to meet and pitch to over 100 corporates, industry veterans and investors. We gleaned insights from world-renowned leaders, be inspired by up-and-rising founders, and capture business opportunities in an immersive online city experience like no other.
View all Top 100 Global Startups for SLINGSHOT 2020 here.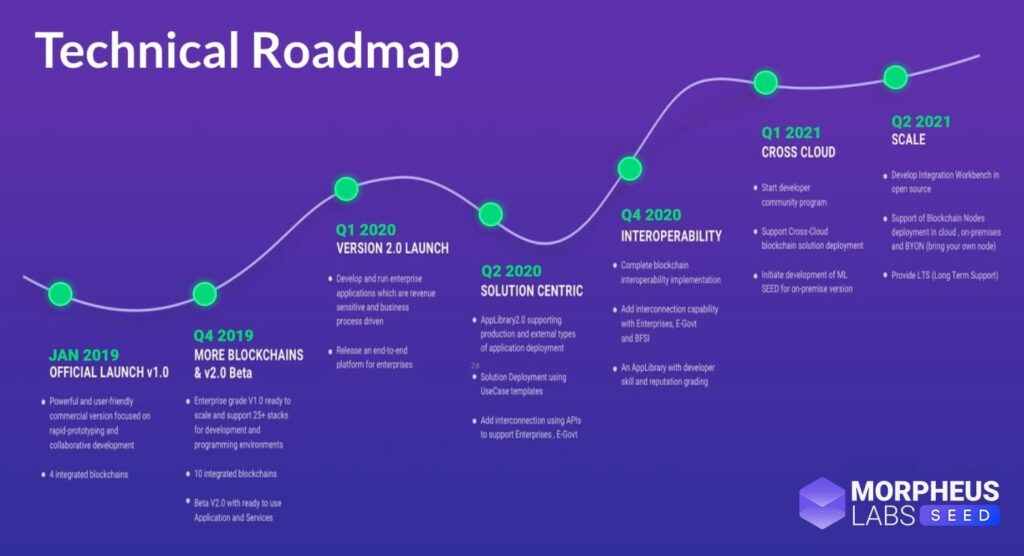 Year-in-Review: Achievements made in 2020
Morpheus Labs has certainly progressed since our inception. Below is a brief technical roadmap for your reference. If you would like to learn more, kindly feel free to visit us at our website on Morpheuslabs.io.
a) Bluesky | NFT issuance
Morpheus Labs successfully designed and deployed a web application tool for non-tech users to create and launch the three types of tokens mentioned in this article. The solution was designed and simplified by the Morpheus Labs tech team where the non-tech users can easily issue utility tokens by filling out the form with necessary data without the burden of technical knowledge.
b) (dot).NET
Despite the on-going pandemic, we successfully implemented a .NET based enterprise application using the integrated .Net capability in Morpheus Labs SEED. This capability allows our platform users to use Nethereum to write Ethereum dApps; use Neo Blockchain Toolkit for .NET to develop NEO smart contracts and quickly create dApps to address enterprise needs. Learn more details and see demo videos here.
c) BPaaS v2.0 | Morpheus Labs SEED
We launched our platform in 2019; on-boarded valued blockchain partners on SEED; we watched our platform users grow (You may find our platform tracker here. In July 2020, we launched our BPaaS V2.0 which is now known as Morpheus Labs SEED.) SEED platform has added features that not only empower the developers, but enterprises to have better team management functions, interoperability solutions to connect external resources, and also to help our users to accelerate their innovation process by providing reference templates. Learn more about the key features added to Morpheus Labs SEED here. To date, we have 2,065 users on SEED.
d) AppLibarary | V2.0
Morpheus Labs SEED's AppLibrary is a crowdsourced innovation marketplace that caters to the needs of businesses and individuals alike who can source for ideas and applications on the blockchain. We are looking into solution listings that are relevant to industrial blockchain implementations. This is a rejuvenation in partnerships as market validation gets wider due to the technology maturity.  We aim to screen and access 100 applications for listing by the end of January.
Community Outreach – Connecting, interacting, engaging
Outreach to the communities – Morpheus Labs, Blockchain & General public
Morpheus Labs has always appreciated the support of our community and we are constantly developing ways we can communicate with our valued community. The channels and tools are optimized for 2-way interactions. Good communication is key to any organization's success and hence, we have optimized the use of different methods to engage different sets of target audiences.
a) Telegram channels
This method is one of the most efficient ways to connect, announce, interact and engage directly with our community. Moving forward, this channel will continue to remain one of our main methods while working hard to improve and refine our content.
b) Twitter announcements
Twitter will continue to be our mainstay for global announcements and updates. This channel targets all stakeholders involved.
c) Morpheus Lab's rebranding and website updates
d) Ask-me-anything (AMA) live interactions
AMA is a unique opportunity to hear what our founders have to say, their views and take on questions that are asked by the community. In 2021, we will continue to hold these valuable live interactions that are greatly appreciated by all involved. Feedbacks were largely positive and Telegram interactions / discussion greatly increased before and after each session.
Morpheus Labs latest AMA was hosted by Oddgems. You may read more here.
e) Webinars
This is a useful tool & channel to communicate with the wider Blockchain community and the wider public. In 2020, we have had webinars with prospective clientele, partners and the community. There was an increase in interaction between the parties and this greatly improved the synergy and understanding of each other — leading to a higher user experience. Through this webinar method alone, the feedback was more positive and we realised that our call-to-action message increased by 2-folds when compared to a telegram send-out.
Moving forward in 2021, Morpheus Labs will engage webinars when there are important messages that require a higher degree of interaction and explanation. We would also like to thank all our members, prospect partners, stakeholders and the community for engaging us in these webinars.
f) Ambassador Program
Following our global expansion, we have been busy revamping our Ambassador program and we are resuming to receive new Ambassador applications from all corners of the globe. The program will provide ambassadors the chance to meet our internal teams, engage with like-minded crypto experts from all over the world, help our users learn about the benefits of Morpheus Labs SEED and receive exclusive perks.
For more information on our revamped ambassador program, click here.
g) Community Node / Foundation
Morpheus Labs Community Node Program is branded as – Canopy. Morpheus Labs has developed the concept of community 'nodes'. Avid supporters of Morpheus Labs, be they developers, marketing experts, or community managers can set up a 'node' tasked with hosting meetups, drumming up support and engaging with other blockchain enthusiasts on behalf of Morpheus Labs. Canopy enables true supporters to participate in Morpheus Labs community governance and collaboration. Establishing Morpheus Lab's global community nodes is helpful to break the shackles of corporation structure, greatly improving efficiency. Morpheus Labs is willing to accompany every community member to pass through tough times this year.
For more information on the program, kindly visit the following link – https://morpheuslabs.io/old/news-room/morpheus-labs-community-node-/
What is installed for Morpheus Labs in 2021 & Beyond
What can we do with the blockchain? What are the possibilities out there? On one hand, you have companies that want to use the blockchain to improve or lower the cost of a particular process. The other segment wants to innovate without any legacy systems or existing regulations tying them down. That's the bigger promise — as a platform for innovation.
1. Swapping Morpheus Lab's token (MITx) on Uniswap
We are proud to announce that we have been listed on Uniswap. A token swap between MITX and ETH or other ERC-20 tokens can now be done seamlessly on Uniswap's decentralized asset exchange.
2. Getting listed on more prominent exchanges
We've mentioned to our community that we are in talks with exchanges. We will need time to carefully choose the exchange to list our token with MITx holders' interests in mind.
3. Increasing market share
Morpheus Labs has been undertaking efforts to spread the services within Singapore and the Southeast Asia region. In 2020, we have managed to spread the seeds of our services to foundational networks across the community. In 2021, Morpheus Labs will work tirelessly behind the scenes to nurture the hard work done in 2020 and reach out to new markets that could greatly benefit from our services and offerings.
Further information will be released accordingly. Stay tuned this year in 2021, as more milestones will be achieved at Morpheus Labs.
Closing Words from the CEO
"What a year it has been! Few would have been able to predict the dramatic change in circumstance and outcome for all of us. For Morpheus Labs, key partnerships have transformed the Company and its prospects, and we have emerged substantially stronger. 2020 has certainly been a year of substantial change – development at the end of which emerged a much stronger Company. The team behind Morpheus Labs has been working tirelessly behind the scene to ensure we roll out programs, secure partnership with valuable partners among many others. The programs that we update, AMA sessions, winning the top 15 in start-ups in the prestigious Huawei Spark program are some of the achievements thanks to the team and you, our valued community members reading this. I would like to take this opportunity to also give special mention to you – community members reading this. You made these possible. Though valuable feedback, interactions and debate, your voices are paramount to the growth of the company. Throughout 2020 and the shift of the business landscape due to covid, we had the chance to interact and engage with our community members which directly and indirectly influenced some of the new ideas and programs that we have rolled out (or will be soon). Not forgetting Morpheus Labs other stakeholders such as – Huawei, Nervos, ICON, PwC, etc. And the list goes on. We are certainly grateful for the faith shown in us and we look forward to a fruitful collaboration in 2021 and beyond. In 2021, you will certainly see and experience more of Morpheus Labs as we surge ahead in our business dealings and increase our engagement with stakeholders. With this, I would like to thank everyone for the role they have played in Morpheus Labs and take this opportunity to wish you all the best in the new year. Take care and cheers to a greater year ahead."