labore et dolore magna eiusmod
consectetur adipiscing elit, sed do eiusmod tempor incididunt ut labore et dolore magna aliqua. Ut enim ad minim veniam, quis nostrud exercitation ullamco laboris nisi ut aliquip ex ea commodo consequat risus Ut mattis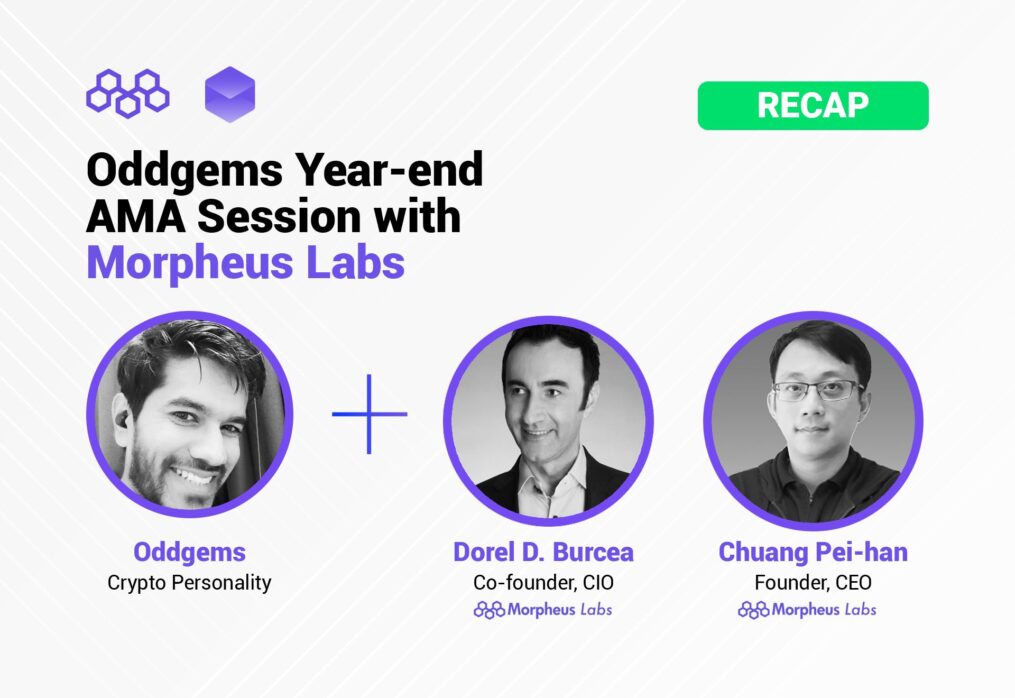 AMA Recap: Morpheus Labs X Oddgems
On 30 December 2020, Oddgems hosted an AMA session with Morpheus Labs with his Telegram community. The AMA saw our CEO and CTO gave an overview of the project, why Morpheus Labs exist, our recent milestones and the future. This recap includes the questions and answers from that session.
1. An introduction of the Co-founders, Dorel and Pei Han, the CIO and CEO of Morpheus Labs
Dorel:
I have more than 18 years of experience in Technology Transformation in the Banking & Financial Sector when I acquired an interdisciplinary mix of technical and business skills. As an IT industry leader in driving organisations towards the adoption of an enterprise solution to scale their businesses, I spearheaded IT initiatives & Implementation totalizing €2B Budget, risk analysis and cost optimisation resulting in remarkable savings, and successfully implemented multi-million dollar projects, some of them were for Amundi Pioneer (ex. Pioneer Investments), National Commercial Bank, Central Bank of Libya, HypoVereinsbank and UniCredit Group. And I became passionate about blockchain back in 2016.
Pei Han:
Hi Everyone,my name is Pei-Han, a serial entrepreneur with more than 10 years of experience in business development and fundraising. Being a business veteran, I managed to expand my previous company with conglomerates in the emerging market. My involvement in start-ups across varied industries enabled me with my network and resources to expand the previous businesses rapidly. I exited my previous company about 5 years ago, and I am currently running Morpheus Labs with Dorel & Bruce, which is one of the fastest-growing low-code, one-stop blockchain application development platform in the market today.
2. Can you briefly describe Morpheus Labs and its product MorpheusLabsSEED?
Pei Han: 
Morpheus Labs SEED is a BPaaS (Blockchain Platform as a Service), blockchain agnostic platform, aiming to bridge the gap between blockchain and the real world (companies, devs, students), to fast track Blockchain Adoption in the real world.
As SEED platform is blockchain agnostic we are integrating and partnering with a lot of blockchains Ethereum, Vechain, EOS, NEO, Waves, Wanchain, Tomochain, CPChain, NEM, NULS, ICON, Nervos, Hyperledger, ProximaX and many more.
Furthermore, we are working closely and integrating with giants like Huawei and more to come to establish our second unique capability after agnosticism that is multi-cloud.
Realistically, we hope to have as many big clouds and blockchains connected to us, where companies, students and developers can 'use' the platform. We focus on building the tools to develop on blockchains, while we let blockchain companies focus on improving their blockchain.
3. So, What are the advantages of using Morpheus Labs SEED over other platforms?
Dorel: 
We are the only low-code end-to-end platform for both developers and enterprise clients to build and deploy blockchain-based solutions. The one-stop, low code development platform includes the AppLibrary where customizable industrial solutions are listed and showcased to the public.
With blockchain agnostic capability, we have established partnerships with many significant blockchain protocols and solution providers to jointly provide and promote blockchain solutions. You may find more information here: https://morpheuslabs.io/old/partner-central/.
Our partners and platform users list their Dapp solutions on our App Library that are showcased to the public and could be accessed/purchased by other users that enable SEED platform to be the go-to platform for finding the most relevant blockchain solutions to use or customize.
We are also working with different cloud providers like AWS and Huawei to establish our second unique capability after blockchain agnosticism, which is multi-cloud. This will allow the SEED platform to fully leverage services available on different clouds to provide platform users with access to different blockchains and cloud services to create blockchain solutions based on their business needs. As the most matured BPaaS in the market now, we have gained a superb reputation and trust within the blockchain space.
As the world is embracing Web3.0, it is now more important than ever that we are the best project when it comes to facilitating DApp development while utilising the best of the best in the Cloud computing industry. 2020 has shown enormous/tremendous growth and we're currently having the first-mover advantage.
Singapore is positioned to be a world leader in Blockchain development and adoption and we are working towards this national strategic direction. Currently, we're predominantly in the Asia market and planning to expand to other markets in the near future. Blockchain agnostic and multi-cloud capabilities would allow Morpheus Labs SEED to be able to attract potential clients with preferences using different blockchains and clouds.
4. Can you talk about the utility of MITX and its Tokenomics?
Dorel: 
The design of a token economy refers to the design of a token and the rules that govern its use between participants within an ecosystem. A successful token economy revolves around the correct design of incentives to ensure the use of the native token is desirable by all ecosystem stakeholders. To bring it further, the design of a token revolves around the study of game theory, behavioral economics and mechanism design.
Let me focus on a few key considerations here:
Tokenomics will be evolved together with the new business model and platform capabilities
Ensure that platform participant are strongly incentivized to use and hold MITx
Maintaining and increasing the demand for MITx by adding and inventing new platform services
Demonstrate utility within all platform services
Lower user acquisition costs for Morpheus Labs
Align the value of MITx with the success of Morpheus Labs
Reduce price volatility
It is known that the more subscriptions we have (or integrations) the more our token is going to be used. Since our business model is geared towards that, our token is integral to the success of Morpheus Labs. We'll remain an ERC20 as long as it makes sense to be on the Ethereum blockchain (so we have no plans to switch). We're blockchain agnostic ourselves as a product, and the token is used for the above.
It is also very important once again to iterate that the MITx token is not a settlement or payment token. The design of MITx is centered around the access/work token model.
Refer to our tokenomics for more info: https://medium.com/morpheus-labs/mitx-token-economics-38b17d870ab9
All our signals coming from MNCs who have done PoC in recent years are also looking at blockchain implementation in their businesses. This is an indication of the growing demand where we see the potential for Morpheus Labs.
5. How is the government of SG involved at this stage? Any update on Malaysia's smart city would be appreciated as well?
Dorel: 
I personally took part in the opening of the MEDINI Smart City. This was stated to be a long-term country initiative to develop and establish a Blockchain ecosystem and attract new talents. The Initiative has its own cycle and Malaysia, Singapore's closest neighbour, is making great steps for blockchain adoption for example in education, agriculture and the food industry. As you know Morpheus Labs is a unique platform for experimenting and practical implementation and both MyGovernment and MIGHT(Malaysian Industry-Government Group for High Technology) are friendly with blockchain such NEO, NEM, Ethereum that are already in partnership and integrated technologies in our Morpheus Labs SEED.
6. MITX has already integrated some top-notch blockchains like Vechain, Nervos, Waves, Icon, Neo etc… How many more blockchains integration can we expect in 2021?
Pei Han: 
Now we are having the most blockchain protocols on SEED platform compared to others in the market, and we receive many interests from more blockchains to collaborate.
In 2021, we will focus more on assessing which blockchain protocols and solution providers to integrate according to focused industries, technology advantages, functionality, real-life implementation in business solutions and market demand from developers, enterprises and business partners.
After all, we are connecting Blockchains to users — to bridge the gap between blockchain technology and the real-world, fast track adoption. After all Crypto will only go to the next level when Blockchain goes mass adoption — at least that is what I believe, into real-life usage and into the public daily usage.
More integrations will come in 2021, we will keep the community updated. We do gather experiences from our customers and tech partners in implementing solutions, hence we have guiding metrics in selecting blockchain which happens to be similar to (credit to Leo, the Chief Digital Officer of Huawei)https://hackernoon.com/breaking-blockchain-a-framework-to-evaluate-blockchain-use-cases-9efbc30a3fa7
Our goal is to give blockchains the chances to grow their community., operate in the real economy and solve problems for various industries. The blockchains that qualify in 2021 will be selected and integrated. An important aspect of the integration is the fact these blockchains not only will be part of Morpheus Labs SEED but also run in new clouds which is a gateway to new customers.
7. IntegrationWorks have been a partner for a long time now. How's the collaboration with integration works ongoing? They have some big clients like Siemens & Mitsubishi, so will Morpheus labs leverage that connection in the future?
Dorel: 
Our SI partner Integration Works has established deep roots in the local industries and links to clients. Our aim is to collaborate and get value from their expertise and any projects coming from these industries. Besides the Asian market, our partner is building his presence in the German market. That will let us grow our community in the German market and will create further opportunities in 2021 from renowned partnerships and industries projects.
Reference: https://www.facebook.com/1581261868773120/posts/2918648815034412/
8. What are the marketing efforts being done to attract more developers and enterprises to adopt Morpheus Labs SEED? Regarding exchange listing — Is there any new listing lined up for 2021?
Pei Han: 
Definitely, we have started to switch to marketing/BD focused mode, we have also started a dev community where key developers from blockchain partners had joined.
But to achieve longevity and sustainability in our marketing and branding efforts, we are very glad to have supportive and proactive partners to co-market one another to our communities and business networks;
a) Enterprise — Industrial implementationTighter collaboration with blockchain partners in cross-promotion and campaigns to promote their solutions within Morpheus Labs SEED platform to the public.
Joint marketing efforts with industry partners and leaders in promoting implementation via SEED  platform.
b) Education outreachWorking with education partners in educating students and professionals to learn the complex environment of blockchain, giving them a head start to blockchain development and propelling them into the talent-hungry blockchain development world.
c) Enterprise outreach Working with key partners to reach out to their client base
We've mentioned to our community that we are in talks with exchanges. We will need time to carefully choose the exchange to list our token with MITx holders' interests in mind.
9. Can you let us know more about the recent inclusion in Huawei Spark and how will it help boost Morpheus Labs?
The accelerator program has its strategy itself to connect business networks, provide marketing support and mentorship to accelerate our growth.
Being in the top 15 amongst more Than 500 startups globally is a great opportunity for us to gain direct access to many respectable mentors in various areas of the business. This is the time for Morpheus Labs to seek greater market validation and set foot in the emerging technology market. Getting the attention of these players would have long-term significance and may come in handy for Morpheus Labs in the near future. Whether it may be collaborations, future funding, or even becoming our customers may no longer seem a long-shot after we had been part of this program. More details here.
The collaboration with the Huawei team (of senior positions) has started. We see that there is a lot of synergy between us to move forward in the blockchain space. a) Blockchain is one of the key national strategies for China & SGb) To increase product offering to customers c) ML has also shared a roadmap of SEED with the Huawei team
10. Is there a market you're currently entering that has tremendous potential?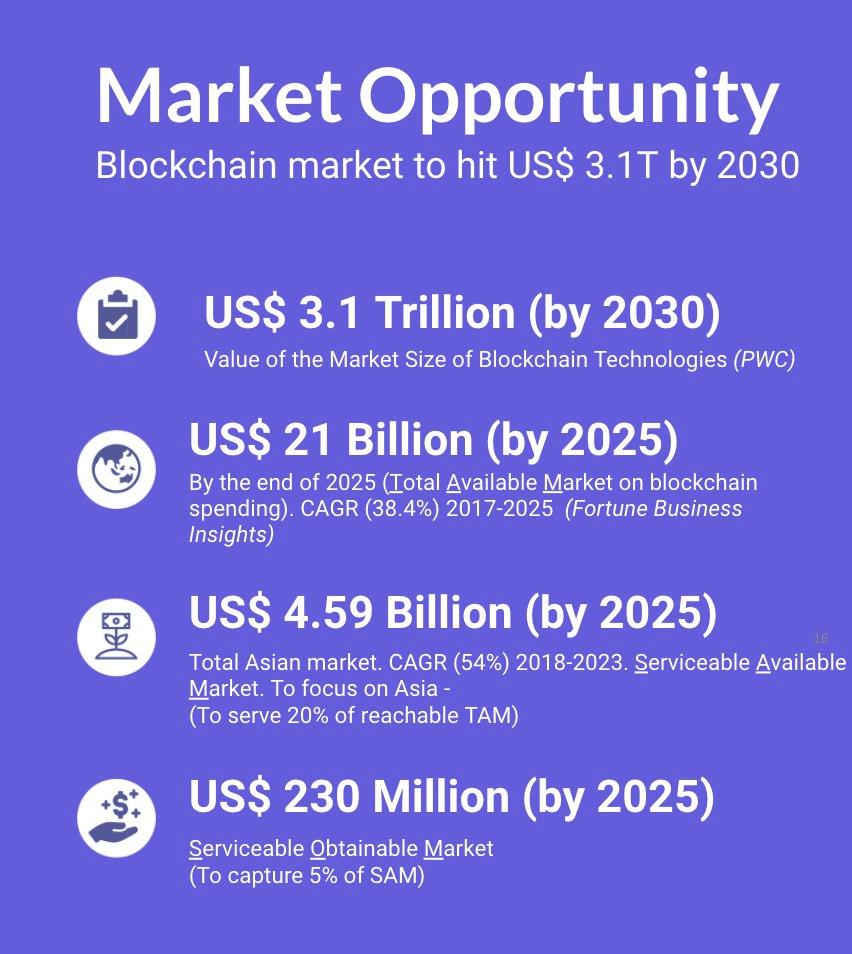 We see that Singapore and SEA are very open to business solutions on blockchain technology. On the other hand, blockchain has penetrated the public consciousness in China, and it has a great hold in mining, investing, and research. The state is openly funding blockchain initiatives, both within the government and private companies.
Some of our key partners have an Immersed network in China and hence this is also one of the potential markets that we are collaborating with.
11. What is Tsinghua's University's role with MITx?
THIFR (Tsinghua Institute Fintech Research) is a research lab mandated to provide forward-looking research and practical guidance for the fintech industry, to build a healthy, stable and sustainable fintech ecosystem in China. Among global blockchain/fintech companies interviewed and studied by THIFR, Morpheus Labs has been identified as one of few companies that THIFR has a deep interest in, communication is frequent and there are open discussions on potential future collaborations.
Morpheus Labs was honored to be invited to be a part of their network and share our insights in the blockchain space, alongside growing companies from Silicon Valley, China and Germany. You may learn more about the live broadcast (in Chinese) here: https://morpheuslabs.io/old/news-room/morpheus-labs-join-tsinghua-u/
LIVE QnA Session with the community
Where do you see MITX in the next 5 years in terms of adaptability?
Pei Han: 
MITx is our key to our platform features and usage. Eventually, anyone who wants to be our vendor, partner distributors would have to use MITx as well. Fundamentally and technically, we are different from Qnt on the product offering.
Dorel:
The name Morpheus Infrastructure already says we will focus to provide not only the BPaaS but also a distributed infrastructure to host the future protocols without the hassle of hardware and monitoring, where the MITx will play his transactional value role. Stay with us! 
2. You mentioned in chat that there might be something related to the cloud. Does this mean there could be partnerships with all the other cloud platforms, or being the middleware platform to connect people to a blockchain and/or cloud?
Pei Han: 
When we launch version 1.0 in 2019, we have become G2M (go to market) platform for blockchains and we are moving into tighter collaboration with selected blockchains (which has strong offering and solution) to push adoption
For cloud — is our another close (potential partners) which there is tight alignment on business & strategy.
Dorel: 
Both, will be partnership and middleware. A partnership is the aim to be into business. Middleware is the key to give a seamless way to these markets (brought to us by new clouds) to deploy their nodes and dApps into that clouds.
3. Are there partner programs for system integrators or ISVs?
Pei Han: 
Yes there will be, which will in sync with our joint collaboration with our name partners to invite distributors (system integrators) etcIntegration work, NatSoft is our pioneer batch.
Our competitive pricing model will also set a new precedent in the area of SaaS for blockchain technology.
With our growth in 2020 and our renewed focus in the Chinese market, the 2nd largest economy, we're also poised to become the intermediary channel for Cloud services providers like Huawei and AWS to tap onto blockchain easily to millions of devs in China and beyond.
4. How many MITx are on Binance chain? Any plan to increase MITx liquidity on upcoming Asgardex from Thorchain, currently it is Bepswap.
Pei Han: 
Anything that would benefit token utility — we will plan for it.
Closing
Oddgems: 
Thanks a lot Dorel and Pei Han for answering all the questions in such a comprehensive manner. It's been an amazing session.
Pei Han:
 It will be a very exciting Jan and Feb (at least what I can see on the table), which we are adoption driven and we welcome any like-minded who believe in blockchain, trust in adoption will drive crypto to the next level to join us.
END OF MORPHEUS LABS AMA
About Morpheus Labs
Morpheus Labs​ provides businesses with an end-to-end Blockchain-Platform-As-A-Service (BPaaS) solution for innovation and value creation. It simplifies blockchain application development by offering mission-critical tools, infrastructure, various blockchain protocols, where you can build and manage your applications effortlessly at minimal cost and time. With a cross-functional team that has a combined 70 years' experience in artificial intelligence, blockchain, mobile applications, cybersecurity, and IoT across Europe and Asia.
For more information, visit https://morpheuslabs.io/old.