labore et dolore magna eiusmod
consectetur adipiscing elit, sed do eiusmod tempor incididunt ut labore et dolore magna aliqua. Ut enim ad minim veniam, quis nostrud exercitation ullamco laboris nisi ut aliquip ex ea commodo consequat risus Ut mattis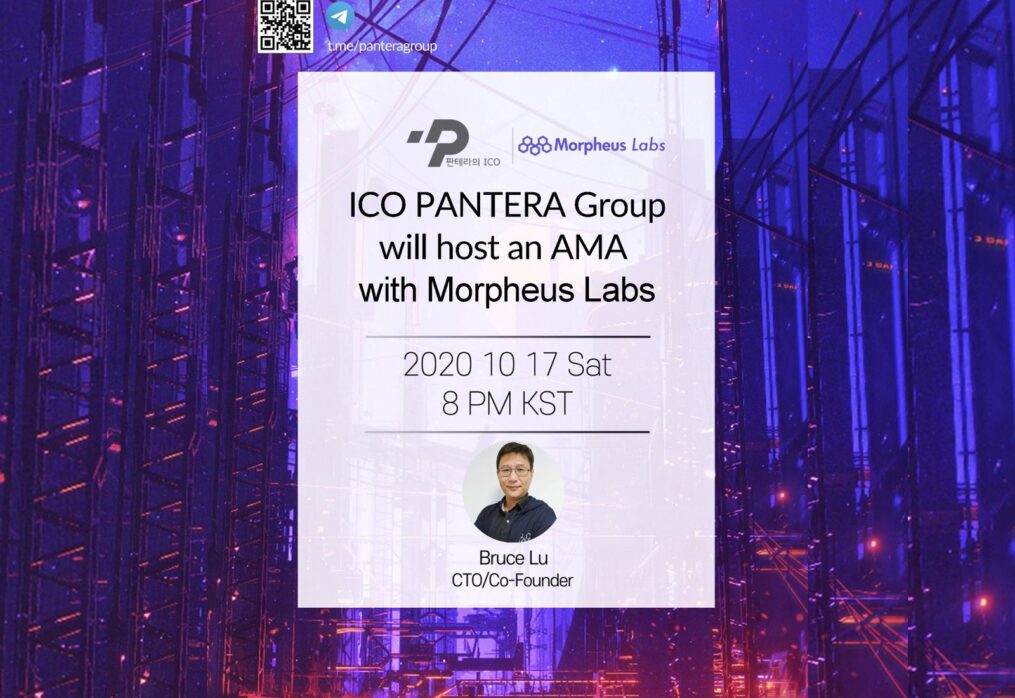 AMA Recap: Morpheus Labs X ICO Pantera Group
On 17 Sept 2020, Morpheus Labs was invited by ICO Pantera Group for an AMA session with their Telegram Korean community. The AMA saw our CTO give an overview of the project, why Morpheus Labs exist, our recent milestones, our product and its key features. This recap includes the questions and answers from that session.
An introduction Bruce Lu, the CTO of Morpheus Labs.
I am Bruce, the CTO of Morpheus Labs. I've been working in software development for businesses and enterprises for more than 20 years. Before I joined Morpheus Labs, most of my career was with IBM Singapore as a lead technology architect. From 2016 to 2017, when I was with IBM, I implemented a blockchain solution using HyperLedger for a world leading bank, that was the first kind of solution in the APAC region. In the last three years in Morpheus Labs, together with my other co-founders and colleagues we have created a leading blockchain service platform, we have established partnerships with most of the significant blockchain protocol and solution providers. Morpheus Labs has been featured by the Singapore Government as an Enterprise and Business blockchain solution provider in 2019 and 2020, along with those technology giants (https://medium.com/morpheus-labs/morpheus-labs-featured-in-the-blockchain-landscape-map-project-of-infocomm-media-development-9835a97a65f4). I'm proud of what we have achieved today and passionate of what we are doing for our customers and for you, our community supporters. Thank you for logging in here for the AMA. I am very excited to share with you what we do at Morpheus Labs.
1.Looking at the services provided by Morpheus Lab, there are many services mainly for developers, but I would like to know which services are suitable for the general public.
Our main product is the BPaaS (Blockchain Platform as a Service), also known as Morpheus Labs SEED which stands for Solution Environment for Enterprise Development.
It's a platform for developers, companies, enterprises and students to develop, tweak and launch blockchain applications in a fraction of the time than it would normally take and at a much lower cost. Our platform offers a multitude of intuitive solutions that enables developers and enterprises alike to take advantage of the platform to effectively build solutions for various use cases.
We make blockchain solution development easy and fast. (a) A user simply creates an account in the platform, (2) selects a blockchain protocol to work on and (c) pick up Morpheus Labs BPaaS stacks from the Collaborative Development Environment (CDE) dashboard with just a few clicks, then your preferred programming language, development frameworks, SDKs, off-chain and on-chain technology components are all ready to use. Enterprises and developers can onboard to learn about and experiment with various blockchain protocols, functions and capabilities to discover the solutions best suited for various business needs. Our platform is a one-stop solution platform for end-to-end blockchain development to materialise mass adoption.
From Proof of Concept (POC) and pilot projects for blockchain solutions to large scale enterprise applications to improve and automate business processes, we help businesses to move towards digital transformation and innovation by providing consultation and implementation services in Digitalization, Process Automation and Technology Innovation, mainly in areas of Blockchain, RPA and IoT related technologies.
This year we've upgraded our BPaaS to version 2.0 after going through extensive feedback with our partners regarding optimizations. We have added features to not only empower the developers, but enterprises to have better team management functions, interoperability solutions to connect external resources, and also to help our users to accelerate their innovation process by providing reference templates.
As part of our commitment to continuous contribution to blockchain technology adoption, we are adding new services such as integrated low-code tools, more blockchain 101 training, dApps for education, token staking (Community Node) on the platform. In addition, we are planning to have a marketing campaign to collect feedback from the community and general public, what features they would like to be available on our platform.
2. All project's coins have their main Utilities & real-life use! So, Can you tell us what is the main role of your coin in your ecosystem? Explain its Utilities & Real-Life use cases? What are the benefits of holding your coin for the long term?
The design of a token economy refers to the design of a token and the rules that govern its use between participants within an ecosystem. A successful token economy revolves around the correct design of incentives to ensure the use of the native token is desirable by all ecosystem stakeholders. To bring it further, the design of a token revolves around the study of game theory, behavioral economics and mechanism design. Elaborating on our MITx design philosophy, we focused on a few key considerations:
Ensure that platform participant are strongly incentivized to use and hold MITx
Maintaining demand for MITx
Demonstrate utility within all platform services
Lower user acquisition costs for Morpheus Labs
Align the value of MITx with the success of Morpheus Labs
Reduce price volatility
We have decided to go against making MITx a simple payment currency for Morpheus Labs services. Based on our decades of experience in the enterprise software space and consulting our partners during the design process, it was concluded that forcing customers to directly buy MITx tokens for the open-market will add unnecessary friction to the onboarding process. As such, we have developed a model with our treasury and liquidity partners to purchase MITx on behalf of our customers in an automated fashion. It is important to once again iterate that the MITx token is not a settlement or payment token. The design of MITx is centered around the access/work token model.
The more subscriptions we have (or integrations) the more our token is used. Since our business model is geared towards that, our token is integral to the success of Morpheus Labs. We'll remain an ERC20 as long as it makes sense to be on the Ethereum blockchain (so we have no plans to switch). We're blockchain agnostic ourselves as a product, and the token is used for the above.
MITx being an utility token also means that the token demand is closely pegged to demand of the platform and if the token has multiple utility functions designed in it.
Morpheus Labs is here to facilitate Blockchain adoption.
MNCs who have did PoC in recent years are also looking at blockchain implementation in their businesses. This is an indication of the growing demand where we see the potential for Morpheus Labs.
For reference, here's our tokenomics link: https://medium.com/morpheus-labs/mitx-token-economics-38b17d870ab9
3. I am curious about the actual case of using Morpheus Lab's products since 2016.
We position ourselves as the Go-To-Platform for blockchain protocols and solutions.
In 2018,  the Morpheus Labs' team had worked to on-board strategic and blockchain partners that could contribute to the ecosystem and benefit the greater community. We officially launched our Blockchain Platform on the 25th of January in 2019.
To date, Morpheus Labs BPaaS has nine integrated eminent blockchains for developers to choose from, supporting more than a dozen programming languages such as Python, Java, C++, C#, Node.js, Go, Solidity, and more. Morpheus Labs BPaaS Version 2.0, also known as Morpheus Labs SEED.
We launched the Blockchain Curriculum with Hanwha Dreamplus in South Korea, a Global Startup Incubator powered by a South Korean business conglomerate, to cement our partnership to promote blockchain education and the growth of its ecosystem.
(https://dreamplus.io/academy/blockchain)
The Blockchain Curriculum is a 7-week intensive education programme which includes a mix of theoretical and practical components focused on the theory behind blockchain and practical coding of a sample of decentralized applications (DApps) conducted with Morpheus Labs' Blockchain Platform-as-a-Service (BPaaS).
Through partnerships, we reached out to thousands of students who are willing to learn blockchain and the underlying technology. The programme is suitable for users from diverse backgrounds, ranging from those interested in learning the basics of blockchain technology to budding technology engineers or programmers.
We integrated the ICON blockchain into our platform which significantly simplifies the development process when building on the ICON blockchain. ICON conducts its blockchain workshops on Major League Hacking, an organisation that works all over the United States and Europe to help students organise hackathons at their own universities, powering over 200 weekend-long invention competitions that inspire innovation, cultivate communities and teach computer science skills to more than 65,000 students around the world each year.
You can learn more about our partnership with ICON here: https://medium.com/morpheus-labs/icon-drives-blockchain-adoption-by-leveraging-morpheus-labs-seed-1a0ea81c4c39
One of our greatest milestones in recent months was working with PwC to develop Smart Compliance, a regulatory compliance automation tool using the Robotic Automation Process (RPA) to replace traditional paper-based compliance management and monitoring processes. This case has demonstrated  Morpheus Labs BPaaS has been used for enterprise application development.  It is truly our honor to be able to work with one of the biggest industry leaders in technology innovation.
Others conducted by Major League Hacking https://mlh.io/You may learn more about our project here: https://medium.com/morpheus-labs/morpheus-labs-supported-pwc-in-developing-a-smart-compliance-application-to-help-staff-focus-on-ae94d4f9c128
4. I think it is important to know which companies you will partner with to make your business successful. What companies did your partner with, and what did you do with them?
Consultancy based companies and System integrators are our current focus to work with to achieve scalability.
There are 3 main reasons:
– They have industry expertise and knowledge, which complement us to commercialize solution accurately
– They have a focused customers network whom we can scale with various solutions
– Joint go-to-market to reduce the sales cycle and increase entry barriers to competitors
As more companies try to harness the potential of blockchain technology for enterprise applications, industries that used to operate in silos are becoming increasingly connected, and the lines of where one ecosystem ends and another begins are blurring. While the benefits of blockchain technology are undeniable, adoption has been slow due to barriers of entry such as regulatory uncertainty, trust issues and an inability to bring partners together to build a network.
Morpheus Labs is here to aid in blockchain adoption.
As we build our business network, Morpheus Partner Central, we dive into joint business relationships with international industry leaders in areas such as professional services, leveraging their expertise and experiences to empower the world to move towards digital transformation in business. For example, the Morpheus team works diligently to design solutions on blockchain and other technologies such as RPA, AI, IoT and more, and then validate them as use cases on SEED with our clients from selected tech firms. From here, we create the use cases featured in our Solution Center on SEED that act as a playbook to help our clients and partners accelerate the adoption and development of solutions.
A few examples:
You may read more about an example of our partnership with Natsoft on how we team up to boost value for clients through unique blockchain solutions: https://medium.com/morpheus-labs/morpheus-labs-and-natsoft-corporation-team-up-to-boost-value-for-clients-through-unique-blockchain-173259a1f5dc
PwC Singapore: RegTech (Link in the Korean language) https://www.yna.co.kr/view/AKR20200910038100009?input=1195m
5. The global long term of Corona 19 is accelerating the digitization of assets. I would like to ask you what kind of business and short-term roadmaps you are focusing on in the second half of the Morpheus Labs project.
COVID-19 pandemic is shaping the digital transformation. People have realized the value and power of IT and digital transformation. Businesses start shifting technology capacities and investment to digital platforms for long term resilience. And no doubt, online education will become an integral component after COVID-19.
COVID-19 has triggered many central banks to seriously consider CBDC (Central Bank Digital Currency) at the retail level for various motivations. Financial inclusion issues are brought up again in many countries when that government financial support does not efficiently reach the people most affected. Online payments are more common, but expensive middleman fees have also come under the spotlight, people start asking if this is acceptable in the digital age. These issues are what private crypto assets have long complained about.
From the early days of blockchain and crypto-assets becoming popular to today, digitalization is accelerated, more and more blockchain use cases have been realized, we believe our SAAS based blockchain platform business model is on the right track. After we have launched our platform V2.0 (SEED), we are now focusing on putting more R&D resources and partnering with leaders in industry and technology fields to provide industry-focused business solutions. At the same time, we are working with education institutions for providing online blockchain courses for wider blockchain adoption. DeFi is another area that we are supporting as we believe it will disrupt the financial services industry in the future.
6. Does Morpheus Labs BPaaS Version 2.0 have any interesting features? And are those great features just for developers or just for companies?
The list is pretty extensive, if I were to summarise all of this, it would take long. Read more about it here: https://medium.com/morpheus-labs/introducing-morpheus-labs-seed-ee2e685a38e1
We've added features for both the developer community and customers.
7. These are some of the first steps in expanding into different regions. Can you talk more about your expansion plans and target markets/industries? Are you focusing on any particular industry or sector? Education, commercial/enterprise?
Education, commercial (developers, users and companies who aim to put products on our app library) and enterprise are exactly the areas that have our main focus.
We aim to empower developers to build Dapp in frameworks validated by the corporate world – our enterprise clients. Laying a foundation for developers to grow in the blockchain space with job prospects.
It's important to realise that we need distributors in every area that can aid us in getting the above (education, commercial and enterprise). Making these connections and making sure they're meaningful will take time and financial resources.
Right now, we mainly focus on Asia and we have a few side-projects with European and Asian companies. Our aim is to serve our customers globally.The beautiful thing about blockchain is that it's not culturally tied; a Dapp in Asia will work in Europe if companies work in the same fashion (not 1:1 but remotely so). But, resources (manpower) also play a factor in this. We'll grow as we go.
8. What willing $MITX gives to your community as feedback for being a good supporter community to $MITX, any opportunities will be given to community supporters?
As we celebrated our 4th anniversary this year, we've placed our focus back on community building and outreach towards the wider ecosystem beyond the blockchain space. We are tentatively launching our Canopy Program in December 2020, a concept of community 'nodes'. Avid supporters of Morpheus Labs, be they developers, marketing experts, or community managers can set up a 'node' tasked with hosting meetups, drumming up support and engaging with other blockchain enthusiasts on behalf of Morpheus Labs.
We incentivize holding through Proof-of-Alliance. Canopy will be launched in two phases, namely the Staking Phase (S-Phase) and the Task Phase (T-Phase).
With our Proof-of-Alliance staking mechanism as proposed last year, we want to further encourage the long-term perspective of our community. By locking their MITx tokens, community members are rewarded for their actions in the ecosystem. In short, our community members earn MITx rewards by contributing to the strength of the Morpheus Labs community!
Learn more about our community node program here: https://medium.com/morpheus-labs/morpheus-labs-community-node-program-canopy-announcement-dbc6af9e29dd
And we will be sharing the details on staking soon!
9. Can you please describe the growth potential and the Roadmap of Morpheus Labs?
According to Gartner, by 2024, low-code application development will be responsible for more than 65% of application development activity. When you can visually create new business applications with minimal hand-coding — when your developers can do more of greater value, faster — that's low-code. Some examples of low code platforms that achieved "unicorn" status are:
Web development – Wix;
E-commerce – Shopify;
Business processes and data – Mulesoft;
Mobile development – Mendix.
In the Blockchain space, there isn't any distinctive leader as a low code platform yet. We believe there is a lot of potential for us. Morpheus Labs helps businesses to move towards digital transformation and innovation for blockchain solutions to improve and automate business processes. We are a Blockchain platform-as-a-Service that presents an expansive range of blockchain technologies, development environments and tools to the developer community and enterprises to kickstart blockchain application development in concept to practical implementation rapidly with high-cost-efficiency.
Blockchain itself is a kind of secure shared database that includes digital information on products, people, or events that can be accessed by many users. As of today, numerous projects have improved their management by the application of blockchain technology. Industries like BFSI, agriculture, automotive, healthcare, retail & Ecommerce, energy, Supply Chain Management, media & entertainment and others are the industry verticals where blockchain will be the mainstream.
Integrating multi-clouds, smart contract templates, improving and adding developer tools and frameworks that are validated by our enterprise clients are what we have planned in the pipeline to grow our business at a faster pace.
10. DeFi is one of the hottest topics in the blockchain space right now. Can MORPHEUS LABS share your opinions on DeFi with us? Do you think that DeFi will disrupt the existing financial system? What is MORPHEUS LABS' approach towards the DeFi sector?
At present, DeFi is well-positioned at the forefront of an evolving financial system with a trustless and transparent solution that removes high costs associated with the legacy system. It is said that the total value of Ether (ETH) locked in DeFi markets has crossed over $1 billion in a year.
Morpheus Labs recognised this sector as one of the fastest-growing areas of the nascent blockchain industry. We have recently announced our partnerships with three established companies specialising in DApp development, asset digitization and DeFi innovation. On the other hand, we are working with our blockchain partners to list their Dapps onto our App Library to facilitate DeFi innovations which are relevant to the demand of the market in the blockchain space to solve real-world industry challenges and work towards DeFi products with several companies to enhance their corporate compliance processes.
One of our ambassadors has explained this very well: If a company likes one of these Defi Dapps, but it doesn't fit them perfectly, we can help towards changing it, so it'll be an existing Dapp that is going to be custom-tailored to that company alone. This way, they don't need to develop something from scratch and spend a huge amount of resources.
We basically act as a curator between the DeFi solutions and customers, while we can facilitate or aid in the development. We will also offer courses that go towards DeFi development for educational purposes. The market (while hyped) is in its infancy and it's going to take a long while before it's really adopted, we want to be the facilitator to make this happen and speed it up and a library where you would find most of Defi solutions .
11. How does Morpheus Labs benefit from competing projects using the BpaaS -service model?
As mentioned earlier, we empower developers to build Dapp in frameworks validated by the corporate world – our enterprise clients. Laying a foundation for developers to grow in the blockchain space with job prospects.
As a low-code development platform, we allow enterprises to reap the benefits of complex code, without the need to dedicate valuable time and resources toward development from the ground-up. "Plug and play" customization allows them to address specific needs within their organization, and prioritize implementation on a smaller scale without the stress of diving head-first into an infrastructural overhaul. Our platform comprehensively covers the development, testing, deployment, run, and scale applications across physical, virtual, and distributed ledger technologies environments, as well as providing organizations with new opportunities to share and collaborate with their partners, other industry-players, government organizations and even educational institutions.
12. Many projects boast their technology and try to raise prices. But most of them fail to commercialize and become obsolete technologies or investments. Morpheus Labs also made use of the platform, but I think there are many difficulties in accessibility. Especially without translation or expertise, it is difficult to use, so how would you like to solve this problem?
As mentioned in the answer to the question "Can you please describe the growth potential and the Roadmap of Morpheus Labs?", we have been working towards providing easy-to-use tools and features, such as low-code tool, multi-languages support that can help users to use the platform to create innovative solutions using their native language and without having technical expertise. We want our platform to be inclusive, not just for developers and IT professionals.
The problem of most project as mentioned above is fail to commercialization then fail to have Key customers validation of need – Which for both, ML is doing great, especially looking at we are the #1 platform with most blockchains onboarded and our enterprise users are global names, furthermore; we have increasingly receive enquiries/discussion from more global names
Thank you ICO Pantera and the Korean community for having me here. Do follow us on our social media to know about the latest updates and announcements of Morpheus Labs!
Follow Morpheus Labs
Website: https://morpheuslabs.io
Twitter: https://twitter.com/morpheuslabs_io
Telegram Announcement channel: @morpheuslabs_announcements
Telegram community channel (English): @morpheuslabs
Telegram community channel (Korean): @morpheuslabs