labore et dolore magna eiusmod
consectetur adipiscing elit, sed do eiusmod tempor incididunt ut labore et dolore magna aliqua. Ut enim ad minim veniam, quis nostrud exercitation ullamco laboris nisi ut aliquip ex ea commodo consequat risus Ut mattis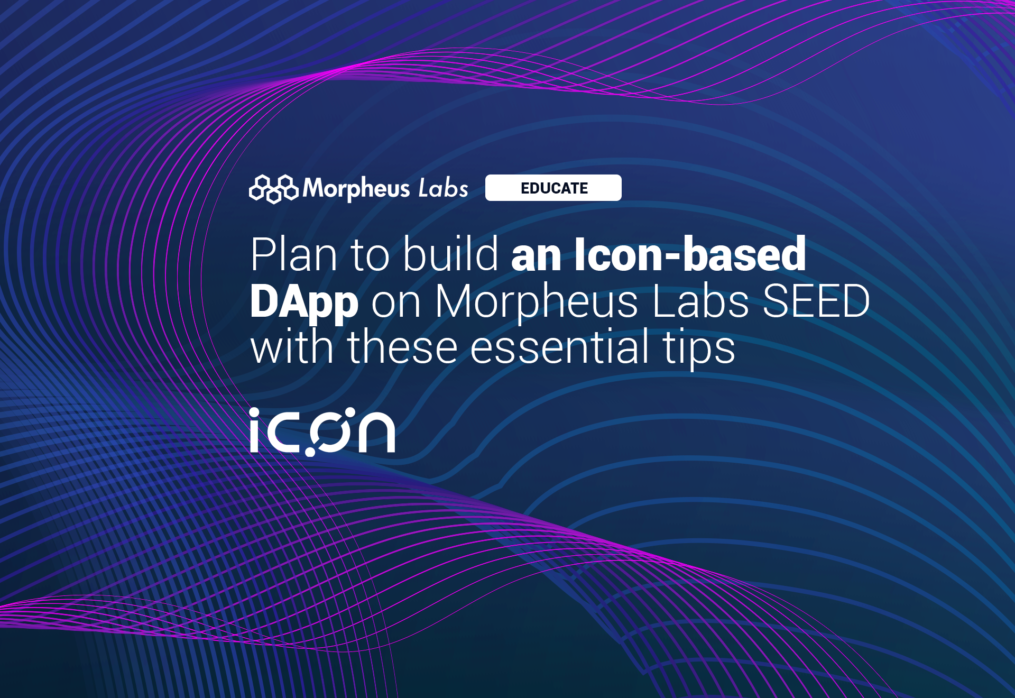 Plan to build an Icon-based DApp on Morpheus Labs SEED with these essential tips
In this mini-series, we will look at various Partners that Morpheus Labs has linked up with to bring you the insights on why it matters and how it brings options to our valued community. To kick things off, we will be looking at ICON, one of our most active blockchain partners to date.
What is ICON
ICON is one of the world's largest decentralised networks. Started in Korea, ICON is a decentralised network different from the existing centralised networks. Transactions on the ICON Network are verified by a ledger shared within the community network itself, not controlled by a centralised authority. ICON also has its own set of community junkies
From their whitepaper which can be viewed here.
"The ICON Project aims to build a decentralised network that allows independent blockchains with different governances to transact with one another without intermediaries. Anyone can create a new blockchain project and join the network. A new blockchain project is free to connect with existing projects and create new unique worlds, or blockchain multiverse. ICON itself can be viewed as both a living organism and an ecosystem."
"ICON already boasts communities comprising reputable institutions – banks, securities, insurance, hospitals, universities, and more. A future with faster money remittance and frictionless value exchange of securities, medical records, academic data, insurance fees is within our reach."
Why ICON – Service Clarity
Morpheus Labs has partnered up with ICON as its vision and mission values add to the blockchain community and is aligned with ours – providing solutions that values add to the blockchain community and wider public. As many of you in the community would have known by now, the negative connotation surrounding blockchain (cryptocurrencies) are plentiful. Morpheus Labs only partners up with Projects (small to large) that have clear goals that are attainable and sustainable.
Value-adding services of ICON
ICONEX
ICONick
ICONFi
ICON cryptocurrency*
More services can be found the Icon foundation's site.
The services that ICON has to offer is clear, concise and certainly brings ease of use to the public. When choosing potential partners for tie-ups or collaborations, Morpheus Labs will always ensure the following requirements must be met (not in sequential order)
S.M.A.R.T goals
The people driving the project
Value-adding benefits that compliments Morpheus Labs
This list is certainly non-exhaustive and many other factors come into play when choosing a potential partner.
Creating Wallets
ICONex enables you to create and manage wallets supporting ICX and various cryptocurrencies. Take pleasure in the convenient functions of managing your wallets which includes "Export of Wallet Bundles" and "Password settings for each wallet".
Quick transfer
You can transfer various cryptocurrencies and we plan to launch a direct exchange function based on the reserved balance of each cryptocurrencies.
Ease of wallet ID account. Create your own easy-to-remember ICX wallet address like "helloworld.icon". You can use your unique address for easy and convenient transaction.
ICONFi is a new cryptocurrency staking-and-earn service built for beginners. ICONFi introduces easy-to-use features like one-click staking and automated re-staking to make it easier than ever for people to grow their digital asset investments. Basically, ICONFi is a digital asset savings platform that provides simple & intuitive earn products so that anyone can easily multiply crypto assets.
Partner summary
ICON mission and vision is interesting, backed with traction and services that value-adds, Morpheus Labs has assessed the ICON project as a whole. One that compliments our offerings and provides benefits to our valued community. As the blockchain community continues to grow, rest assured that Morpheus Labs will constantly work tirelessly behind the scene to provide you with quality services that will enhance the community – be it our own services or through quality partners, just like ICON.
* Kindly note that all partners Morpheus Labs tie-up with are constantly reviewed and checked to ensure it fits our standards. Usage of Partners offerings are solely provided by external parties and usage is of your own discretion. Article is accurate as of time of writing and kindly ensure that you do your own due diligence before committing. Morpheus Labs will not be liable or responsible for any outcome arising from the usage of this article. The information herein does not contain or should be construed as an advice or usage of external party services.
Morpheus Labs is a leader in Blockchain-Platform-As-A-Service (BPaaS), offering mission-critical tools, infrastructure, various blockchain protocols, and blockchain use case references for enterprises and developers to build, experiment and manage their own applications effortlessly at minimal cost and time. Armed with relevant capabilities, the platform offers a multitude of intuitive solutions that enables developers and enterprises alike to take advantage of its platform to build effective solutions for various use cases.
Morpheus Labs' purpose is to make it easier and cheaper for people to develop blockchain solutions; empowering businesses to solve the unknowns and complexities in blockchain technology.
Be a part of our community! Join our official group chat on Telegram: https://t.me/morpheuslabs
(Check out our Community Telegram Guidelines.)
Connect with us
LinkedIn | Twitter | Telegram | Facebook | Youtube | Github | Reddit | CrunchBase | Website | Gitter
For more information about Morpheus Labs, kindly refer to our main site at https://morpheuslabs.io/old/ or via email at info@23.108.103.25