labore et dolore magna eiusmod
consectetur adipiscing elit, sed do eiusmod tempor incididunt ut labore et dolore magna aliqua. Ut enim ad minim veniam, quis nostrud exercitation ullamco laboris nisi ut aliquip ex ea commodo consequat risus Ut mattis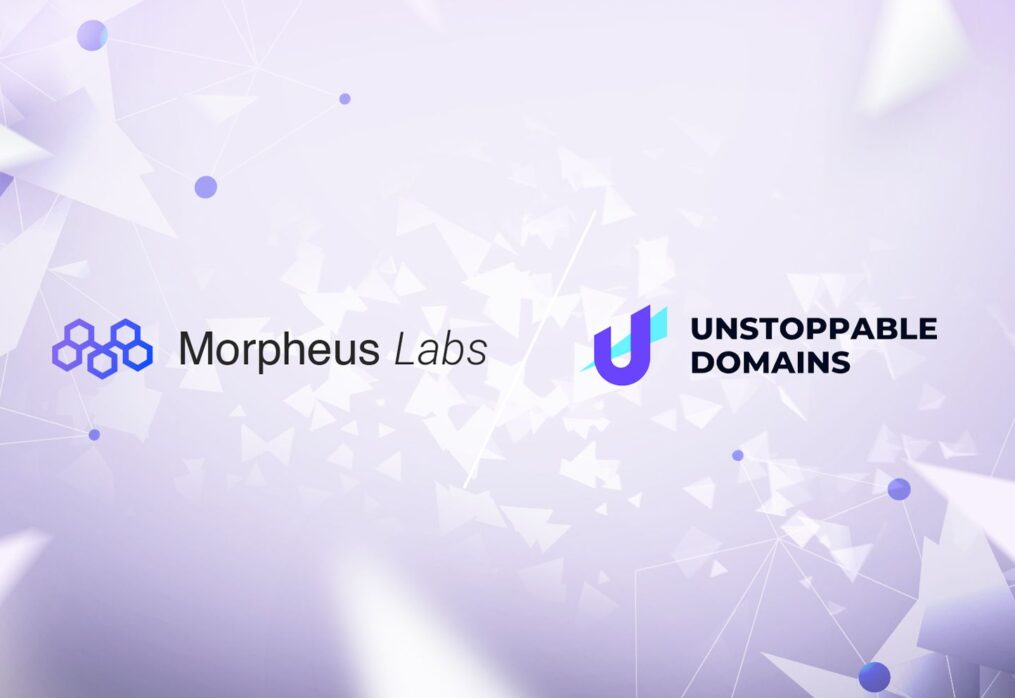 Morpheus Labs X Unstoppable Domains Partnership Announcement
We're excited to announce our partnership with Unstoppable Domains to enable Morpheus Labs SEED users/developers to purchase a .crypto domain via Morpheus Labs SEED.
For users who sign up on SEED, they will access a direct link to purchase a .crypto domain on Unstoppable Domains' website. The .crypto blockchain domain registry, built by Unstoppable Domains, enables censorship-resistant websites and simplifies cryptocurrency payments.
In the near future, as Morpheus Labs head towards the education sector, both companies will work together at hackathons and education workshops to facilitate sign-ups and learning for students and developers.
Advantages of blockchain-powered domains
Blockchain domains do many things that traditional domains can't do, like for example:
Payments — People can use the domains as a payment gateway for cryptocurrency payments.
Uncensorable Websites — Other companies and governments cannot control the content you show on your website.
Alternate Root — ICANN doesn't govern these domains and doesn't get to give approval.
No Custodian — The owners store their own blockchain domains. Third parties can't move or seize them.
No Renewals — Pay once and it's yours forever.
Transfers — Blockchain domains do not require an escrow agent to securely exchange the domain or funds. This transfer can happen in less than 1 minute, from or to anywhere in the world.
To date, Unstoppable Domains has registered over 350,000 blockchain domain names and more than 22,000 websites have been launched on the decentralized web.
"We're excited to work with the Morpheus Labs community to get a blockchain domain into the hands of everyone who wants to learn about and build on the decentralized web. "
-Brad Kam, Co-founder of Unstoppable Domains
"The Morpheus Labs team is happy to collaborate with Unstoppable Domains to provide more value-added services to our platform users and we hope to move forward together with partners like Unstoppable Domains in our future hackathons and educational workshops."
-Chuang Pei Han, CEO of Morpheus Labs
About Unstoppable Domains
Unstoppable Domains is a San Francisco-based company building domains on blockchains. The company is backed by Draper Associates and Boost VC and has received grants from the Ethereum Foundation and the Zilliqa Foundation.
For more information visit unstoppabledomains.com.
Follow us on Twitter, and join the conversation on Telegram.
About Morpheus Labs
Morpheus Labs is a Blockchain-Platform-As-A-Service (BPaaS) provider offering mission-critical tools, infrastructure, various blockchain protocols, and blockchain use case references for enterprises and developers to build, experiment and manage their own applications effortlessly at minimal cost and time. Armed with relevant capabilities, the platform offers a multitude of intuitive solutions that enables developers and enterprises alike to take advantage of its platform to build effective solutions for various use cases.
Start building for free on Morpheus Labs SEED!