labore et dolore magna eiusmod
consectetur adipiscing elit, sed do eiusmod tempor incididunt ut labore et dolore magna aliqua. Ut enim ad minim veniam, quis nostrud exercitation ullamco laboris nisi ut aliquip ex ea commodo consequat risus Ut mattis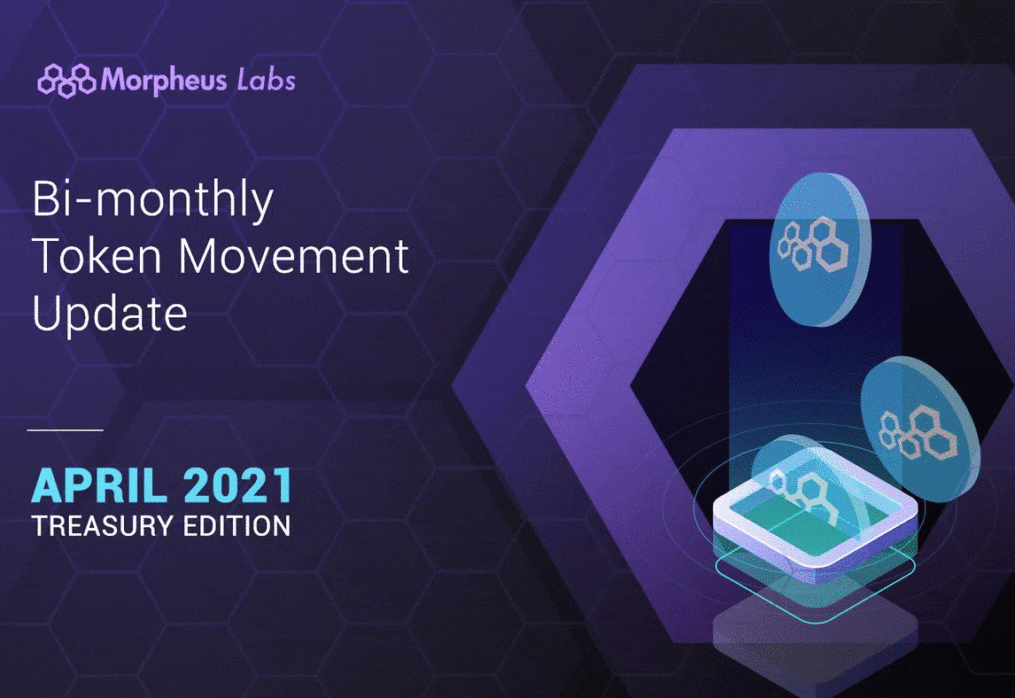 Morpheus Labs Token Update (Treasury Edition)
Collaboration is a key part of the success of any organization, executed through a clearly defined vision and mission and based on transparency and constant communication.
Dear Morpheus Labs community,
It's Morph-ing time! Welcome to our bi-monthly token update once again. This month, we will be giving you an update on Morpheus Labs' Treasury of its purpose and usage.
Do refer to our Tokenomics update as always, for the latest insights on our token distribution and our committed token burn schedule until 4th October 2022. The most recent token burn was executed on 4th April 2021.
Token Metrics (As of 5th April 2021)
MITx Contract Address: 0x4a527d8fc13c5203ab24ba0944f4cb14658d1db6
Circulating Supply: 423,062,426.235 MITx
Total Token Supply: 723,999,995 MITx
Eventually, on the 4th October 2022, our final scheduled token burn will reduce our Total Supply to 700,000,000 MITx, burning a total of 30% (or 300,000,000 MITx) of our initial 1 Billion supply from our Token Generation Event in 2017.
Burnt MITx tokens are sent to the following eater address:
Burn Address I (Pre-Y2019)
Burn Address II (Post-Y2019 to Y2022)
For more information about our latest scheduled token burn, please refer to our recent April 2021 Token Burn update.
Company-held Wallets (As of 5th Apr 2021)
Recap (Optional): Refer to our December 2020 Token movement update for more information regarding our past token movement update.
Today, we have a total supply of 723,999,995 MITx, of which 41.6%, or about 301,183,998 MITx are locked and/or held as part of our company wallets:
Reserve I (34,000,000 MITx) and Reserve II (45,000,000 MITx) (10.9% — 79,000,000 MITx)
Team (13.8% — 100,000,000 MITx)
Foundation (13.5% — 97,937,573 MITx)
Listing (3.3% — 23,999,995.7642 MITx) (Update 5th April 2021: The Listing Wallet will be wholly used to store the remaining tokens which will be sent for token burn. Hence, future listing fees will be withdrawn from the Foundation or Treasury wallets instead.)
Platform/Treasury (1.9% — 14,066,064.708468246349735976 MITx) (Unlocked)
Total Unlocked Tokens: 408,996,361.527 + Platform/Treasury = 423,062,426.235 MITx
Thus, our existing Circulating Supply is 423,062,426.235 MITx (CoinMarketCap/Coingecko)
The Treasury is a part of the MITx ecosystem and it was first mentioned in our  tokenomics article shared in 2019. The treasury wallet consists of tokens that are generated from platform users who paid to use the services in Morpheus Labs SEED. The tokens in the treasury were bought from the market directly or indirectly by users via treasury partners. They will be unlocked when a user's subscription ends. However, it does not mean that the tokens are released into circulation.
Accelerating the push for the adoption of MITx and Morpheus Labs SEED remains our focus. Tokens from the Foundation wallet are used periodically to execute our upcoming platform development, campaigns and rewards to our community, such as AMA sessions, freemium subscription, trading competitions, social media contests and sponsorships for the following purposes:
Test-market in product development
Lower customer acquisition cost (CAC)
Give users freedom to try, explore and then choose a paid plan.
Create and increase brand and product awareness
We had just completed such a token transfer for past freemium and sponsorship initiatives such as prize pools for Kucoin campaigns/contests (as seen in the transaction below); transferred from Foundation to Treasury wallet:
Other examples of sponsored initiatives are Hanwha Dreamplus education alliance with a free blockchain course for its academy using our product, ICON that conducted its blockchain workshops via Major League Hacking using SEED,  but also the freemium subscriptions that utilised a consistent amount of resources.
Usage of Treasury Fund
In line with the token economies, we are unlocking treasury, for sponsoring marketing campaigns (e.g Listing campaigns, Netbuy, Staking campaigns) aiming to incentivise the MITx holder and protecting circulating supply from increasing.
Our main goal is to use tokens from the Treasury wallet for activities that lead to a "smart return" without affecting the token price. Examples: reinvestment (eg. swap liquidity), Staking Pool supply , Exchange related contest (grid contest, net buy contest). We are going to publish a more detailed policy for the usage of the Treasury Fund.
Conclusion
In a Nutshell, we will use tokens:
To provide incentives to contributors and application developers through token grants, competitions, and investments;
To assist in the development of the ecosystem by driving platform user growth and facilitate liquidity through collaborations with our partners.
In addition:
We will re-balance our accounts from time to time, creating new addresses or removing old addresses, and update this page as needed.
We anticipate using MITX from time to time to fund development initiatives. Details on any token movement will be published in future transparency statements.

That sums up our Bi-monthly update of April 2021. We are eager to hear feedback and suggestions from our community. Drop us an email at marketing@23.108.103.25 for general inquiries/comments, or engage with us in our official Telegram group (https://t.me/morpheuslabs)
Keep a lookout on our Newsroom and social media channels, or more specifically Twitter. We are grateful that as the blockchain ecosystem continues to see huge transformation in the first quarter of 2021, more entities have recognised and are looking to deploy blockchain-based applications for their respective businesses with us moving forward.
Onward and upward!
Signing off,
Morpheus Labs Team
| No | Question | Respondent |
| --- | --- | --- |
| 1 | I saw that for the launchpad – there are quite a few customers/projects. Can you share what Morpheus Labs looks for in a project before on-boarding them? | Pei-Han |
| 2 | Can you tell us more on how Morpheus Labs solutions apply to the real world business, enterprise or educational needs? | Dorel |
| 3 | What new additions to the services offered would you like to add in the future? The launchpad seems to be a good move. Will we see more of it or do you all see the launchpad propelling Morpheus Labs forward? | Pei-Han |
Cypherium is a layer 1 blockchain protocol designed to offer financial inclusivity for users while delivering operational efficiencies for its enterprise and institutional partners. Using a hybrid consensus mechanism, the Cypherium blockchain is designed to achieve commercial viability while preserving the characteristics of decentralization and DLT. Cypherium's approach to creating financial inclusivity between civilians, banks, government, and enterprises begins with our Digital Currency Interoperability Framework. The DCIF is Cypherium's proprietary architecture for allowing any asset, including CBDCs, stable coins, and digital assets, to be received or distributed on-chain or cross-ledger.
Morpheus Labs​ provides businesses with an end-to-end Blockchain-Platform-As-A-Service (BPaaS) solution for innovation and value creation. It simplifies blockchain application development by offering mission-critical tools, infrastructure, and various blockchain protocols, where you can build and manage your applications effortlessly at minimal cost and time, with a cross-functional team that has a combined 70 years of experience in artificial intelligence, blockchain, mobile applications, cybersecurity, and IoT across Europe and Asia.

For more information, visit https://morpheuslabs.io.