labore et dolore magna eiusmod
consectetur adipiscing elit, sed do eiusmod tempor incididunt ut labore et dolore magna aliqua. Ut enim ad minim veniam, quis nostrud exercitation ullamco laboris nisi ut aliquip ex ea commodo consequat risus Ut mattis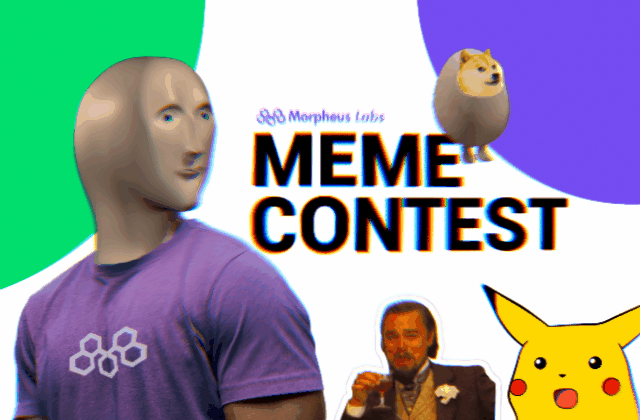 Morpheus Labs Meme Contest
Get creative and spread your love for Morpheus Labs! Create up to 3 memes around "Morpheus Labs" and post them on your Twitter and Reddit. Read on for more details.
Contest Period:
20th January — 30th January (SGT: 00:00)
How to participate:
Follow Morpheus Labs on Twitter and Reddit.
 Create your meme/gif.
Retweet Meme Contest post with your meme/gif in Morpheus Labs on Twitter (with #MITxMeme #MorpheusLabs and $MITX) and post them in Morpheus Labs Telegram community, and Reddit.
→ The funniest meme/gif in the Morpheus Labs community Telegram channel and Twitter will be the winner!
We will announce the winners' list on our various channels — Twitter and Telegram on 3 February and distribute the MITX rewards within a period of 14 days.
Rules:
Kindly adhere to the theme as mentioned.
Avoid memes that can be offensive and hurting sentiments of people or a group of people.
Ensure that the memes are your genuine creation and do not have any copyright issue.
Make sure that you follow the above mentioned procedure of participation.
Political, Religious, Caste, Sex, Profession based memes are discouraged. No such entries will be accepted and it's the duty of the participant that no such message is being conveyed upon a bare reference by a reasonable man.
The decision once delivered is full and final and is final and binding.
You can only submit at the maximum of 3 meme entries per IG Handle/ Gmail account.
Let your imagination run wild! Do not send the same gif/meme several times. Thank you!
Prizes:
1st place: 4,000 MITX 
2nd place: 3,000 MITX 
3rd place: 2,000 MITX
Winners will receive a confirmation email shortly after the winners announcement.
About Morpheus Labs
Morpheus Labs is a leader in Blockchain-Platform-As-A-Service (BPaaS), offering mission-critical tools, infrastructure, various blockchain protocols, and blockchain use case references for enterprises and developers to build, experiment and manage their own applications effortlessly at minimal cost and time. Armed with relevant capabilities, the platform offers a multitude of intuitive solutions that enables developers and enterprises alike to take advantage of its platform to build effective solutions for various use cases.
Morpheus Labs' purpose is to make it easier and cheaper for people to develop blockchain solutions; empowering businesses to solve the unknowns and complexities in blockchain technology. Start building for free on Morpheus Labs SEED!