labore et dolore magna eiusmod
consectetur adipiscing elit, sed do eiusmod tempor incididunt ut labore et dolore magna aliqua. Ut enim ad minim veniam, quis nostrud exercitation ullamco laboris nisi ut aliquip ex ea commodo consequat risus Ut mattis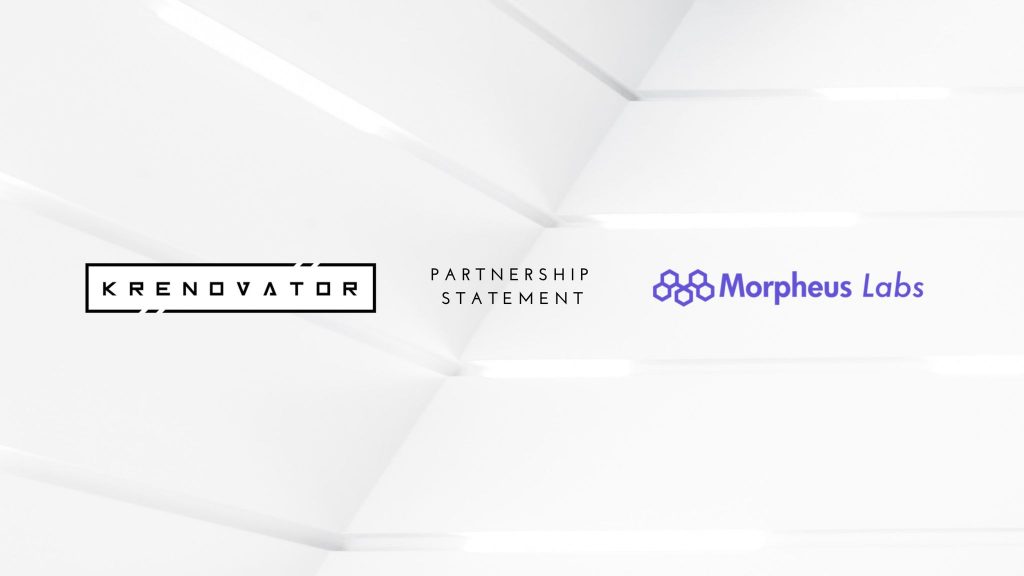 Krenovator x Morpheus Labs
Morpheus Labs is proud to announce our latest partnership with Krenovator, one of Malaysia's leading technology focused talent community platforms. With the global pandemic shifting the mindset of millions (if not billions) sweeping across the globe with the "remote working" adoption like a tsunami; Krenovator's focus and area of expertise seemingly fits the Web3 realm where blockchain talents are highly sought after globally.
How does this partnership benefit both parties?
Morpheus Labs's core product (Morpheus SEED) capabilities coupled with Krenovator innovative cutting edge technology talent acquisition syncs seamlessly with one another. To understand why and how this will work out, let's take a look at what Morpheus Labs core product, the Morpheus SEED is in brief.
Morpheus Labs is a blockchain company at the forefront of the Web3 era. The core product, the Morpheus SEED platform is a web3 low-code development platform that is trusted by industry experts, educators, and enterprises. Enabling developers and businesses to build blockchain and Web3 applications with ease at fractional cost and time. The SEED platform is an award-winning platform with a healthy growth of users. It is one of the tools that many stakeholders within the Morpheus ecosystem & beyond; will use to announce their foray (collaboration with Morpheus SEED) into the Web3 / blockchain industry.
For many blockchain developers and companies looking to foray into the Web3 sphere, the Morpheus SEED is a valuable tool for blockchain developers who want to match the quality of their projects with high productivity. For more information, kindly visit this link about Morpheus SEED.

Krenovator technology-focused talent platform boasts an impressive 1,300 ++ developers within their existing community. Coupled with Krenovator's knack for technology talent acquisition, together, we form a strong partnership that can add value to our (Krenovator and Morpheus Labs) customers and a wider ecosystem.
Potential customers, whether they are making first foray into the Web3 or seasoned ones who are looking to expand their blockchain capabilities; 
Are able to tap on the expertise of Morpheus Labs SEED & associated blockchain services. 
Assured that they are able to tap onto talents who are able to make their product / services a reality through Krenovator talents pathfinder.
Besides adding value to potential and existing customers, this partnership will also see benefits to the blockchain ecosystem to both internal and external stakeholders. 
Increasing the adoption of blockchain usage; providing opportunities to aspiring blockchain developers to find potential fit in their skillset. Matching talents. 
Educating developers who want to enter the blockchain industry. Talents on the Krenovator platform are able to learn and leverage on Morpheus SEED platform through workshops, webinars, seminars and more.
One of Morpheus Labs main goals is to increase blockchain adoption and opportunities for developers in the industry. We regularly collaborate with various partners and conduct blockchain related hackathons. These hackathons not only provide opportunities, it also serves as a gateway and channel for blockchain adoption. Our latest blockchain hackathon event led to the recent partnership with GEMS Esports and gaming. 
With Krenovator impressive technology focused community of 1,300 ++ and growing, the room for potential growth is immensely large, paving the way for growth at unprecedented rates.
What do both parties think of this partnership
Mahadhir Yunus, the founder and CEO of Krenovator has this to say about the partnership and collaboration with Morpheus Labs:
"Krenovator is on a mission of building an Ecosystem for developers in Malaysia and Indonesia. One of their main goal is to provide their community with web3 development skills. Unfortunately, there is an issue that includes a shortage of good, qualified web3 developers and limitation of proper tools that can indicate developers' performance.
Hence, a collaboration with Morpheus SEED can help to achieve the goal. The community has access to regular workshops and upgrade their web3/blockchain skills development using Morpheus SEED. We believe Morpheus Labs have a right solution for developers to learn web3 and Blockchain. It's a pleasure to be one of Morpheus Labs partners"
Dorel Burcea CIO of Morpheus Labs on this collaboration
"This collaboration has provided us with opportunities and accelerated our speed in spreading blockchain adoption among individuals and companies. For example, we are now able to conduct more blockchain adoption related events such as webinars, hackathons, seminars, competitions which are gateways to even more opportunities. With the Krenovato talent community pool, our target segment of developers has expanded many folds.
Furthermore, for our customers, we are able to increase our offerings and services with this Krenovator collaboration. Morpheus SEED is gaining traction and developers are increasingly using the Morpheus SEED platform to perform critical blockchain solutions. Demand for talented personnels is highly sought after in this industry, with this collaboration, we strongly believe that we are able to mitigate these issues, further enhance our offerings and increase adoption (awareness) of the Morpheus SEED platform to more developers.
Our team at Morpheus Labs certainly have high hopes for this collaboration"
Krenovator is a tech talent platform. We are building tech communities across South East Asia to fill the gap in the shortage of tech talent in the industry. On our platform, talent has access to enhance their tech knowledge and remote career opportunities. For businesses, we simplified the complexity of technical hiring and sped up the technical hiring process via our automated talent profiling and technical test. 
For more information, visit Www.Krenovator.Io