labore et dolore magna eiusmod
consectetur adipiscing elit, sed do eiusmod tempor incididunt ut labore et dolore magna aliqua. Ut enim ad minim veniam, quis nostrud exercitation ullamco laboris nisi ut aliquip ex ea commodo consequat risus Ut mattis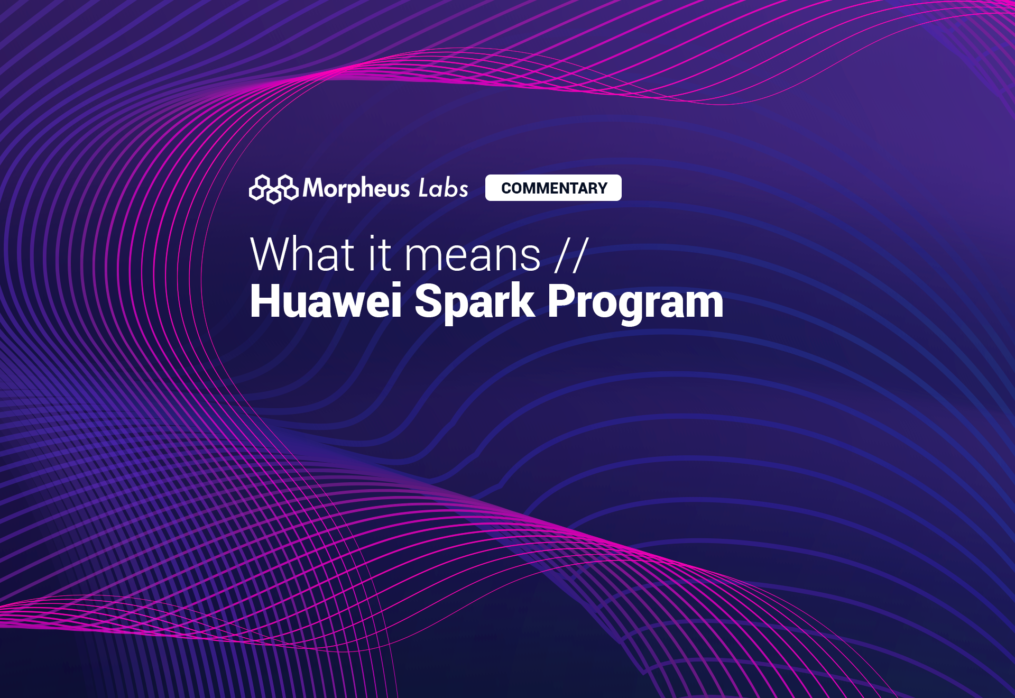 Commentary: Huawei Spark Program x Morpheus Labs – Why it matters
As part of the Top 15 winners of the Spark program, we are proud to announce that along with 15 companies across 6 verticals including Blockchain, we are chosen by Huawei Spark 2020 among more than 500 companies globally this year.
As a followup to our article on "Morpheus Labs in Top 15 Amongst More Than 500 Startups Globally", we'll be taking a look at why it matters and what it means in this article.
First of all, you would need to know what the Huawei Spark Program is about. If you belong to the select few who do not know who or what Huawei is, this article would most probably be not of any interest to you.
As extracted from the Huawei official Spark program site –
"Global leading ICT provider Huawei called on deep tech companies in Asia Pacific to participate in the Huawei Spark accelerator programme at the online HUAWEI CLOUD Summit 2020 Singapore today. The hybrid global startup accelerator programme aims to incubate and accelerate startup growth and build an ecosystem for startups in the APAC region. ….
Subject to a startup's maturity, Huawei will offer multi-tier support from seed stage to late stage, including financial support in terms of cloud credits up to USD125,000, AI development fund up to USD100,000, technical and training as well as go-to-market support.
Eligible startups will gain access to Huawei's unique ecosystem of resources through a three-tiered 'sell-to, sell-with, and sell-through' model named, Spark Fire. Huawei could be the first potential client for these startups and will engage with them as business partners, giving startups access to its wide-ranging enterprise client portfolio globally. On top of that, startups will be able to reach over 600 million Huawei mobile users through the Huawei Mobile Services (HMS) system and Huawei App Gallery, and millions of enterprise users across the globe through Huawei's Cloud marketplace."
Significance
We may have read in the news globally during the height of the pandemic that many tech giants, especially those from China are looking away from the US region and concentrating their resources into other regions such as Asia, in particular, Singapore. As Singapore is known globally for its ease of doing business, connectivity, availability of talented pool, robust logistical and legal framework, Singapore has become the next best choice after the US "not-so-welcomed" attitude and Hong Kong recent turmoil.
Huawei has already pledged and sunk a significant investment amount into this program, being launched in Singapore with much fanfare, attracting global attention. This being said would also mean the competition would be tough, brimming with talents and being shortlisted would be no easy feat. It would also most certainly gain the attention of many stakeholders and players in the ecosystem. This gives us, Morpheus Labs, a platform to gain positive attention to both our MITx and blockchain solution services globally.
Finally, as China increasingly open up its stance on blockchain technology and related innovations, Morpheus Labs will be working together with newer and existing China-based blockchain partners such as NULs, Nervos Network and NEO to contribute to the wider blockchain ecosystem in the region.
Coverage
The event alone has been well covered in the blockchain / deeptech community – The program has been covered in E27.co, TechinAsia, Singapore Business Review, The Edge Singapore among many others.
These sites alone are all domain industry leaders in their own rights, and getting proactive coverage on these sites (not to be confused with PR distributorship) is a good indicator that the Spark Program is an important one.
It also means that important players and stakeholders would most certainly know about the significance of this program. Getting the attention of these players would have long-term significance and may come in handy for Morpheus Labs in the near future. Whether it may be collaborations, future funding, or even becoming our customers may no longer seem a long-shot after we had been shortlisted.
Brand Authority
Now that we know the significance of the program alone and attention it can gain from key players and stakeholders in the wider industry (Technology and Blockchain), getting shortlisted alone comes with many unrealized benefits. The fact that we are shortlisted in this prestigious Huawei Spark Program, gives us an advantage in the industry and gain authority in our field. The wider public will view us with higher degree of openness, lowered skepticism. This alone is already a significant stride in getting our services out in the open. Coupled with the fact that we are being shortlisted in the well-covered Spark Program, gaining attention of key players and stakeholders, at Morpheus Labs, we cannot help but feel that our future just became brighter, like a spark before the flame.
About Huawei
HUAWEI CLOUD is a leading cloud service provider, which brings Huawei's 30-plus years of expertise together in ICT infrastructure products and solutions. We are committed to providing reliable, secure, and cost-effective cloud services to empower applications, harness the power of data, and help organizations of all sizes grow in today's intelligent world. HUAWEI CLOUD is also committed to bringing affordable, effective, and reliable cloud and AI services through technological innovation.
By the end of 2019, HUAWEI CLOUD had launched 210+ cloud services and 210+ solutions. News agencies, social media platforms, law enforcement, automobile manufacturers, gene sequencing organizations, financial institutions, and a long list of other industry customers are all benefiting in significant ways from HUAWEI CLOUD. 3500 applications were added to the HUAWEI CLOUD marketplace with offerings from more than 13000 business partners.
For more information, please visit Huawei Cloud online at https://huaweicloud.com.
Morpheus Labs​ provides businesses with an end-to-end Blockchain-Platform-As-A-Service (BPaaS) solution for innovation and value creation. It simplifies blockchain application development by offering mission-critical tools, infrastructure, various blockchain protocols, where you can build and manage your applications effortlessly at minimal cost and time. With a cross-functional team that has a combined 70 years' experience in artificial intelligence, blockchain, mobile applications, cybersecurity, and IoT across Europe and Asia.
For more information, visit https://morpheuslabs.io/old.