labore et dolore magna eiusmod
consectetur adipiscing elit, sed do eiusmod tempor incididunt ut labore et dolore magna aliqua. Ut enim ad minim veniam, quis nostrud exercitation ullamco laboris nisi ut aliquip ex ea commodo consequat risus Ut mattis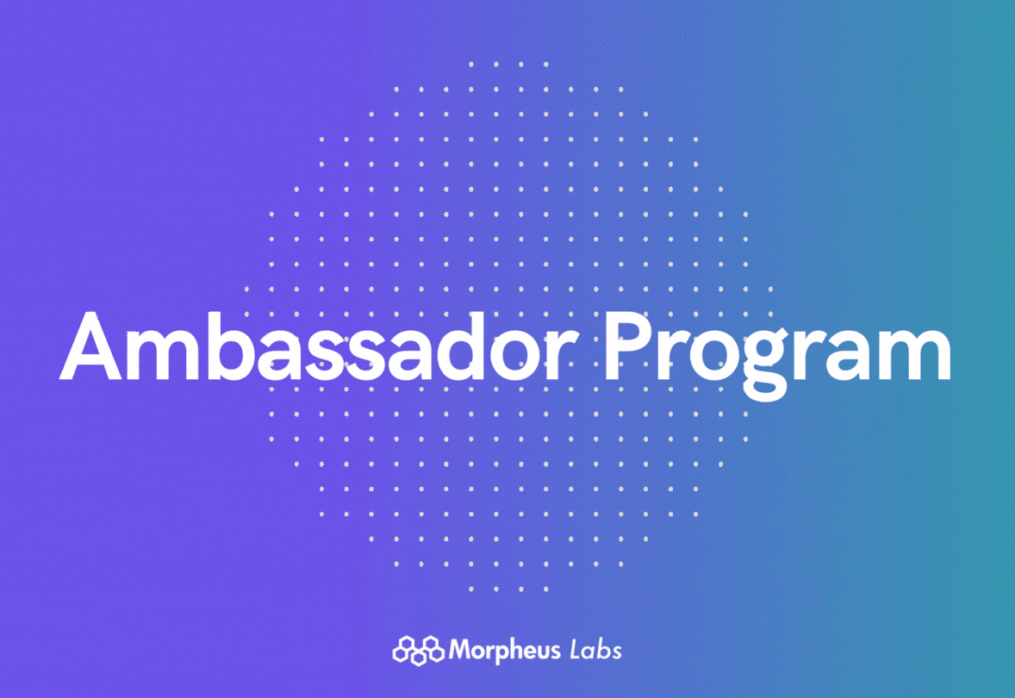 Be A Part of The Morpheus Labs Vision!
Do you want to get more involved in the blockchain industry? Here is your chance to sharpen your skills, get rewarded, AND:
Receive exclusive and limited edition merchandise.
Participate in events and receive exclusive event invitations at discounted rates.
Network and build relationships with like-minded people.
Get promotional support: Looking to extend the reach of your newly created blockchain community? Get a shout-out on our social media and website!
Get involved in planning community activities with the Morpheus Labs marketing team.
To improve our connection with our vast community of Morpheus Labs token holders we are relaunching our improved Ambassador Program, which will give the opportunity to the most engaged and dedicated members to act as ambassadors between the Morpheus Labs team and the community.
Become an Ambassador and Shape The Community!
If you know about the blockchain, you're a dab hand at digital, or you understand what it takes to manage a growing community — you could be just what we're looking for.
Learn more about the roles and eligibility requirements here.
For a start, here's what we need you to do:
Have conservations with our community members in the TG group chat.
Befriend our Admins
Simple Steps to Become a Morpheus Labs Ambassador:
Fill in the Morpheus Labs ambassador application form and provide the necessary information and your answers to the questionnaire.
If approved, welcome onboard!
The Morpheus Labs Special People
The Morpheus Labs community is privileged to have committed members and the Morpheus Labs team will be extending an invitation to members who show high levels of commitment and passion supporting Morpheus Labs' development as we relaunch the ambassador program. These active individuals go above and beyond their duties by offering timely, consistent and beneficial contributions to the project. They have played an invaluable role and have spent countless hours answering questions and sharing the Morpheus Labs' vision far and wide. They are key leaders among the worldwide Morpheus Labs community. Together, we build local communities that are focused on sharing knowledge and insights, develop and create a vibrant, thriving blockchain ecosystem.
Rewarding our Ambassadors
It is our way of saying thank you for your commitment to the community and we will be engaging our Ambassador community for their feedback so we can identify what changes we should make for 2021. Program updates will be posted on this webpage and across our social media channels when available.
We continue to welcome feedback on how we can further improve the breadth and scope of our Ambassador rewards so if you have ideas for growing the Morpheus Labs community, feedback, or suggestions please send them to marketing@moprheuslabs.io.
Morpheus Labs is a Singapore-based blockchain-platform-as-a service provider offering the most powerful tools, scalable infrastructure and ready-to-use solution templates for enterprises and blockchain developers on the multi-cloud capability to build, deploy and manage innovative applications with cost and time efficiencies. The platform offers a multitude of intuitive solutions that enables developers and enterprises alike to take advantage of its platform to build effective solutions for various use cases.
Morpheus Labs SEED is also purposefully designed to create a friendly ecosystem convenient for students and professionals to learn the complex environment of blockchain, giving them a head start to blockchain development and propelling them into the talent-hungry blockchain development world.
With more than 25 stacks, 9 programming languages and 9 blockchain protocols to play with, students from all over the United States and Europe leverage Morpheus Labs SEED in hackathons at their own universities, powering over 200 weekend-long invention competitions that inspire innovation and cultivate communities to more than 65,000 students around the world each year.
Start building for free on Morpheus Labs SEED!
Be a part of our community! Join our official group chat on Telegram: https://t.me/morpheuslabs
| No | Question | Respondent |
| --- | --- | --- |
| 1 | I saw that for the launchpad – there are quite a few customers/projects. Can you share what Morpheus Labs looks for in a project before on-boarding them? | Pei-Han |
| 2 | Can you tell us more on how Morpheus Labs solutions apply to the real world business, enterprise or educational needs? | Dorel |
| 3 | What new additions to the services offered would you like to add in the future? The launchpad seems to be a good move. Will we see more of it or do you all see the launchpad propelling Morpheus Labs forward? | Pei-Han |